Sherlock Holmes and the Giant Rat of Sumatra by Paul D. Gilbert—The game is afoot.
More than 91 years after Doyle's death, Sherlock Holmes continues to intrigue both readers and writers. Once Doyle's copyrights expired, many fiction authors began writing modern Sherlock Holmes adventures. Sherlock Holmes and the Giant Rat of Sumatra by Paul D. Gilbert is the latest such book I've read.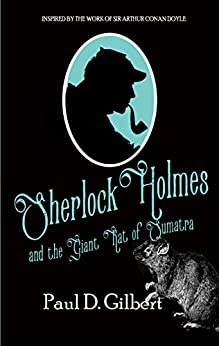 Sherlock Holmes and the Giant Rat of Sumatra
Publisher Joffe Books
from September 24, 2019
Genre(s): Mysteries & Detective
ISBN 978-1-78931-204-1
Pages 226

Autumn 1898. London. A scandal in the making.

Dockworkers are stunned by the arrival of the Matilda Briggs, a long overdue tea cutter returning from Calcutta. Abandoned by its crew, the dust-covered vessel has seems to have drifted into a vacant berth guided by an unseen hand.

The only member of the crew aboard is a lone cabin boy in the throes of death, following a murderous attack. The ship's log has also vanished without a trace. All that remains is a series of indecipherable markings have been scratched into the ship's decking.

Sherlock Holmes and his faithful Watson are called to divest the Matilda Briggs of its secrets, only to be subtly warned off by the ship's insurers. Then a young man appears at 122B Baker Street with a mysterious packet from his missing father — who disappeared journeying to London from Calcutta. A confounding conspiracy seems set to boil over.

What was in the cargo besides innocent tea chests? Will the violence and rebellion that follow shift the tides from the favour of the Great Detective?

Is the world finally ready for this tale?

____________________________

Inspired from Conan Doyle's most famous untold mystery, acclaimed Sherlockian Paul D. Gilbert expands the reach of Britain's favourite sleuth in his most intriguing tale yet.

At 221B Baker Street in London resides a man named Sherlock Holmes. Of course, almost everyone knows who Sherlock Holmes is. Even those who haven't read one of Sir Arthur Conan Doyle's short stories or novels featuring the famous detective have likely at least seen or read one of the myriads of adaptations of Holmes and his adventures.
Sir Arthur Conan Doyle first introduced his iconic consulting detective character in A Study in Scarlet in 1887. Sherlock Holmes then appeared in a series of short stories that Sir Arthur Conan Doyle penned and that The Strand Magazine published from 1887 to 1927. Eventually, Doyle's works totaled 56 short stories and four novels.
Like Doyle, Gilbert's writing style truly brings Holmes and his sidekick, Dr. John Watson, to life. He also makes Holmes appear to be an actual genius, which I think is difficult to convey through writing. True to the original stories and books, Gilbert presents Sherlock Holmes as an enigma, his deductive thought processes interesting but almost impossible for readers to fathom. Also true to the originals, Gilbert tells this adventure through Watson's point of view as a memoir about Sherlock Holmes.
As Sherlock Holmes is a consulting detective, police detectives often visit him to help with cases, and that is how this book opens. Detective Inspector Lestrade of Scotland Yard, who appears in several Sherlock Holmes stories written by Arthur Conan Doyle, comes to Holmes for help on a case involving a ship, the Matilda Briggs. Dock workers arrived at work to discover the ship occupying what was supposed to be an empty berth and not moored. When they boarded the vessel, the workers found only one crew member on board who was injured and later died. Having no idea what had happened to the rest of the crew or why the ship seemed abandoned, the ship insurers, on Lestrade's recommendation, hired Holmes to investigate the mystery. As in Doyle's stories, Gilbert uses the interactions between Holmes and the detective to add some comedy to the mystery story that helps keep readers entertained and to give us more insight into Holmes' personality.
As Holmes begins work on the "ship of ghosts" mystery, a young man (Daniel Collier) appears at his rooms seeking Holme's help with his father's disappearance. Predictably, the two cases turn out related and what Holmes learns from Collier helps him solve the Matilda Briggs case.
Collier's part of the story is the only part of the book I didn't like much. Gilbert uses a series of letters Collier had received from his father to provide readers with information that ties the two cases together. This technique used sparingly to provide some backstory is fine. But here, the reader gets far too much of it. I tired quickly of Collier reading the letters for Watson and Holmes' benefit and frankly even resorted to skimming through the last of it. Despite a few important details, the entire letter bit distracts from the narrative. I'd rather have seen this handled in a different, more effective way. But thankfully, overall, I found the book an enjoyable read despite the lengthy letters, and I found it true to the style Doyle used in the original Sherlock Holmes tales. The modern stories of Sherlock Holmes that remain true to the classics as this one does are quite entertaining to read.
Joffe Books published Sherlock Holmes and the Giant Rat of Sumatra from September 24, 2019. I purchased the copy of the book used for this review, representing my honest opinions.
*** Included in kindleunlimited