Winterkill by Ragnar Jónasson—The captivating final installment in the Ari Thór Arason whodunit series.
Winterkill by Ragnar Jónasson is the sixth book and last installment in his Dark Iceland series featuring Siglufjörður police officer Ari Thór. Ragnar, who has built a well-deserved reputation as a master of his genre, delivers another engaging and darkly claustrophobic tale.
This is probably one of my favorite Dark Iceland novels. It starts with something a bit familiar before segueing into something of a surprise that whisks readers somewhere we didn't expect.
Jónasson offers a strong and pervasive sense of place here, as usual, as he richly describes life in wintry, dark Iceland.
Winterkill
Translated from the French edition by David Warriner
Published by Orenda Books
from October 12, 2020
Genre(s): Mystery & Detective
ISBN 9781913193461
Pages 240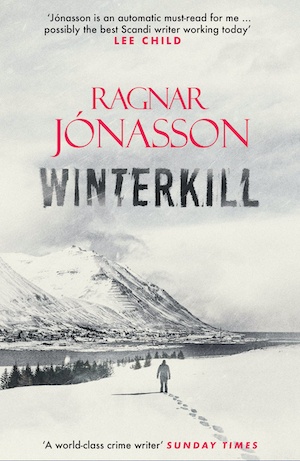 A blizzard is approaching Siglufjörður, and that can only mean one thing…

When the body of a nineteen-year-old girl is found on the main street of Siglufjörður, Police Inspector Ari Thór battles a violent Icelandic storm in an increasingly dangerous hunt for her killer … The chilling, claustrophobic finale to the international bestselling Dark Iceland series. 

Easter weekend is approaching, and snow is gently falling in Siglufjörður, the northernmost town in Iceland, as crowds of tourists arrive to visit the majestic ski slopes.

Ari Thór Arason is now a police inspector, but he's separated from his girlfriend, who lives in Sweden with their three-year-old son. A family reunion is planned for the holiday, but a violent blizzard is threatening and there is an unsettling chill in the air.

Three days before Easter, a nineteen-year-old local girl falls to her death from the balcony of a house on the main street. A perplexing entry in her diary suggests that this may not be an accident, and when an old man in a local nursing home writes 'She was murdered' again and again on the wall of his room, there is every suggestion that something more sinister lies at the heart of her death… 

As the extreme weather closes in, cutting the power and access to Siglufjörður, Ari Thór must piece together the puzzle to reveal a horrible truth … one that will leave no one unscathed.

As Winterkill unfolds, we find Ari Thór, a police officer in the small Icelandic coastal town of Siglufjördur, troubled by his separation from his wife, Kristín, and young son, Stefnir. Six months before, Kristín moved to Sweden with the boy to further her medical training at a university there. Ari Thór doesn't begrudge her pursuing her ambitions even though it means she must study abroad. But he worries how the long separation will affect his relationship with Stefnir. Also, now in his thirties, Ari Thór is contemplating his career, whether he should remain in Siglufjördur permanently, or move to Reykjavík to further his career. Overlooked the first time he applied for the post after his former boss and mentor Tómas transferred to Reykjavík, Ari Thór is now the inspector in charge of the Siglufjördur police.
The book opens on the Thursday before a long Easter weekend, and Ari Thór is eagerly awaiting the arrival of his wife and son, who are on their way back to Iceland for a holiday visit. But he's distracted from his personal concerns and the impending visit by a death. A passerby finds the body of a young woman lying in the street in a pool of her own blood. It's clear that the woman plunged to her death from a great height. What isn't clear is whether she fell accidentally, jumped, or was pushed. Ari Thór investigates and quickly identifies a high balcony of a house fronting the street as the logical place the woman plunged from to her death. Then, as he gathers the evidence, it seems more and more certain the nineteen-year-old woman took her own life.
Initially, I expected a similar story line to that of Whiteout, the fifth book in the series, where a suspected suicide turns out to be a murder. But here Jónasson takes us in a completely unexpected direction. The inciting incident (death of the young woman) segues into three other parallel police inquires, which cuts significantly into the precious time Ari Thór hoped to spend with his family, especially his son. The relatively mundane crime solutions don't detract from Jónasson's impressive ability to make human despair palpable and spin a story that keeps the reader engaged. As is often the case when I pick up a Jónasson book. I couldn't put this one down and finished it in one sitting. This book seemed to have a slightly different tone to the others in series, perhaps because it was translated into English from the French version instead of from the original Icelandic.
I appreciated the writing here and the haunting secrets Jónasson teases out. I'm sure it will appeal to many who appreciate whodunits with a slower pace and atmospheric setting.
Orenda Books published Winterkill by Ragnar Jónasson on October 12, 2020. I purchased the copy use for this review, representing my honest opinions.