The Dark Hours is the fourth book in the Renée Ballard series by Michael Connelly, best-selling crime fiction author of thirty-six novels.

The Dark Hours is the fourth book in the Renée Ballard series by Michael Connelly, best-selling crime fiction author of thirty-six novels, most notably those featuring LAPD Detective Hieronymus "Harry" Bosch. I've read and enjoyed all of Connelly's novels. Like many Connelly fans, the Bosch books remain my favorites, but Connelly is another author who never writes a bad book. So, I give all his novels high marks. He always delivers intriguing thrillers with complex and often-flawed characters. While I enjoyed the previous three Ballard books, The Dark Hours is certainly my favorite so far. I found myself invested in Ballard's fate from the first page and intrigued by the unfolding plot.
Besides great characters, another of Connelly's strengths is the settings of his books. He demonstrates an uncanny ability to give readers a sense of "place" from the novel's start. Within the first few pages, the reader feels they are right there in Los Angeles or, concerning books from other series, wherever the action occurs. This book is no different in that regard. Still, from the beginning where we find Renée Ballard and Detective Lisa Moore sitting in a parked police car beneath an overpass outside a homeless encampment waiting tensely for "the annual rain of lead" from revelers welcoming in the new year with a barrage of gunfire, this book focuses less on the where and more on the fast-paced what.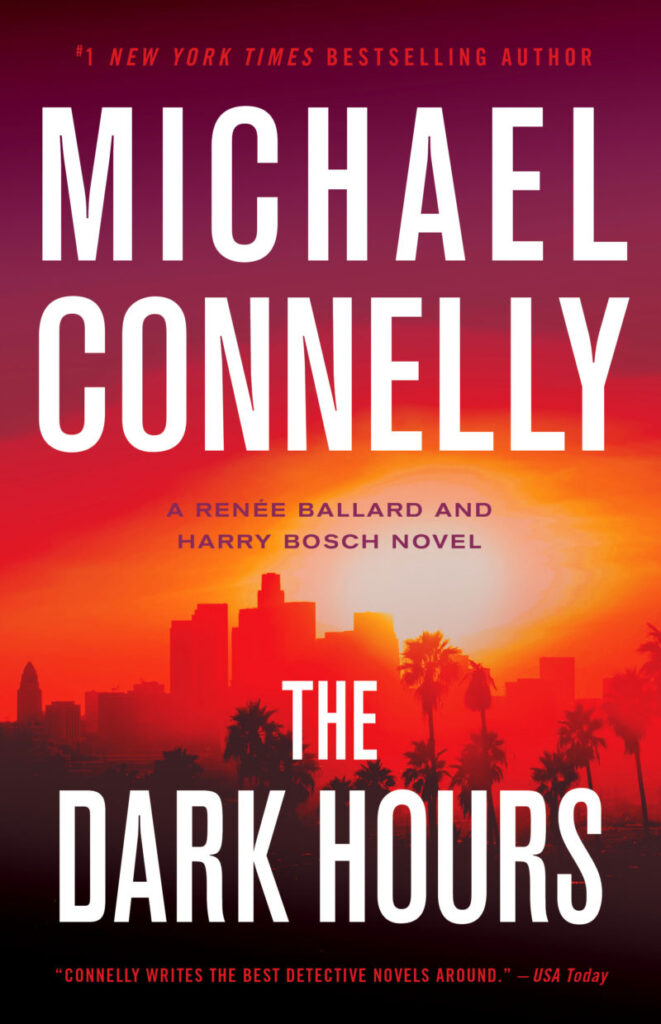 The Dark Hours
Published by Little, Brown and Company
on November 9, 2021
Genre(s): Thrillers & Suspense
ISBN 9780316256568
Pages 401

A brazen and methodical killer strikes on New Year's Eve and LAPD Detective Renée Ballard and Harry Bosch must join forces to find justice for the victim in a city scarred by fear and social unrest, in the new thriller from #1 New York Times bestselling author Michael Connelly.

There's chaos in Hollywood at the end of the New Year's Eve countdown. Working her graveyard shift, LAPD Detective Renée Ballard waits out the traditional rain of lead as hundreds of revelers shoot their guns into the air. Only minutes after midnight, Ballard is called to a scene where a hardworking auto shop owner has been fatally hit by a bullet in the middle of a crowded street party.

Ballard quickly concludes that the deadly bullet could not have fallen from the sky and that it is linked to another unsolved murder—a case at one time worked by Detective Harry Bosch. At the same time, Ballard hunts a fiendish pair of serial rapists, the Midnight Men, who have been terrorizing women and leaving no trace.

Determined to solve both cases, Ballard feels like she is constantly running uphill in a police department indelibly changed by the pandemic and recent social unrest. It is a department so hampered by inertia and low morale that Ballard must go outside to the one detective she can count on: Harry Bosch. But as the two inexorable detectives work together to find out where old and new cases intersect, they must constantly look over their shoulders. The brutal predators they are tracking are ready to kill to keep their secrets hidden.

I like lead character Renée Ballard. No, she isn't Harry, but she shares many of Bosch's traits. But filling the shoes of the venerable Harry Bosch, Connelly's most iconic character, is a big ask. Yet like it or not, since the author has aged Bosch in real time in the novels, Harry's days are numbered. So, Connelly is passing the torch to Ballard, who will be the future of Connelly's Bosch franchise. I know from experience, writing a novel from the point of view of a person of the opposite sex is challenging. But I feel Michael Connelly pulls it off with ease and sensitivity. I suspect the reason for this is that, as Connelly revealed in a 2019 interview with the Los Angeles Times, he based the LAPD detective Renée Ballard character on real-life LAPD detective Mitzi Roberts. Perhaps that is why Ballard seems so genuine and realistic.
Our introduction to Renée Ballard in this novel comes on New Year's Eve 2021, as she and another female LAPD detective are hunkered down in their city ride beneath the Cahuenga underpass just before midnight, braced for the inevitable gunfire that erupts in Los Angeles every year to welcome in the new year. Both detectives are in uniform in response to a department-wide tactical alert, a status LAPD employs on occasions like New Year's Eve with all hands on deck and every officer in the department in uniform and working twelve-hour shifts. The suspense builds from the first page as we expect the detectives will soon speed to a call somewhere in Hollywood. Connelly also throws in "Added to that, the Midnight Men were out there somewhere" producing immediate curiosity in the reader's mind about who the Midnight Men are and what it has to do with Ballard.
Renée is obviously a quintessential flawed character. She shares one of Bosch's flaws in that she is so relentlessly committed to getting justice for victims that she is prone to disregard LAPD policies and defy superiors when she feels they become barriers to accomplishing her mission to protect and serve. And, like Bosch, that often gets her into trouble. Another flaw is Ballard's inability to move on from a situation where the department treated her unfairly over a sexual harassment complaint she made against a previous supervisor. So, she lives with a chip on her shoulder. This often contributes to the trouble Ballard finds herself in with both supervisors and peers. Many times, her wounds are self-inflicted.
And then there's the current state of the LAPD and Los Angeles in general. Connelly touches on every aspect of it all—the worsening homeless problem, the defund the police movement, the open animosity toward the police by citizens, civil unrest, and the jarring collapse of morale within the LAPD. In the spirit of self-preservation, many cops have a adopted a turn a blind eye and do as little as possible philosophy to avoid citizen complaints in the highly politicized environment where they know neither the department nor the city has their backs. He adds the pandemic and its lingering effects to the mix. I have no doubt that Connelly has captured the essence of 2021 Los Angeles in this book, a city that appears more like a failed third world country than part of the United States.
I don't do trigger alerts. The term itself is part and parcel of the disgusting coddling culture that has swept the country over the past four or five years. I say only that any adult who picks up a realistic crime fiction novel should expect to encounter a good amount of violence and this book has its share, including descriptions of violence again women. Interestingly, I recently listened to a talk by Michael Connelly where he acknowledged the violence in The Dark Hours, and explained why he wrote the book the way he did. The violence isn't gratuitous or meant to entertain. I think after hearing Connelly explain it, that it serves as a stark reminder of the realities that we face living in contemporary society. As someone once said, life is brutal. I don't think that has ever been truer than it is today.
Ballard and her temporary partner get the call that we expected from the first page, and she is drawn into a shooting investigation that turns out to be a murder, one that we soon learn shares a nexus with one of Harry Bosch's old open-unsolved cases. Then we learn more about the Midnight Men, a pair of rapists operating in tandem, a case Ballard is already in the middle of investigating. So, like past Ballard books, we follow Ballard's efforts to get justice for her victims while juggling two cases as she tries to prevent her bosses and colleagues from messing it all up.
The only thing some might find disappointing is we get little Harry Bosch in this book, not nearly as much as in the previous Ballard books. It almost seems like a cameo appearance. But I suppose we must get used to it. And the interaction between Ballard and Bosch we got was great and added much to the story.
The plot is twisty, and Connelly throws in a surprise or two towards the end. And though there's some justice, we're not offered complete closure–which was fine with me as I'm excited to see what happens with Ballard in the future.
Little, Brown and Company published The Dark Hours by Michael Connelly on November 9, 2021. I purchased a digital copy of the book used for this review.