Shaking Hands with the Devil by Bryan J. Mason—A satirical tale from a master wit at his quirky, provocative best.
I've been remiss in not posting this review of Shaking Hands with the Devil by Bryan J. Mason sooner. It certainly offers something quite new as far as serial killer novels go. As soon as I started reading, I fell in love with the way Mason wrote this book—from the point-of-views of Clifton Gentle, the serial killer—who's resplendent with quirks and a smidge of mad, and the annoyingly arrogant but inept DCI Dave Hicks.
Shaking Hands with the Devil
Published by Pegasus Publishers
Genre(s): Serial Killers, Literature & Fiction
ISBN: 978-1-80016-154-2
Pages 344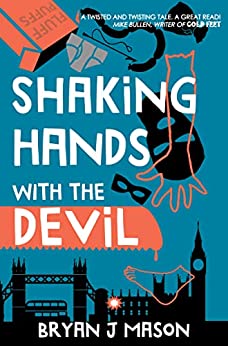 'WE ARE ON THIS CASE LIKE A BONER FIDO BLOODHOUND…
AND MY MEN ARE BARKING AT THE LEASH'

In this darkly comic novel, Clifton Gentle is an ordinary man without much to distinguish him. Not much, that is, apart from being a serial killer who is leaving bits of his young male victims scattered around North London
.
DCI Dave Hicks is the larger than life policeman determined to catch him. His attempts to find 'the nutter' through a combination of spoonerisms, personal abuse and a belief that something will turn up don't go well. All that turns up are yet more body parts.

In a sleazy London dogged by growing squalor and an IRA bombing campaign in the last days of Margaret Thatcher's premiership, the gruesome murders spur an over-the-top media and merchandising frenzy.

The hunt becomes an increasingly personal one and a race against the clock as Clifton, Dave Hicks, a would-be victim, and a copycat killer each try to uncover what – or who – they hold responsible for their own problems.

If you enjoy your serial killer novels with a healthy dose of dark comedy, Shaking Hands with the Devil by Bryan J. Mason is the book for you. I very much enjoyed this book. There's a definite sense of wit and lightness in it, but it reminds us that our impressions of people may not always be correct, that people's personalities come in various shades of grey and can often surprise us. This isn't a whodunit, as we meet villain, Clifton Gentle, our serial killer, on the opening pages. The plot centers on whether the largely inept, and arrogantly and pompously boastful Detective Chief Inspector Dave Hicks, can identify and arrest the suspect, leaving body parts strewn willy-nilly around his patch in London.
What I liked most about Shaking Hands with the Devil was the same thing I like about the movie Dumb and Dumber. While I rarely like slapstick comedy, in the film, the two imbecilic best friends in the film are so relentlessly stupid that it's laugh-out-loud hilarious. In this novel, instead of two imbecilic best friends, we have Clifton Gentle and Dave Hicks, two quirky men who in their own rights are so relentlessly half-witted that it's laugh-out-loud hilarious. The deeper into the book we go, the more absurdly cerebrally challenged they reveal themselves to be.
There's a sense of predictability here and I think readers will clearly see where this book's going, but Mason also throws in some surprises. I felt the plot probably wasn't as robust as I typically like, but whatever its flaws, the book gives you no chance to get bored. The characters are uniformly interesting and Mason does a fine job with offering the reader some great background texture and layers of complexity. That helps us understand why the main characters are who they are and behave as they do.
Shaking Hands with the Devil, while a work of fiction, is a bit of a study in culture and society. Bryan J. Mason wrote this novel in the late 1980s, "but reluctantly put it away in a drawer after his agent narrowly failed to get it published." As you read the book, you notice immediately the story is set at a time before the stifling contemporary onset of political correctness that demands we all conform to accepted language and practices that don't risk offending the political sensibilities of the overly sensitive.
Pegasus Publishing published Shaking Hands with the Devil on September 30, 2021. I received a print copy of this book from the publisher used for this review, representing my honest opinions.