Cockroaches by Jo Nesbø—Scandi noir that's almost impossible to put down
Cockroaches by Jo Nesbø is the second book in his popular series featuring melancholy, alcoholic Detective Harry Hole (Pronounced HOOL-eh). I've read all twelve of the novels in the series, but recently decided to read the entire series again since Nesbø hasn't added to the series since Knife in 2019, and likely won't.
Shortly after the publisher released the ninth Harry Hole novel, Phantom (2011), in an interview with The Hollywood Reporter Nesbø revealed he was "close" to a finale for the Oslo homicide detective and stated "I promise not to resurrect him after." Three books later, it seemed Nesbø had finished with Hole. Since Knife, he's only written and published standalone novels and a short story collection. So, I base this review on my recent second reading of Cockroaches.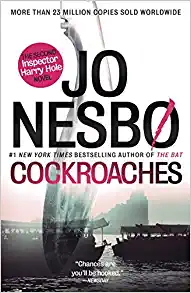 Inspector Harry Hole heads to Thailand to investigate the murder of an ambassador. 

When the Norwegian ambassador to Thailand is found dead in a Bangkok brothel, Inspector Harry Hole is dispatched from Oslo to help hush up the case.
 
But once he arrives Harry discovers that this case is about much more than one random murder. There is something else, something more pervasive, scrabbling around behind the scenes. Or, put another way, for every cockroach you see in your hotel room, there are hundreds behind the walls. Surrounded by round-the-clock traffic noise, Harry wanders the streets of Bangkok lined with go-go bars, temples, opium dens, and tourist traps, trying to piece together the story of the ambassador's death even though no one asked him to, and no one wants him to—not even Harry himself.

Scandinavian noir is a genre of dark crime stories famous for bleak Scandinavian settings. While many of the books in Jo Nesbø's Harry Hole series aren't lacking in that department, Cockroaches, the second book in the series, isn't one of them. That's because here, Hole's superior, Bjarne Møller, head of the Oslo Crime Squad, dispatches Harry to hot and humid Bangkok, Thailand. Hole's official assignment is to investigate the death of the Norwegian ambassador who Thai authorities have found dead in a Bangkok brothel. However, his unofficial assignment is to help hush up the case to save the Norwegian government from scandal. Of course, as he often does, once Harry Hole arrives in Bangkok and discovers someone murdered the ambassador, he ignores his instructions and undertakes a proper investigation with little concern for saving anyone from embarrassment.
That becomes more than understandable once Hole works out that the only reason powerful government officials have chosen him for the assignment is because they were confident he will fail. And that knowledge makes Harry even more determined to succeed by getting to the bottom of the murder and capturing the killer. I'd almost forgotten how much I'd enjoyed this book, as I'd forgotten so many details since reading it the first time years ago.
Harry Hole has long been one of my favorite police protagonists because he is so unique. Hole is almost a prototypical antihero, a main character in a story who lacks conventional heroic qualities and attributes. However, I'd say it is almost impossible not to like and feel empathy for him. Harry is damaged goods, and for good reason as those of us who've read the first book in the series, The Bat, understand. He's an alcoholic, quarrelsome, antisocial, and intractable. But for all his faults—or maybe because of them—Hole is very good at his job, which has him pursuing monsters and psychopaths. In this novel, Harry even goes on the wagon, giving up alcohol because he is so determined to succeed to prove those wrong who expect him to fail.
This book has all of Nesbø's customary darkness and luridness from murder to prostitution to pedophiles. We learn that there is even a darker secret than that connected to the dead ambassador that the Norwegian government is desperate to keep under wraps. And Hole couldn't care less—he has a murder to solve.
Jo Nesbø succeeded Stieg Larsson as the go-to Scandinavian crime writer on the strength of the Harry Hole novels. Even if you don't consider yourself a fan of Scandi and have never read Nesbø, you shouldn't give him a miss. Nesbø produces quality crime fiction books for the same reason as authors like Michael Connelly, Lee Child, Harlan Coben, and James Patterson do. It's the same secret sauce—strong and complex characters, imaginative plotting, ample action, and a detective who uses realistic problem-solving skills to solve a mystery and bring the baddies to justice. Still, what sets Nesbø apart is his ability to inject suspense into his stories. I've literally grown so uncomfortable with the suspense while reading a Nesbø book, I've had to put it aside for a while to recover my equilibrium before continuing to read.
While you can read Cockroaches without having read the first book in the series, there's good reason to start with The Bat and read the series in order. That way you get the full benefit of Hole's backstory and better understand why he is the person he is. Cockroaches doesn't disappoint. It's a gripping read throughout where the momentum builds to a satisfying and surprising conclusion that will leave you eager to read the next book in the series.
Vintage Books, a division of Random House, first published Cockroaches on January 1, 1998. I purchased the print copy of the book used for this review, representing my honest opinions.