China Doll by Larry Darter, another comical and exciting adventure, ripped straight from the files of Honolulu's most incorrigible and languid, soft-boiled private eye, Richard Bishop.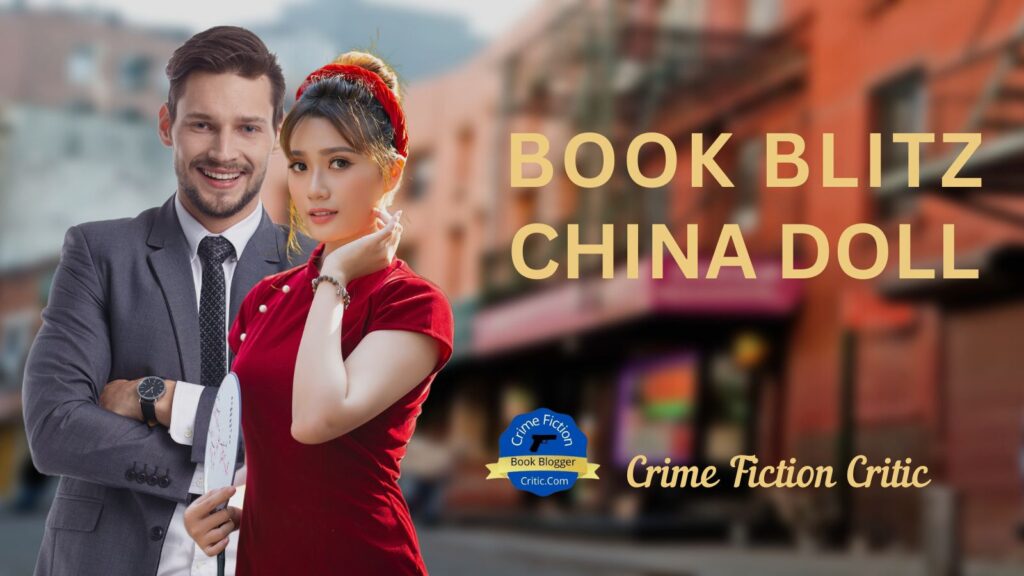 People come to Richard Bishop's shabby Hotel Street office for professional help when trouble raises its ugly head because trouble is his business. But when the private investigator accepts an assignment from Nikki Kwan, a stunning and curvaceous China doll, to protect her and to deliver a sealed envelope to her ex-boyfriend, Rick soon has plenty of trouble all his own. He finds himself squarely in the crosshairs of rival Chinatown mobsters who want his client and him dead. As the drama unfolds, the criminals also take aim at Rick's gorgeous blonde Australian girlfriend, Sally Jayne Fisher. Even after enlisting the aid of Lieutenant David Chang, his friend and former partner at HPD, Rick still collects the usual assortment of bumps, bruises, cracked ribs, and lacerations as the stumbling, bumbling gumshoe struggles to stay out of the hospital and save the lives of his client and his girl, not to mention his own. Can Bishop and Lieutenant Chang take down the mobsters before it's too late? Or will the Chinatown gangsters prevail, handing Chang three more homicides to investigate?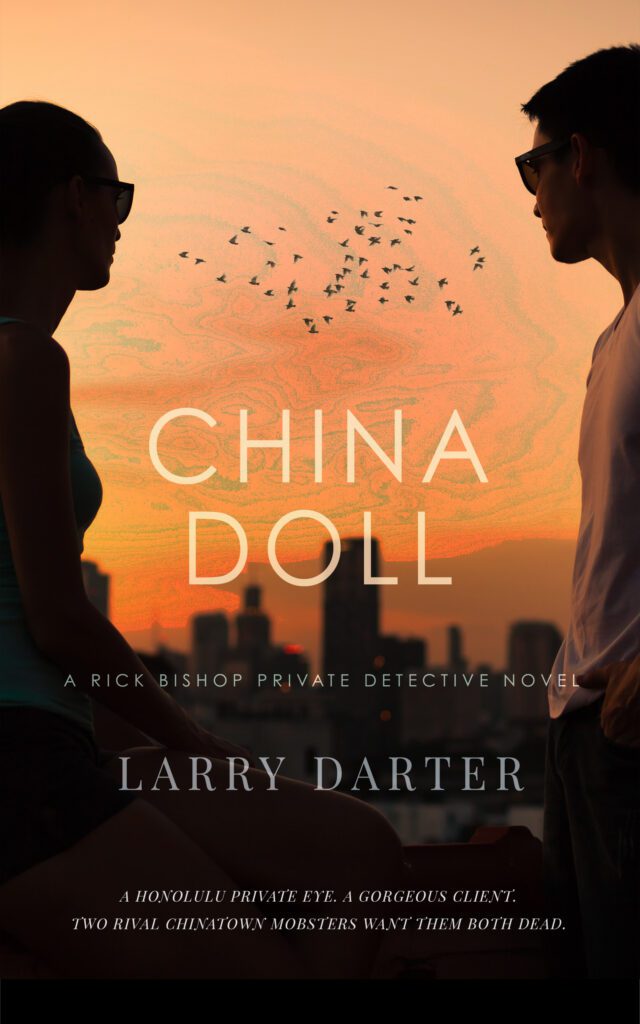 Rick Bishop Private Investigator Series #5
Fedora Press (2023)
Genre(s) Mystery & Detective | Pub Date Jan 10, 2023 | ISBN 9798374097603
What was your inspiration for this series?
I'd say it was probably Magnum P.I., the original series with Tom Selleck. What I love about that television series is how the writers portray Thomas Magnum. He always solves the case, but Magnum isn't the most ambitious or competent private investigator. So, solving the case usually involves a lot of good luck. I also love the comedy you find in almost every episode except for a few episodes with a more serious tone. I wanted to write a series about a private detective in the Thomas Magnum mold and I think Rick Bishop is original, but still has a lot of similarities to Magnum. If you've enjoyed watching Magnum P.I. I think you will enjoy reading this series.
Tell us about your characters.
At the center is Richard "Rick" Bishop, a former Honolulu detective and former Navy frogman. He left the police after a traumatic experience where a witness he was protecting got murdered because of his mistake. Bishop turned to private investigation work because he is content to make a little money working only when he has to and enjoys being his own boss. As a result, while he is chasing criminal types around the city, there are always a few collection agencies chasing Rick. Rick's best friend, Joe Rose, is a recurring character. He owns the Honolulu dive bar called the Likelike Club. Joe, also a former frogman, served with Rick in the Navy. David Chang, another regular character, is Rick's former partner when Bishop was a police detective. Chang is now a lieutenant and heads the Honolulu Police Department Criminal Investigation Division. Rick always has a love interest, usually a different woman in each book. That's because Rick is so commitment phobic that he can't manage his relationships any better than his finances. Once a woman he's dating starts talking about marriage, Bishop suffers panic attacks and looks for a way out of the relationship. There are other characters that appear in the books regularly, but those three are the main ones.
Tell us about your setting.
I didn't choose Honolulu because of Magnum P.I., which you might assume from my answer to the first question. I fell in love with Hawaii the first time I visited Honolulu when I served in the Navy. Ships I served on docked at Pearl Harbor many times during my Navy years, and since then I've vacationed in Hawaii dozens of times. I've visited several of the islands and enjoyed them all, but Oahu remains my favorite. And although Honolulu is the most expensive and touristy city in Hawaii, I've always loved it. There is so much to see and do. I've seen much of Honolulu and Oahu, so I've been everywhere we find Richard Bishop going in the books. So, I suppose I picked Honolulu because I enjoy spending time there and I'm so familiar with it.
What's your favorite thing about the series?
I like the tone I've set with the books. They are modern crime stories but with a strong nod to classic noir. But with my personal style of humor that I attempt to bring to the mix, reading a Rick Bishop novel is nothing like reading a Philip Marlowe or Sam Spade book. I also like the Bishop character, who I refer to as soft-boiled instead of hard-boiled. He is irreverent and politically incorrect. I didn't base the character on me, so I hope I don't get any hate mail. But I enjoy writing about a character who doesn't give two cents about the sort of people today who break into tears when someone says something they choose to take offense at. In real life we all live in a society now where we have little freedom of speech or self-expression and virtually no privacy. But Richard Bishop doesn't inhabit the increasingly unhappy world we live in. He feels free to poke good natured fun at the prima donnas we see in the media all the time who obviously take themselves far too seriously.
Is there anything new about this fifth book in the series?
Yes, I made a significant change with China Doll. Previously, I wrote the books in the third person. But I wrote this one in first person, hoping readers will find it easier to connect with Bishop by spending more time in his head. Also, yet again, Bishop has a new girlfriend. This time, he's dating a wealthy Australian mining heiress, Sally Jayne Fisher, who is also a former championship pro surfer. I hope readers like her, but she's already talking marriage, so no guarantees how long this relationship will last.
Anything else you would like to add?
Maybe one thing. While I rarely enroll my books in the Kindle Unlimited program, I made an exception with China Doll. I won't leave it there permanently. I prefer to publish wide rather than giving Amazon exclusive digital rights, which I don't believe is in the best interests of most authors. A great deal of time and money goes into writing and publishing a book and I don't feel the Kindle Unlimited program fairly compensates authors. That said, for the next few months, any Kindle Unlimited subscriber can borrow and read China Doll for free. After that, I'll withdraw it from the program and publish it everywhere else. Richard Bishop has a loyal following on Apple Books among other platforms, so I won't make those who buy their eBooks elsewhere wait for more than a few months to get the book from their favorite retailer. The book is also available in print on Amazon and Barnes and Noble. Hopefully, the print version will also be available from independent bookstores within another week or two.
Larry Darter is a retired law enforcement officer with over twenty years' service. He has served as an administrator, patrol officer, patrol supervisor, certified law enforcement instructor, field training officer, and crime scene specialist. His law enforcement experience at the federal and municipal levels brings unique authenticity to his novels. Darter is the author of twenty-one previous crime novels, including the Rick Bishop series, Malone series, T. J. O'Sullivan series, and Howard Drew series. Larry earned an undergraduate degree from the University of Central Oklahoma with a major in accounting and a minor in finance.