Whiteout by Ragnar Jónasson—A convincing and uniquely Icelandic thriller dripping with tension and suspense.

Whiteout is the fifth book I've read by best-selling Icelandic author Ragnar Jónasson, who reliably delivers absorbing and suspense filled thrillers with complex plots and multi-layered characters every time. I've had this book on my to be read list for a while now, but only just got to it. That's because it's a book I purchased. And I always give priority to reading and reviewing the advance reader copies I receive from publishers over titles from my personal collection. But having enjoyed Jónasson's books so much in the past, I was eager to get to this one. Whiteout is the fourth book (in publication order), or fifth book (chronologically) in Jónasson's Dark Iceland series.
I've commented on the settings of his books before, but I'll mention it again since Jónasson puts such a strong emphasis on it. The setting—the bleak portions of the natural Icelandic landscape, the bitter cold with snow and ice, the dark winters, and the summers with the midnight sun—becomes almost a character in its own right. That all combines to contribute a sense of foreboding and tension from the moment you start reading. Like Jónasson's other books, beyond the desolate setting, this novel includes brutal crimes in an otherwise quiet and outwardly safe community, a tortured protagonist, and a strong plot with multiple complex threads and unexpected twists.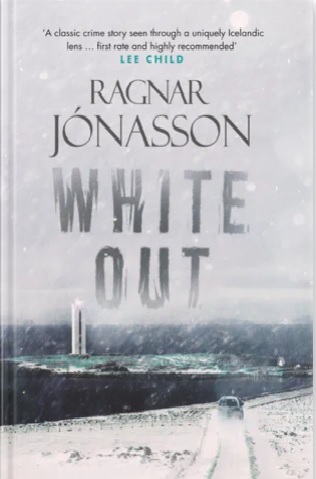 Whiteout
Translator Quentin Bates
Published (in English) by Orenda Books
on January 1, 2020 (first published October 20, 2013)
Genre(s): Mystery Thriller, International Police Procedural, Icelandic Noir
ISBN 9781910633892
Pages 240

Dark, chilling and complex, Whiteout is a haunting, atmospheric and stunningly plotted thriller from one of Iceland's bestselling crime writers.

When the body of a young woman is found dead beneath the cliffs of the deserted Icelandic village of Kálfshamarvík, police officer Ari Thór Arason uncovers a startling and terrifying connection to an earlier series of deaths, as the killer remains on the loose…

Two days before Christmas, a young woman is found dead beneath the cliffs of the deserted village of Kálfshamarvík.

Did she jump, or did something more sinister take place beneath the lighthouse and the abandoned old house on the remote rocky outcrop?

With winter closing in and the snow falling relentlessly, Ari Thór Arason discovers that the victim's mother and young sister also lost their lives in this same spot, twenty-five years earlier.

As the dark history and its secrets of the village are unveiled, and the death toll begins to rise, the Siglufjordur detectives must race against the clock to find the killer, before another tragedy takes place.

As a lover of mysteries, thrillers and crime fiction, I knew I had found a new must-read author after reading my first Ragnar Jónasson novel, Blackout. I liked the main character of his Dark Iceland series, Ari Thór Arason, from the moment I first met him in Blackout, and enjoyed meeting him again in Whiteout.
Ari Thór is the quintessential tortured protagonist, a police officer with a painful past. In this fourth book in the series, he is back with his partner Kristin, who is pregnant with their first child. He also teams up once again with his former boss and mentor, Tómas, now assigned to the Serious Crimes Department of the Reykjavik police force, for an investigation. But Ari Thór and Tómas don't appear until Part Two of the book.
The book opens with a brief but chilling prologue where a little girl falls from a cliff to her death. Then in the first chapter we meet a young woman in her thirties, Ásta Káradóttir, who has returned to visit Kálfshamarsvík and the childhood home she left at age seven. There she renews old acquaintances with people still living in the house that Ásta and her family once lived in when her father was a light house keeper on the Skagi peninsula. There she occupies her old room in the attic, and things take a sinister turn.
In Part One, Jónasson offers us some interesting insight—in snippets—from Ásta about her childhood, when she lived with her family in the house beside the lighthouse. We can't quite work out why Ásta has returned to the house for a visit, since it seems clear the place holds no happy memories for her. And more than once, Ásta questions whether she should have come.
I appreciated that Jónasson dives right into the action in Part Two. Tómas phones Ari Thór two days before Christmas and tells him there has been a sudden death at Kálfshamarsvík and the local police are too busy with another situation to handle the investigation. Tómas tells him he is coming north from Reykjavik and needs Ari Thór's help on the case. Tómas assures his junior colleague that the death looks like a suicide investigation they should wrap up before Christmas, but then mentions something ominous about a backstory. In response to Ari Thór's questions for clarification, Tómas mentions "terrible things that happened to the mother [of the victim] and her daughters" in the past. With the heightened suspense, there's no question of a lagging plot. This sets the book's pace and engages the reader from the start as the action moves to Kálfshamarsvík.
Although we realize we're yet to learn more about Ásta and the ominous past that Tómas mentioned, everything seems straight-forward as the two police officers begin the investigation. But slowly things change and therein lies the strength of Jónasson's storytelling style. It's not only about the action. He offers us further snippets of information, providing deeper insight that calls into question the assumptions we've made about the death. The plot is twisty and Jónasson, as he always does, throws in a surprise towards the end that he masks well.
As with the other books in the series I've read, Jónasson's major strengths continues to be the relatability of his characters and the ease of his storytelling. I appreciated how he expanded Ari Thór's arc by continuing to develop his character. My favorite part of this book was unexpected, as I found myself captivated by the relationship dynamics unfolding because of Kristin's pregnancy. She accompanies Ari Thór when he travels to Kálfshamarsvík to connect with Tómas because she has some personal business to attend in the area. This allows us to see how the pregnancy affects their relationship and insight into how Ari Thór feels about becoming a father considering his own difficult past. Ultimately, this was a satisfying read with a lot of surprises thrown in—many of which I did not see coming. I easily rate it as another 5-star read by one of the best crime fiction writers in the business.
I purchased the copy of Whiteout used for this review, representing my honest opinions.