Death by the Thames by Gretta Mulrooney—Mulrooney demonstrates a flawless touch with characterization and clever plotting.
In this ninth installment of the Tyrone Swift Detective series, a grieving bride-to-be hires Swift to investigate the death of her fiancé that the London police ruled a suicide. I came late to this delightful series, starting with the eighth novel, which I thoroughly enjoyed. As I alluded to in my review of Murder in Pembrokeshire, Gretta Mulrooney demonstrates a perfect touch with characterization and clever plotting. While I fully intend to read all of the books in the series as time permits, one thing I appreciate about Mulrooney's writing is you can enter this series at any point without feeling lost. Mulrooney does a neat job of offering readers easily digested snippets of backstory that help us understand Swift's background and give us what's important to know about other recurring characters.
Death by the Thames
Published by Joffe Books
from December 22, 2021
Genre(s) Detective Mysteries
ISBN 978-1-80405-026-2
Pages 318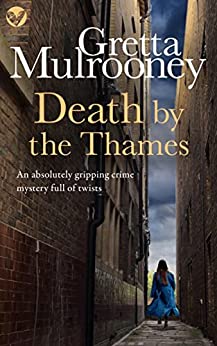 One dead bridegroom.

Financier Sam Goddard never made it down the aisle. Instead, his body is pulled from the Thames. Everyone says he rode his bike into the water. And he didn't die alone . . .

A teen tearaway with a taste for older men.

Riding in his sidecar, there's an underage girl. On his phone, a text.

So sorry to do this to you . . .

The police know a suicide pact when they see one, and as far as they're concerned, it's case closed.

But Toni — Sam's grieving fiancée — can't believe it's true. Desperate to uncover the truth about Sam's death, she turns to Tyrone Swift for answers.

But is she prepared for the killer secrets he's about to unearth?

Death by the Thames is a seamlessly crafted, twisty crime thriller that will have you gripped from start to pulsating finish.

When the book opens, we meet Toni Sheringham, a woman in her thirties, on her wedding day. Just as she finishes dressing and puts the finishing touches on her makeup, the police arrive with horrific news. Her fiancé Sam Goddard has drowned in the Thames, and from a text message on his phone, the police are leaning towards suicide as the explanation. As though that wasn't bad enough, the police also tell Toni that a fifteen-year-old girl drowned with Sam, and they believe she and Sam had shared an illicit affair. Although numb with grief, Toni refuses to accept that Sam had been involved with a teenager or had committed suicide. So, she hires London private investigator Tyrone Swift to investigate and determine the truth.
I really liked the characters Mulrooney offers us here, and it is clear characterization is one of the author's true strengths. They are so lifelike they almost leap from the pages. But, one thing I struggled with in the first Mulrooney novel I read was again in evidence here, the vast array of characters introduced. The cast is large and, I tend to get bogged down trying to remember who is who (Conor, Lucy, Naomi, Mila, Eli, Jerome, Araminta, Hester, Lexie, Yuna, et cetera). But while keeping track of the cast was a small distraction, every character played enough of a vital role in the overall plot that I can't say the author should have ditched any of them.
I really like the lead in this series, Tyrone "Ty" Swift. He shares a few characteristics of the archetypical private detective (single, strong and silent type, women find him attractive, but he avoids commitment) but has plenty of other traits that set him apart. As an example, he has a young daughter with a hearing disability from his most significant failed relationship that he dotes on. I love the role his daughter plays in his life. And despite how he seems to somewhat callously discard women he gets involved with romantically when it comes to his friends and clients, he has a heart of gold. While flawed, Swift has none of the stereotypical, contrived flaws we often see in detective mystery fiction. That makes him all the more interesting.
Plotting is another area where Mulrooney shines, and here the plot was more complex than expected with many threads. I'd actually guessed who the murderer was before the end but enjoyed the twists and turns nonetheless, and the motive wasn't entirely clear until it was. It was more the traits and characteristics that Mulrooney used to paint the character that gave it away for me than any failure to keep the murderer's identity hidden sufficiently. Despite all the potential suspects, she offered to confuse the issue, this one person seemed the most capable of being a cold, calculated murderer of the lot.
What's important is whether I liked this book. And yes, I loved it. Those who enjoy Agatha Christie-like detective mysteries will love it too.
Joffe Books publishes Death by the Thames by Gretta Mulrooney from December 22, 2021. I received an advanced reader's copy of the book from the publisher via Net Galley used for this review, representing my honest opinions.