The Investigator by John Sandford—A brilliant series starter even by Sandford's lofty standards.
The Investigator (A Letty Davenport Novel)
Published by G. P. Putnam's Sons, an imprint of Penguin Random House LLC
from April 12, 2022
Genre(s): Suspense &Thriller, Crime Mysteries
ISBN 978-0-59332-868-2
400 pages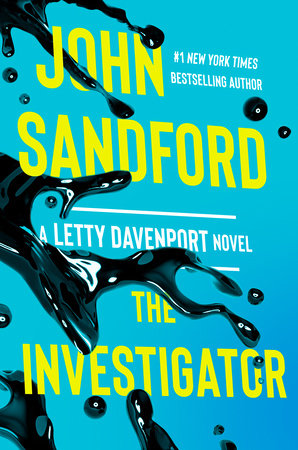 Letty Davenport, the brilliant and tenacious adopted daughter of Lucas Davenport, takes the investigative reins in the newest thriller from #1 bestselling author John Sandford.

By age twenty-four, Letty Davenport has seen more action and uncovered more secrets than many law enforcement professionals. Now a recent Stanford grad with a master's in economics, she's restless and bored in a desk job for U.S. Senator Colles. Letty's ready to quit, but her skills have impressed Colles, and he offers her a carrot: feet-on-the-ground investigative work, in conjunction with the Department of Homeland Security. 
 
Several oil companies in Texas have reported thefts of crude, Colles tells her.  He isn't so much concerned with the oil as he is with the money: who is selling the oil, and what are they doing with the profits? Rumor has it that a fairly ugly militia group—led by a woman known only as Lorelai—might be involved. Colles wants to know if the money is going to them, and if so, what they're planning. 
 
Letty is partnered with a DHS investigator, John Kaiser, and they head to Texas.  When the case quicky turns deadly, they know they're on the track of something bigger.  Lorelai and her group have set in motion an explosive plan . . . and the clock is ticking down.

It isn't easy to write a review of a John Sandford novel without gushing superlatives, but I'll do my best to remain professional. I've been a dedicated Sandford fan since reading Rules of Prey, the first book in the bestselling Lucas Davenport Prey series. While the Prey series remains my favorite, I also have read and enjoyed every novel in the Kidd and Virgil Flowers series.
We all have favorite authors whose passion for writing seemed to wane once they had written a few bestsellers, earned a lot of money, and became household names. The prolific John Sandford, with over forty bestsellers, is not one of those authors. He continues to pour his best efforts and considerable writing skills, honed to a razor-sharp edge during his days as a journalist, into every book. Sandford has never written a bad book, in my estimation. The Investigator is no exception. His writing is as crisp and fresh as ever.
On the verge of quitting her boring, low-ranking senatorial assistant and researcher job, twenty-four-year-old Letty Davenport reconsiders when her boss, Senator Christopher Colles, offers her a new position. She is to become his liaison to the Homeland Security IG's office, complete with DHS credentials and a gun carry permit. With the change in assignment, Letty partners with DHS agent John Kaiser, a former Delta operator, and veteran of multiple combat tours. The pair travel to West Texas to investigate crude oil thefts from some Permian Basin producers. Their objective is not to bust the oil thieves, a matter for local law enforcement, but to determine what the crooks are buying with the oil money. But after stumbling onto a double homicide, Davenport and Kaiser find themselves up against heavily armed, ruthless members of a far-right militia group led by a shadowy woman who goes by the nom de guerre, Jael. After uncovering that the militia group has got their hands on stolen military explosives and seems bent on pulling off some kind of terrorist attack, Letty and her partner must find a way to stop them before there is a mass casualty event.
When I learned that John Sandford had written the first novel in a new series featuring Letty Davenport, I couldn't wait to read it. Imagine how thrilled I was to get my hands on an advance copy from the publisher more than seven months before its release. The hardest part of being a John Sandford fan has always been waiting impatiently for the next book to come out.
Letty Davenport, the adopted daughter of Lucas and Weather Davenport, first appeared at age twelve in Sandford's Naked Prey, the fourteenth novel in the Prey series. When a crooked cop murdered the then Letty West's alcoholic mother leaving her orphaned with no family to take her in, Lucas and his wife became her legal guardians and later adopted her. I've liked the Letty character ever since. Even as a twelve-year-old, due to her difficult upbringing, Letty was always been smart and tough as nails. Every Prey novel since Naked Prey has mentioned Letty, and she has been a key supporting character in some. So it seemed almost inevitable that once Letty reached adulthood, like prominent Prey series character Virgil Flowers, she would eventually star in a series spinoff of her own. Enter The Investigator.
Filled with suspense, rich characterization, and the exceptional drama that are hallmarks of Sandford's writing, this is one of his best novels yet. Fans of the Prey series will know that Letty and Lucas are kindred spirits.
After Letty once shot and killed two intruders who broke into the Davenport home intent on killing the family, Weather told her daughter, seemingly unaffected by the killings, that she was almost exactly like her father—that they both made very cold judgments about people, about their worth, and didn't cut them any slack. But when Lucas heard about the conversation, he assured Letty that they weren't psychos or sociopaths who killed without remorse. Instead, he explained that they were "pragmatists—really harsh pragmatists" willing to do what must be done. So, unsurprisingly, in The Investigator, Letty Davenport proves a near-perfect archetype of her father, Lucas. That's one of the things I liked most about the novel. Unfortunately, as painful as it is to accept, Lucas Davenport is getting old for a credible law enforcement officer after thirty-one books. We must assume that the Prey series is likely approaching its logical conclusion. This series will make a worthy replacement.
While I was already well acquainted with Letty Davenport, the reader doesn't need to have read a single Prey novel to enjoy this book. Using effective flashbacks, Sandford tells us all we need to know about Letty—her difficult childhood, her adoption, character, and worldview. Even those who might pick up this book as their first John Sandford novel won't be lost because of unknown past backstory.
Besides Letty, I also truly liked the John Kaiser character, her partner. He reminds me a good bit of Bob Mattes, a deputy marshal with the U. S. Marshal's Special Operations Group, a gregarious and pivotal character (and a personal favorite) in several of Lucas Davenport's past adventures in the Prey series.
As we've come to expect, Sandford paints for us some interesting, ruthless, and realistic antagonists that we're eager to root against as John bounces them off of Letty and Kaiser. As usual, he uses multiple points of view so that we not only understand who the bad boys and girls are but what they intend to do and why.
What I think made the plot particularly interesting and realistic is that Sandford chose the circumstances on which to create it based on two things most of us are well familiar with—far-right militias (think ex-Army soldier and domestic terrorist Timothy McVeigh and the Branch Dravidian religious cult), and immigration which the current southern border crisis has thrust back into the center of public debate with the unprecedented numbers of migrants entering the country. The author features both themes prominently in this novel.
If you are a crime thriller enthusiast, especially a John Sandford fan, you won't want to miss The Investigator. I can't recommend it enough. I didn't read it in one sitting as I started the book late one afternoon. While I hated to put it down, I didn't finish it until the following morning. Still, at 400 pages, it's a fast read. Having watched the video of a recent John Sandford interview, I knew his editor told him the ending seemed flat and recommended a re-write. Evidently, the author punched it up marvelously since I found the ending very satisfying. In no small measure, that is because the ending seems to promise this isn't the last Letty Davenport novel.
The Investigator, published by G. P. Putnam's Sons, an imprint of Penguin Random House LLC, will be available from April 12, 2022.
As I mentioned at the start, I received an advance copy of the book from the publisher via NetGalley used for this review, representing my honest and unbiased opinions.