KGB Banker by William Burton McCormick and John Christmas—A geopolitical/international crime thriller covering such startling and original territory, it seems all too real.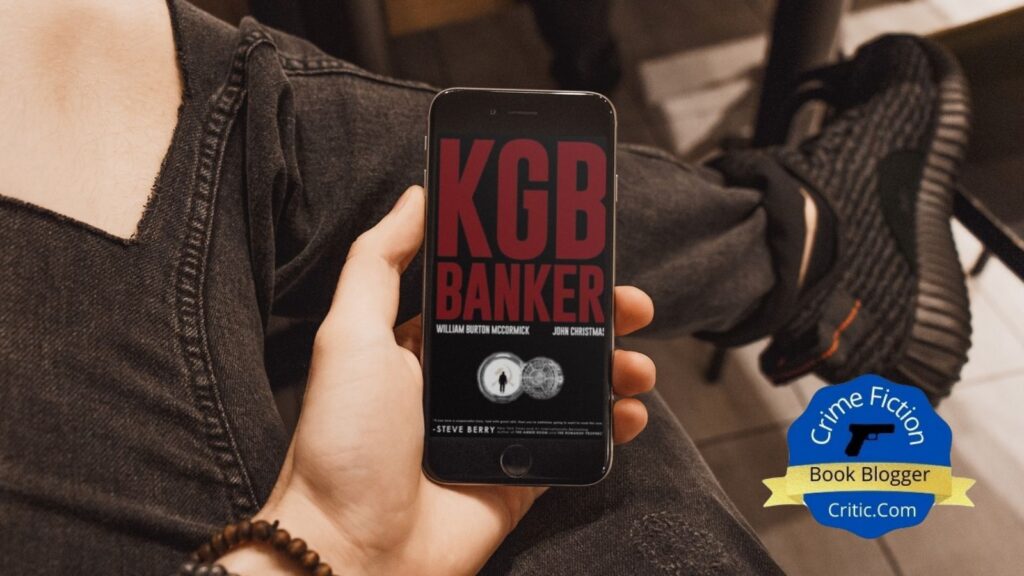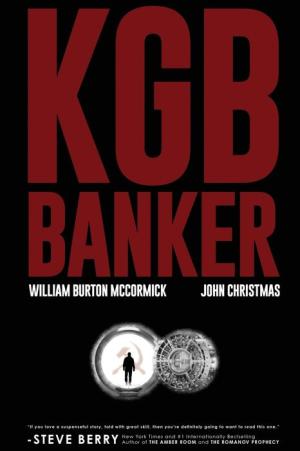 A return trip to the land of his ancestors is about to turn deadly for one whistleblowing Chicago banker. When financial executive Bob Vanags takes a job at ominous Turaida Bank.
When financial executive Bob Vanags takes a job at ominous Turaida Bank in Latvia, he hopes to learn of his heritage and  to fight economic fraud in Eastern Europe. Instead, Bob finds himself pulled into a world of political intrigue, blackmail, and murder.
Aided by his son David, his beautiful colleague Agnese, and a fearless Latvian journalist named Santa Ezeriņa, Bob begins to unravel his employer's darkest secrets, discovering their sins and conspiracies beyond his wildest fears. Secrets that Turaida wants to keep hidden, even at the cost of Bob's life.
Now framed for murder by Turaida operatives, Bob must go on the run to clear his name, protect his family, and reveal the plot to the world before governments topple and war ignites in Europe. KGB Banker is a pulse-pounding international thriller spanning the globe from Latvia to Iceland, Moscow to America, Ukraine to the Estonian islands and back again.

I've mentioned before that I don't read political thrillers much these days. But when the publisher offered me a copy of KGB Banker recently, I accepted for two reasons. First, earlier this month, I read and reviewed another geopolitical thriller set in Eastern Europe. That book piqued my interest in the ongoing threat Russia poses to the Baltic States. Second, KGB Banker is set in one of those states, Latvia.
It's no secret that Vladimir Putin wants to bring Baltic countries like Estonia, Latvia, and Lithuania back into the orbit of the Russian Federation as part of a strategy to rebuild Russia's power and influence nearly thirty years after the collapse of the Soviet Union. From Putin's perspective, Moscow has the right to engage in "humanitarian intervention" in Eastern European countries where there are significant minorities of ethnic Russians, the ploy used to annex Ukraine's Crimea.
In 2015 during an interview with (now retired) American television journalist Charlie Rose, Putin reiterated his desire to reunite all Russian-speaking peoples with the Russian Federation. KGB Banker, while a work of fiction, deftly delves into this area. According to available statistics, thirty-six percent of Latvian citizens speak Russian as their primary language, including fifty-three percent in the capital, Riga. This ethnolinguistic situation provides a firm ground for Russian geopolitical mischief and a perfect setting for the novel.
Besides satisfying my keen interest in the geopolitics of Eastern Europe, KGB Banker includes plenty of criminal activities. That makes it a good fit for a blog that focuses on crime fiction. The book works equally as well as an international crime & mystery novel as it does a geopolitical thriller.
A Chicago banker, Robert "Bob" Vanags, still battling grief over the recent loss of his wife, Maria, to cancer and chronic exhaustion, gets an offer for a new banking executive position in Latvia, a country on the Baltic Sea between Lithuania and Estonia, the homeland of his parents. Having a longstanding interest in working for a few years in Latvia to experience his parent's native country, Vanags consents to an interview for the position with Latvia's largest bank and flies to Riga, the capital city. After the interview, which turns out a mere formality, Tereze Abele, Turaida Bank's Senior Vice President, hires Vanags as Vice President of International Relationships.
When a corporate headhunter first contacted Vanags about the job at Turaida Bank, he told Bob that the bank was committed to improving its reputation within the international community because the reputations of Eastern European banks were considered a bit suspect. Moreover, the headhunter says Bob's reputation as an honest, ethical banker made him a perfect candidate for the job. His new boss, Tereze Abele, assures Vanags that the first principle of Turaida is "transparency," but Bob soon discovers the bank is rife with dodgy loans. He learns that almost the entire loan portfolio consists of loans made to shell companies owned by nine powerful oligarchs with close ties to the Kremlin. And those borrowers aren't repaying the loans. Yet, the story turns out to be much bigger than he thinks.
As Vanags uncovers the true scope of the problems at the bank, he naively but doggedly tries to do the job he thought Tereze Abele had hired him to do. Bob tries to expose the giant international Ponzi scheme that he fears will end with the bank's collapse. He even goes so far as reaching out to one of Latvia's most prominent and revered politicians to blow the whistle. But failing to appreciate the real breadth of the web of conspiracy, Vanags soon finds himself on the outs with everyone connected with the bank.
A ruthless oligarch abducts Vanags and threatens his life. A gangster frames him for serious crimes he didn't commit, leaving Bob's reputation in tatters, and destroying his credibility. He must go on the run, wanted by the Latvian police, Interpol, and the FBI and targeted for assassination by the cold-blooded oligarchs. Vanags quickly recognizes that once he became a whistleblower, he didn't risk only the loss of a job or hazard just his life but that of his teenage son. 
The choice of Bob Vanags, a corporate banker, as the protagonist, was intriguing. He hardly resembles a Jason Bourne-like character, and until near the end of the book, doesn't seem particularly heroic. But given Bob seems a decent guy, the danger he faces, and the high stakes, Vanags is someone the reader quickly relates to and cares about what happens to him. It soon makes sense why the authors used such a protagonist.
Still, my favorite character in the book is Santa Ezerina, an investigative journalist. Having received a tip from Vanags' deceased predecessor about the Turaida Bank scheme to steal billions of euros from the Latvian government, America, Britain, and the world at large, Ezerina was already investigating the bank before her acquaintance with Vanags. As a result, the same oligarchs had already targeted her. But once she gets involved with the American banker to get his story, her prospects for staying alive grow even dicier. Ezerina is a strong female character who truly delivers when it comes to heroic characters.
Like Vanags and Ezerina, the authors offer us a host of other well-drawn, realistic characters, good and evil alike. The authors supply everything you could possibly want from an Eastern Europe-based geopolitical thriller—ruthless oligarchs, spies, assassins, twists, turns, betrayals, and much, much more. KGB Banker will keep readers turning the pages compulsively as the authors shift the gears within this mesmerizing, grim, multifaceted story. Whether you're a geopolitical thriller or crime fiction fan, this novel will not disappoint. It's a geopolitical/international crime thriller covering such startling and original territory that it seems all too real.
KGB Banker by William Burton McCormick and John Christmas was published by Milford House, an imprint of Sunbury Press, and is available now. I received an advance copy of the book from the publisher used for this review, representing my honest and unbiased opinions.