Betrayal by Lilja Sigurdardóttir—A complex story, impossible to second-guess, which reveals that the human heart can be as dark and frozen as the Icelandic landscape.
Sigurðardóttir takes you slowly to the top of the roller coaster before the bottom drops out and you free fall towards a conclusion you never see coming.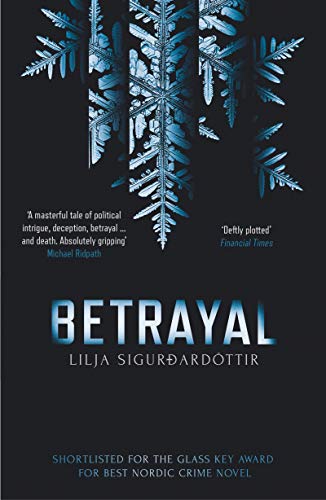 Betrayal
Translated by Quentin Bates
First Published in English by Orenda Books
From August 15, 2020
Genre(s): Thriller & Suspense
ISBN: 978-1-913193-41-6
231 pages

Burned out and traumatised by her horrifying experiences around the world, aid worker Úrsula has returned to Iceland. Unable to settle, she accepts a high-profile government role in which she hopes to make a difference again.
But on her first day in the post, Úrsula promises to help a mother seeking justice for her daughter, who had been raped by a policeman, and life in high office soon becomes much more harrowing than Úrsula could ever have imagined. A homeless man is stalking her – but is he hounding her, or warning her of some danger? And why has the death of her father in police custody so many years earlier reared its head again?
As Ursula is drawn into dirty politics, facing increasingly deadly threats, the lives of her stalker, her bodyguard and even a witch-like cleaning lady intertwine. Small betrayals become large ones, and the stakes are raised ever higher.

Betrayal is the third of Icelandic author Lilja Sigurðardóttir's novels I've read. The title of this standalone perfectly fits the story she tells as betrayal is the book's overarching theme that we find saturates the narrative on many levels.
When front-line international aid worker, Úrsúla Aradóttir, returns home to Iceland, exhausted and traumatized by her horrifying experiences abroad, she tries to reconnect to her husband and children and find normalcy. A one-year, high-profile government appointment seems to offer Úrsúla the chance to continue making a difference in the world while she struggles to come to grips with her difficult past. But the moment she assumes the position as interior minister, the role thrusts Úrsúla into a vortex of dirty politics, police corruption, and deadly threats. Small betrayals become large ones, and the stakes rise quickly to life and death proportions.
In Úrsúla Aradóttir, Sigurðardóttir once again offers us a strong, flawed, and sometimes-unlikable female protagonist. While we can quickly sympathize with her after learning of a myriad of horrific past experiences she tries to come to grips with, Úrsúla has some glaring character imperfections that at times make her appear weak, selfish, and sometimes downright unlikeable. These character weaknesses culminate in Úrsúla betraying her devoted husband, Nonni, which puts both her marriage and family at risk.
Unfortunately, even though we understand what explains Úrsúla's bad behavior, that doesn't justify it. And, predictably, Úrsúla's weaknesses come back to haunt her in the end.
Of course, strong but flawed and sometimes-unlikable female characters are part of Sigurðardóttir's magic in crafting characters that appear all too real. The flaws are always unique, not the clichéd variety we often find in other novels' characters. It seems a bit weird to say it when speaking of fictional novel characters. Still, Sigurðardóttir has this incredible and unusual gift for offering readers windows into the very souls of her characters, making them appear extraordinarily real. After reading Betrayal, you feel almost certain that if you traveled to Iceland and looked hard enough, you would undoubtedly find a living, breathing Úrsúla Aradóttir. We could say the same about some of the other primary supporting characters.
Úrsúla isn't by any means the only absorbing character in the book. I found Stella, an immigrant, witch-like office cleaner, Gunnar, Úrsúla's driver and self-appointed bodyguard, and Pétur, a homeless guy having a history with Úrsúla, equally fascinating. And that's just to name a few.
I truly admire Lilja Sigurðardóttir's writing because her novels have a serious, socially significant heft coupled with her confident narratives. In Betrayal, beyond the smartly crafted plot, Sigurðardóttir nimbly tackles real-world social and cultural issues like dirty politics, police corruption, immigration policy, lesbian and gay culture, and misogyny. It's one of the things that makes her writing feel so unusually textured and cinematic. Though they are works of fiction, Sigurðardóttir's books never fail to teach me something, not only about Iceland but about life in general. That makes her novels even more compelling reads.
Each of the three Sigurðardóttir's novels I've read thus far have individual strengths, but as much as I liked and enjoyed the previous two, I think it fair to say that Betrayal is my favorite. It is a complex story, impossible to second-guess, revealing that the human heart can be as dark and frozen as the Icelandic landscape. Of course, I plan to read much much more from Sigurðardóttir. I'd recommend you do likewise.
I purchased the copy of the book used for this review, representing my honest and unbiased opinions.