The Fields by Erin Young—A gritty but flawed heroine propels this dark, imaginative thriller.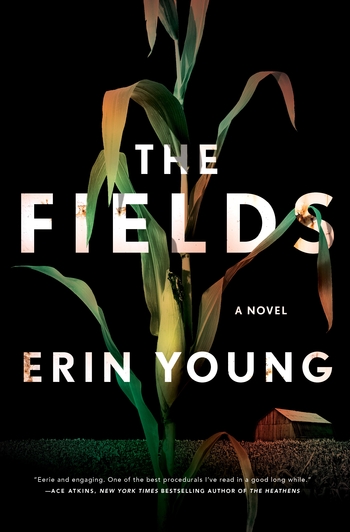 The Fields
by Erin Young
Published by Flatiron Books (MacMillian Publishers)
On Sale January 25, 2022
Genre(s): Mystery & Thriller
ISBN 978-1-250-79939-5
352 pages
Some things don't stay buried.
It starts with a body—a young woman found dead in an Iowa cornfield, on one of the few family farms still managing to compete with the giants of Big Agriculture.

When Sergeant Riley Fisher, newly promoted to head of investigations for the Black Hawk County Sheriff's Office, arrives on the scene, an already horrific crime becomes personal when she discovers the victim was a childhood friend, connected to a dark past she thought she'd left behind.

The investigation grows complicated as more victims are found. Drawn deeper in, Riley soon discovers implications far beyond her Midwest town.

The Fields by Erin Young, who also writes historical fiction as Robyn Young, is the author's debut crime thriller. The book, featuring Sergeant Riley Fisher of Black Hawk County (Iowa) Sheriff's Office, is the latest in a series of entertaining thrillers I've read recently.
I was worried this book might be a bit predictable, from the title and knowing the genre. The premise seemed obvious. I expected the cops would discover the body of a murder victim in a remote field somewhere and then set about trying to solve the crime and identifying the killer. As someone who reads many crime thrillers, it wasn't like I haven't been there before. But, as I read the publisher's synopsis, I found an interesting twist.
I learned that the story is set in rural Iowa and that a farmer discovered the expected murder victim in the cornfield of a family farm struggling to exist against the competition with the giant corporate farms of Big Agriculture. I found this compelling since most crime thrillers today are set in large, well-known cities with huge law enforcement agencies investigating the crimes. Finding a novel set in the rural heartland of America with a small county law enforcement agency investigating a horrific murder was a welcome change of pace.
I like that Young sets the stage quickly. When Sergeant Fisher, newly promoted head of the Black Hawk County Sheriff's Department investigations division, arrives on the scene of a gruesome murder, she discovers the victim is an old friend she grew up with. We soon learn that it complicates things for Fisher since it dredges up troubling memories of events from her past, memories of the worst thing that ever happened to her and nearly destroyed her life.
Young provides us the details of the past and present gradually in such a way that kept me riveted. I really liked this book because, though we're kept in suspense about exactly what's going to happen in the future, it highlights how the events of the past impact the way the story unfolds.
The Fields is a thriller as much about human nature and behavior and relationships as about unraveling secrets and mysteries and the eventual outcome of a criminal investigation. Here there's a strong sense of grief and guilt as Young takes us into the mind of Riley Fisher, and we learn more about her childhood, adolescence, and her relationship with her family. Riley is a flawed and tortured heroine for reasons not all of her own making. But, she earned my empathy as she doggedly and courageously works to suppress the horrific memories of her past to lead her team in the investigation of what turns out a string of seemingly related murders.
Young kept me engaged as the story unfolded and often surprised me with intricate and compelling twists along the way. I also liked the support characters, including Riley's partner Logan Wood, her brother, Ethan, a troubled addict, and her niece Maddie. Riley's interactions with Ethan allow the reader insight into how the baggage they both carry from the past informs how they relate to each other.
Young paces the story well and keeps the twists coming, ultimately taking the reader in unexpected directions. While dark and at times devastating, the book is at the same time touching and uplifting. This novel, a strong debut in a planned series, is perfect for anyone who enjoys a suspenseful crime thriller with a strong female lead.
The Fields by Erin Young will be published in the United States by Flatiron Books, a division of Macmillan Publishing, and goes on sale on January 25, 2022.
I received a copy of the book used for this review from the publisher via Net Galley, representing my honest and unbiased opinions.