Pigeon-Blood Red by Ed Duncan—A noir fiction novel in its modern form that's both markedly dark in theme and subject matter and featuring the expected mixture of sex and violence.
Pigeon-Blood Red
by Ed Duncan
Published by Blurb
on August 25, 2021
Genre(s): Noir fiction, crime fiction
ISBN 978-0-692-76947-8
190 pages
Hardcover, paperback, electronic editions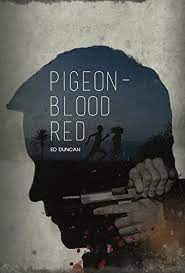 "For underworld enforcer Richard "Rico" Sanders, it seemed like an ordinary job: retrieve his gangster boss's stolen goods, and teach the person responsible a lesson.
But the chase quickly goes sideways and takes Rico from the mean streets of Chicago to sunny Honolulu. There, the hardened hit man finds himself in uncharted territory, when innocent bystanders are accidentally embroiled in a crime.
As Rico pursues his new targets, hunter and prey develop an unlikely respect for one another.
Soon, he is faced with a momentous decision: follow his orders to kill the very people who have won his admiration, or refuse and endanger the life of the woman he loves?"

I will admit when offered the noir fiction novel Pigeon-Blood Red by Ed Duncan for review, I found the title rather curious, having never heard of that particular shade of red. Frankly, when it comes to using hyphenated words in a book title, I'm not a fan. So, before reading the first page, Duncan already had something to prove to me—what on earth had possessed him to title the book Pigeon-Blood Red? But, give Ed Duncan his due. He more than adequately answers the question, and we learn why the title makes perfect sense. If you're interested in knowing what's behind the title, you will just have to read the book since I never intentionally include spoilers in my reviews.
Noir fiction, often confused with hard-boiled detective fiction—due to the enduring popularity of the works of authors like Dashiell Hammett and Raymond Chandler—while related, is not the same. Rather than a trench-coated, chain-smoking police detective or private eye, in noir fiction, the protagonist is usually a victim, a suspect in a crime, or a perpetrator—someone tied directly to a crime, not an outsider called upon to solve a crime or mystery. Typically, the protagonist in a noir novel must deal with some corrupt system that either has victimized them or compels them to victimize others, often leading to a lose-lose situation. Pigeon-Blood Red by Ed Duncan, set in contemporary Chicago, is just such a novel.
The story kicks off with our introduction to Jerry Gilbert and Richard "Rico" Sanders. Even before we know who these men are exactly and what they do for a living, you get the feeling that Rico, at least, is likely a criminal of some type. Yet, in the opening scene, when Rico intervenes in a situation where a man treats his wife most unkindly outside an apartment building, we also learn that Rico is no common thug but a man of principle. A few paragraphs later, Rico leaves no doubt, morals or not, that he indeed is a bad man prone to violence when he feels it necessary.
A few pages later, we discover that Jerry and Rico both work for a mobster named Frank Litvak, who, among other things, is a loan shark. While it seems Jerry is only a garden-variety, small-time crook, Rico turns out to be a .45 packing mob enforcer and shooter for hire.
Litvak sends Jerry and Rico to haul in a man, Robert McDuffie, for a talk. Robert is a man with high aspirations but a ne'er-do-well nevertheless who has never achieved his lofty goals, mostly due to spending far too much time at the racetrack gambling badly, drinking, and cheating on his wife, Evelyn. Also, he made the bad decision to borrow money from Litvak.
After extracting Robert's promise to pay him what he's owed, Litvak entrusts Jerry and Rico with a very valuable piece of jewelry, a necklace. Rico hands the piece over to Jerry for safekeeping, and the pair drive Robert back to where they collected him. Along the way, the item slips from Jerry's pocket and ends up on the backseat floorboard where Robert spies it. Knowing he has no hope of finding the money to keep his agreement with Litvak, Robert gives in to temptation and steals the valuable necklace.
Once they discover the loss of the necklace and break the news to Litvak, the mobster orders Jerry and Rico to recover it. They quickly identify Robert as the likely suspect and feel confident they will get the necklace back in short order. But, Robert has other ideas and flees Chicago with the necklace.
Then the setting shifts from Chicago to Honolulu, with Rico hot on Robert's trail. There we meet Robert's wife, Evelyn, and her friend Rachel. We also meet another very interesting character, Paul Elliott, a successful Chicago attorney vacationing in Honolulu. Elliott, we learn, has recently lost his beloved wife in a tragic accident. He goes to Honolulu in an attempt to come to grips with his grief. There he runs into Evelyn by chance, and we discover Elliott was in love with Evelyn in years past when she, Robert, and Elliot all attended the same university.
Rico locates Robert but fails to recover the necklace. A couple of murders later, Rico returns to Chicago without it, though certain he knows who has it and that the necklace will eventually show up back in Chicago.
Rico, clearly the protagonist in the book, was my favorite character. Despite his vocation, I couldn't help feeling a tiny bit of admiration for him because he did have a code he embraces. While his job means Rico is on the wrong side of the law and kills people without blinking an eye, he is very pragmatic and business-like about his work, much like Robert B. Parker's character, Vinnie Morris. In other words, he isn't simply a psychopath who kills thoughtlessly or out of enjoyment. From about midway through the book, you sensed you would find some good in Rico before the book ended.
Pigeon-Blood Red has a host of well-developed, believable characters. Duncan gives us plenty of background so that the reader finds the characters realistic but never uses information dumps. Instead, he works in the background where it makes sense. This isn't a thriller, nor meant to be, so don't expect an edge-of-your-seat thrill ride. But do expect a gripping story with plenty of suspense and drama that keeps the reader turning the pages. Duncan takes us all the way home with a powerful and satisfying conclusion.
This book was my first read by Ed Duncan, but I'll certainly be looking to read more of his work as time permits. I find him a skillful writer and attention-gripping storyteller. There may not be any cynical private eyes in this novel, but Ed Duncan's writing style reminds me quite a lot of Dashiell Hammett. This book is a noir fiction novel in its modern form that's both markedly dark in theme and subject matter and featuring the expected mixture of sex and violence that should satisfy the most demanding noir fiction fan.
Pigeon-Blood Red by Ed Duncan, published in the United States by Blurb on August 25, 2021, is on sale now.
I received an advance copy of the book used for this review from the publisher via the publicist, representing my honest and unbiased opinions.