The Corpse Flower by Anne Mette Hancock—Immersive, with more than enough action, mystery, and pulse-pounding suspense to satisfy any thriller fan.
First U.S. publication of a suspense novel that debuted at #1 on the Danish bestseller charts and  earned the author the Danish Crime Academy's debutant award.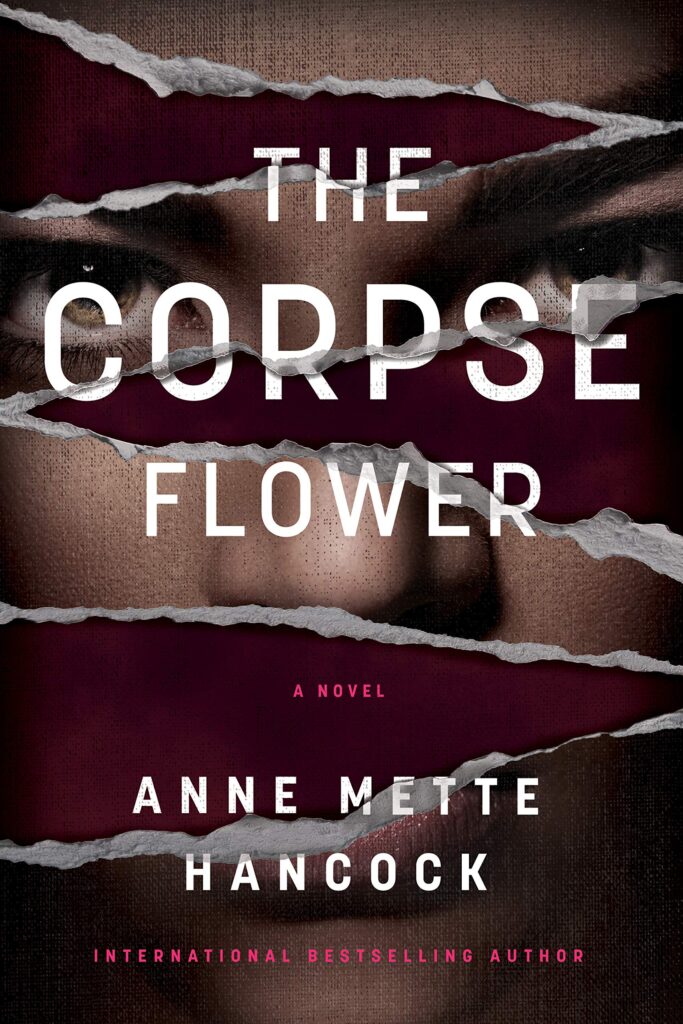 The Corpse Flower
Published in the United States by Crooked Lane, and imprint of The Quick Brown Fox & Company LLC
on Oct 12, 2021
Genre: Mystery & Detective / Crime Thrillers
ISBN-13 (hardcover): 978-1-64385-828-9
Pages: 336
Print and electronic book versions.

It's early September in Copenhagen, the rain has been coming down for weeks, and 36-year-old journalist Heloise Kaldan is in the middle of a nightmare. One of her sources has been caught lying, and she could lose her job over it. And then she receives the first in a series of cryptic and ominous letters from an alleged killer.
Wanted in connection with the fatal stabbing of a young lawyer three years earlier, Anna Kiel hasn't been seen by anyone since she left the crime scene covered in blood. The police think she's fled the country and have zero clues as to her motive. But homicide detective Erik Scháfer comes up with the first lead when the reporter who first wrote about the case is found murdered in his apartment. Has Anna Kiel struck again, or is there more than one killer at large? And why does every clue point directly to Heloise Kaldan?
Meanwhile, the letters keep coming, and they hint at a connection between Anna and Heloise. As Heloise starts digging deeper, she realizes that, to tell Anna's story, she will have to revisit the darkest parts of her own past–confronting someone she swore she'd never see again.

As someone who can never get enough of Scandinavian crime fiction, I was beyond excited to get my hands on a copy of The Corpse Flower by up-and-coming Danish crime fiction writer Anne Mette Hancock. Given its arresting cover and very intriguing synopsis, I felt confident Hancock's debut novel would be a fantastic read and right up my alley. I first learned about Anne Mette Hancock when I saw the book mentioned on social media and noticed all the buzz surrounding The Corpse Flower, which was awarded the Danish Crime Academy's debutant prize in 2017. Today, after devouring the book in one sitting, I'm thrilled to offer my review.
It's early September in Copenhagen, and 36-year-old investigative journalist, Heloise Kaldan, finds herself surrounded by a firestorm of controversy when one of her sources for an expose about a fashion mogul is caught lying. Having trusted her source, Heloise hadn't done her due diligence before writing the article, embarrassing the newspaper that employs her. She's looking at a suspension or might even lose her job over it. Just as that crisis resolves itself, Heloise receives a series of cryptic messages from Anna Kiel, a woman accused of the grisly murder of a prominent Copenhagen criminal attorney who has been a fugitive for the past three years. The bizarre messages hint that Heloise and Anna share some connection and seem to call on Heloise to write Anna's story. Heloise embarks on an investigation of the three-year-old murder which brings her into contact with Detective Sergeant Erik Schäfer, the lead police investigator handling the murder case. While Schäfer plans to use Kiel's contact with Heloise to find and arrest the suspected murderer, Heloise conceals critical information from him, determined to get Anna's story first. When Heloise learns what connects her and Anna, she realizes getting the story means she will have to revisit a very painful episode from her own past.
Thematically, The Corpse Flower is novel about revenge, justice, and forgiveness.
In this story, we're introduced to investigative journalist Heloise Kaldan, who works for a prominent Copenhagen newspaper. One thing I like most about this believable, down-to-earth character is her name, which suits her perfectly. While I was aware of the name Heloise before reading this novel, I must admit I didn't know how to pronounce it properly until reading the book. I also especially enjoyed the literary clues associated with Heloise's name. Detective Sergeant Erik Schäfer is another well-rounded, interesting character who is easy to identify with. While initially a villain-type, Anna Kiel gains the reader's sympathy once her story is revealed. There is also a host of other secondary characters that seem like actual people.
The Corpse Flower is a tightly plotted thriller where the suspense feels so palatable that it packs an almost physical punch. Anne Mette Hancock keeps the plates spinning throughout until the very end when she lets them fall in the satisfying conclusion.
Only by nitpicking can I find anything at all to criticize about this novel. Regarding Detective Sergeant Erik Schäfer, in spots in the dialogue, his use of colloquialisms sometimes makes him sound more like an American police detective than what I'd expect a Danish detective to speak like. That felt a bit jarring, since otherwise the character's manner of speech fits the image of him so well that the author paints for us. But it's a small, unimportant fault.
The story mentions sexual assault, a subject upsetting for some readers. I can't say more about that without interjecting a spoiler, which I'm unwilling to do. Just be forewarned you will encounter it.
I highly recommend this book to fans of Scandinavian crime fiction, especially for those who enjoy reading the likes of Stieg Larsson and Henning Mankell.
Immersive, with more than enough action, mystery, and pulse-pounding suspense to satisfy any thriller fan.
I received a copy of the book from the publisher via NetGalley for the purposes of this review.