Cast Into Doubt by Patricia MacDonald is an absorbing suspense thriller featuring Shelby Sloan – chief buyer of women's apparel at a Philadelphia department store who gets forced into service as a sleuth when a vacation goes horribly wrong.
Cast Into Doubt by Patricia MacDonald, first published by Severn House Publishers Ltd March 1, 2011 and republished by Joffe Books in April 2021. I based this review on the Joffe Books version.
Cast Into Doubt
Published by Joffe Books
on April 7, 2021
Genre: Thrillers / Suspense
ISBN-13: 978-1-78931-712-1
253 pages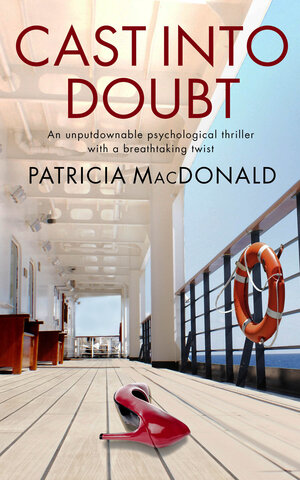 A gripping novel of domestic suspense – Shelby Sloan, a successful Philadelphia businesswoman in her early forties, has one child, a daughter whom she raised on her own. She gives her daughter, Chloe, and son-in-law, Rob, a Caribbean cruise as a gift, while she takes the opportunity to mind her four-year-old grandson. But life becomes a nightmare when Rob calls to tell her that Chloe has disappeared overboard. The police decide it was an accident, but Shelby refuses to accept the official verdict.

Shelby Sloan's only daughter, Chloe, and her son-in-law Rob never had a honeymoon. A well-to-do Philadelphia buyer of women's apparel at a Philadelphia department store, Shelby gifts the couple a Caribbean cruise to make up for it and to give them a break from work and parenting with some well-deserved romantic time alone together. It's also a chance for Shelby to spend time with her young grandson, Jeremy, while they're away on vacation. But things go horribly wrong. A few days into the cruise, Shelby receives a heart-breaking call from Rob, who tells her Chloe has fallen overboard and is missing off St. Thomas. Unable to sit home waiting for news with her only child lost at sea, Shelby scrambles to grab a flight to St. Thomas. When she arrives, it shocks Shelby to learn that the authorities have all but given up all hope of finding Chloe, dead or alive. They show her disturbing videos that appear to show Chloe severely intoxicated shortly before her disappearance. The St. Thomas police and the cruise line insist Chloe's demise was likely an accident. But Shelby simply can't accept it, even when her son-in-law reveals that her daughter was a closet alcoholic. When it seems no one else is mounting an adequate investigation, Shelby takes matters into her own hands.
This was the first book I've read from Patricia MacDonald, whose writing style reminds me a little of that of Mary Higgins Clark. I saw the book mentioned in an Amazon promotional email, and the synopsis caught my interest. The story grabbed my attention quickly and held my interest throughout. At first I wasn't sure if it would turn out to be a murder mystery or the story of a grieving parent unable to come to grips with the loss of her only daughter. But soon, like Shelby, I was convinced that Chloe's disappearance and presumed death wasn't an accident.
There was a lot of conflict in the book that kept ratcheting up the suspense and that propelled the plot forward. Shelby faced an uphill battle in convincing anyone else, including her son-in-law, that Chloe was a victim of anything more than an accident. She also had to deal with her unsympathetic older sister and a boss who seemed more interested in when Shelby would return to work than about her devastating loss.
The thing I liked most about the book was the unusual circumstances. Arriving in St. Thomas after her daughter had fallen overboard from a cruise ship, Shelby had little in the way of clues to work with while trying to determine what happened. Once it seemed someone murdered Chloe, MacDonald provided lots of suspects and inventive ways for Shelby to find the clues that helped her work through the suspect pool. Even once it was clear someone had murdered Chloe, MacDonald kept me guessing about who the killer was until the big reveal near the end. And that came with a welcome twist.
While the pace was uneven in spots, overall Cast Into Doubt moved along quickly in the way you expect from a thriller. The characters were realistic and believable. Sometimes the story required more suspension of belief than I usually like, but generally it was a story I could imagine playing out in actual life. MacDonald's writing engaged me emotionally. More than once I felt exasperated with Shelby at points in the story where she attempted to do things she wasn't well-suited to perform. But that only added to the realism, since it was the things you'd expect a grieving mother to do while trying desperately to find out what happened to her daughter when no one else would help her.
I found Cast Into Doubt an enjoyable read suitable for readers who enjoy suspenseful mysteries featuring an amateur sleuth. I liked the book well enough that I'm keen to read more from Patricia MacDonald.
I purchased the copy of the book used for this review.