Book Blitz: Omerta (Howard Drew, 1) by Larry Darter #omerta
Today we're celebrating the newly released Omerta (A Howard Drew Novel) by Larry Darter, with an exclusive excerpt.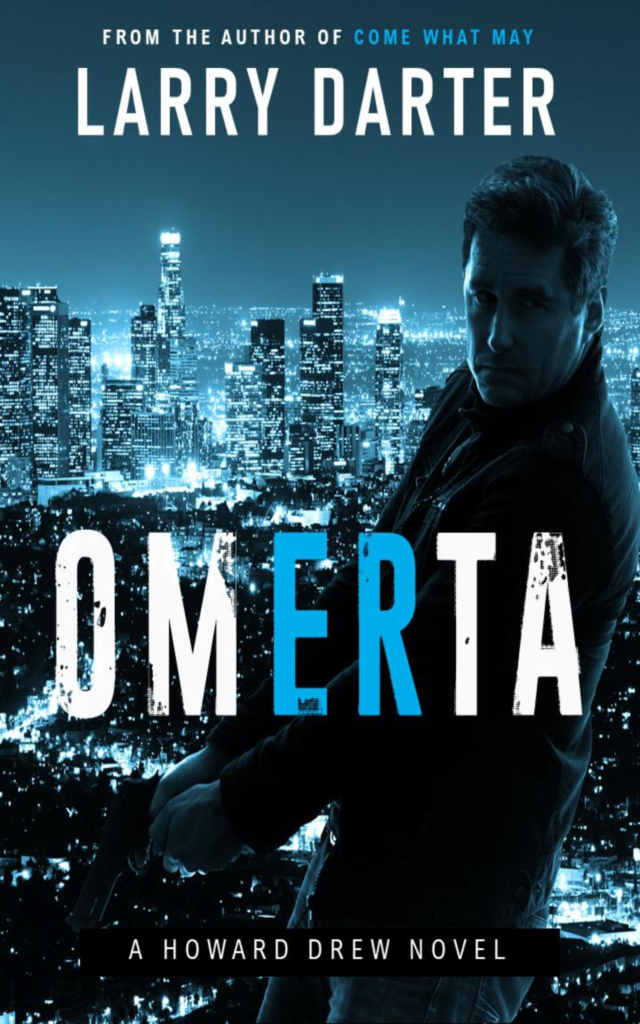 Omerta (Howard Drew, 1)
Published: Mar. 9, 2021
Publisher: Fedora Press
ISBN-13: 9781734969870
Genre: Mystery & Detective / Police Procedural
Pages (Print): 276
Available in print and electronic versions
For a homicide detective, a day on the job means hunting killers while trying not to get killed. If you're a homicide detective in Los Angeles, it also means dealing with the most overwrought, desperate, and deluded criminals anywhere. When you're a brand new homicide detective spending your days and nights in the gritty underbelly of the city that never sleeps with a tetchy veteran murder cop for a partner, you must keep your cool and your wits about you when the bodies start hitting the floor.
Putting the pieces together when someone shoots to death execution-style a semi-famous Hollywood screenwriter with mob ties is Howard Drew, recently promoted to Detective II and transferred into West Bureau homicide. Just when Drew and his veteran murder cop partner and mentor Detective Rudy Ortega think they are making progress in solving the murder, the leads dry up and the case goes cold. But on the mean streets of LA, there are always plenty more murders to investigate.
Drew and Ortega quickly pivot to investigating the rape-murder of a twenty-two-year-old stripper and aspiring actress. They spend their days chasing down leads in West LA while at the same time battling the inefficient LAPD bureaucracy and trying to coax the support they need to solve cases from the department's overworked and understaffed Scientific Investigation Division. From their squad room at West Bureau, they see the glamour city for what it is: a sprawling metropolis where the tedious is dangerous and the dangerous is tedious.
"Getting to talk to Hurst is going to be a problem," Ortega said. "The guy is a multi-millionaire who is probably guarded by an army of high-priced New York lawyers who aren't likely going to let him talk to us."
Tommy Pope, another West Bureau veteran homicide detective who sat at the desk on the other side of Ortega's, rolled his chair back and looked over. He'd overheard Ortega and Drew discussing the case.
"You've already had the Silverman case for four days," Pope said to Ortega. "You haven't solved it yet?"
"Murder investigations don't work like on television," Ortega said. "Not that you would know anything about investigating a murder, Tommy."
Both of the detectives laughed. "I saw the paper this morning," Pope said. "The New York cops think Hurst killed his wife. New York detectives were coming out to talk to Silverman about it. Then she turns up dead. I may not be much of a detective, but Hurst is the first guy I'd smack in the forehead."
"The problem is he is rich, and for rich people, the law doesn't matter as much," Ortega said. "I doubt we'll be able to get through his phalanx of expensive attorneys to interview him."
"One way to find out," Drew said, picking up his phone. "Who did the paper say was handling Hurst's wife's case?"
LARRY DARTER is an American author of detective novels and other crime fiction, notably those featuring private investigator Ben Malone and LAPD homicide detective Howard "Howie" Drew.  Darter is the author of 14 novels, including Amazon bestseller Come What May.