Snowblind by Ragnar Jónasson is the debut novel in Jónasson's The Dark Iceland Series of Scandi Noir thrillers. Set in the idyllically quiet fishing village of Siglufjorour in Northern Iceland, where no one locks their doors—accessible only via a small mountain tunnel, Snowblind features Ari Thór Arason, a rookie police officer on his first posting, far from his girlfriend in Reykjavik—with a past that he's unable to leave behind.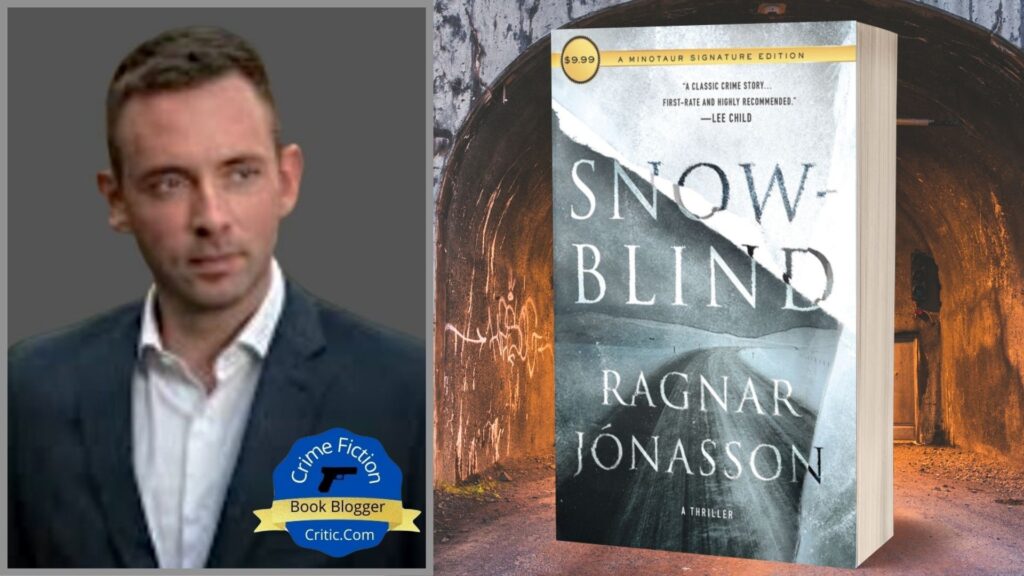 "The red stain was like a scream in the silence. The snow covered ground was so white that it had almost banished the winter night's darkness, elemental in its purity."
Lee Child, a best-selling author who knows a thing or two about writing thrillers, says, "Jonasson is an automatic must-read for me … possibly the best Scandi writer working today." I think Lee may be on to something.
Snowblind is set in Siglufjorour, a quiet fishing village that is the northernmost town in Iceland—a place where everyone knows everyone—"where nothing ever happens" and no one locks their doors. It is accessible only via a small mountain tunnel which becomes problematic in winter when the village is often snowed in and very much inaccessible.
Ari Thór Arason, a rookie police officer who gave up on a theology degree to enter police college, is on his first posting, far from his girlfriend Kristin, who stays behind in Reykjavik. Ari Thór also has a past that he's unable to leave behind.
While nothing bad may have happened in Siglufjorour in the past, that soon changes when a young woman is found lying naked from the waist up in the snow, bleeding and unconscious, and a highly esteemed elderly writer falls down a staircase to his death. The events drag Ari Thór straight into the heart of a community where he can trust no one, and secrets and lies are a way of life.
The tension mounts when Ari is thrust ever deeper into his own darkness―blinded by snow with a killer on the loose.
The village of Siglufjorour is almost more a character in the book than only the setting. Jónasson's crisp, bleak prose masterfully evokes the twenty-four-hour winter darkness, the biting cold, the relentless snow, and a village suddenly cut off from the rest of the world by an avalanche while there is a killer on the loose. Jónasson's descriptive words provoke the same feeling of foreboding and claustrophobia for the reader as Ari Thór often experiences in the book. This was what I liked most about Snowblind.
The richly drawn characters are another strength of the book. The reader quickly identifies with and feels sympathy for Ari Thór over the events of the past he has never let go of, his separation from Kristin, and the manner in which most of the villagers treat him as an outsider. Like most police officer characters in contemporary crime fiction, Ari Thór has his share of flaws, but overall he is a very likeable and believable character.
No book is ever perfect, yet it was difficult to find much to criticize about Snowblind. Jónasson is a superbly talented writer. There were a few spots where the pace lagged a bit. So I can't agree with others who have described the book as a "taut" thriller. But overall, Jónasson's who-done-it kept me turning the pages and eager to read the next book in the series.
Interesting Fact: Ragnar Jónasson has translated fourteen Agatha Christie novels into Icelandic. You must wonder how much her books have influenced Jónasson's writing.
Snowblind is a first-rate novel highly recommended to readers who enjoy a classic crime story, especially fans of Scandi-noir.
Pubisher: St. Martin's Publishing Group
Published: November 7, 2010 (English translation)
Translated into English by Quentin Bates
Pages: 336
ISBN-13: 9781250144683
Available in print, as an electronic book, and audiobook.
Other Books in the Dark Iceland Series
Blackout (2011)
Rupture (2012)
Whiteout (2013)
Nightblind (2014)
Winterkill (2020)