In Dark Horse by J. D. Underwood, his debut novel, an ambitious young Sydney bank manager expecting a promotion, instead gets banished to an under-performing bank in a backwater farming community after her ex-boyfriend steals the promotion she coveted. An assumption that her big-city smarts will see her back in the game in the big smoke in no time proves wrong. The woman not only learns things work a little differently out in the bush, but that there is serious mischief afoot in the town she hadn't counted on encountering.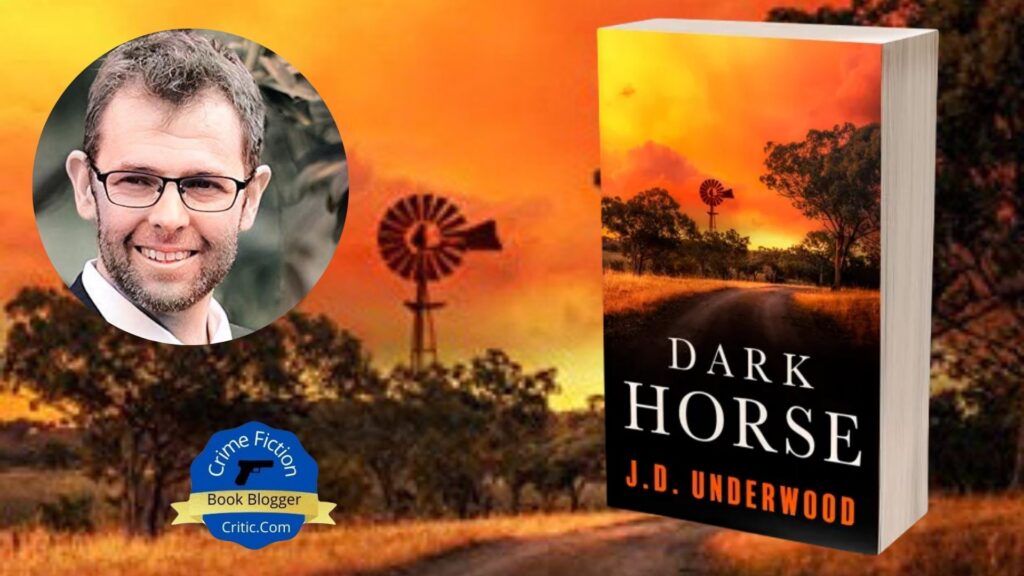 Dark Horse (Brooksdale Book 1)
Publisher : Independently published
Publication date : January 12, 2020
ISBN-13 : 9780648773313
Paperback : 414 pages
Available in paperback and as an electronic book
Dark Horse explores the cleaning up of a corrupt town, and the struggle of good versus evil.
"Now was her time. For the past eighteen months, she had been the branch manager at John & Mitchem Bank in Manly—the youngest manager in the bank's history. In that time, she had grown the customer base and increased the branch's profitability. Now she had a meeting at the head office about a promotion to the Commercial Banking division."
Maria Henderson, an ambitious 29-year-old bank branch manager attends a meeting at the head office, confident she is about to ascend the next rung up the ladder of success. But she gets a shock when the board informs her they are giving the promotion she expected to her ex-boyfriend. Adding salt to the wound, the home office ships her out to a small town in the bush to turn around the struggling bank branch there.
So begins a young woman's quest to advance in the male-dominated world of Australian banking. Haunted by the unfairness of it all, she journeys to the tiny farming community in northern New South Wales, determined to restore the small branch to profitability and to return to Sydney within a year's time. In the end, Maria discovers much more in the small town called Brooksdale than she ever imagined.
While Maria Henderson struggles to gain her footing at her new bank branch, Brooksdale native, Tony Carpenter, who recently left a life of thuggery as a member of an outlaw motorcycle gang, has recently returned to town to help an elderly friend, Bob, save his failing gym. Yet try as he might to stick to the straight and narrow, Carpenter's unsavory past continues to follow him. His former gang moves into Brooksdale to take over the local drug trade. To make matters worse, a dodgy local entrepreneur is determined to buy out Bob because he wants the land for a redevelopment scheme.
The lives of Henderson and Carpenter intersect, when Maria decides to foreclose a loan taken out by the gym's aging owner when Bob falls behind on his payments. But after Maria develops a romantic attraction for Tony and discovers the shady developer and his henchmen are employing every dirty trick in the book to wrest the gym and property from Bob, she opens her heart to Tony and dropping the foreclosure action, becomes an ally of Tony and his old friend.
Once the crooked business developer and the outlaw biker gang join forces against Tony and Bob, the stakes rise and the sparks fly. Someone could get hurt, or worse.
Dark Horse was not at all what I expected when I accepted the book for review. While categorized as a thriller, at its heart, this is a fetching moral tale encouraging readers to never give up on life when faced with hardships and struggles with inner demons.
While the plot includes its fair share of thugs, hustlers, gangsters, outlaw bikers, and other riffraff, a taut thriller that will keep you on the edge of your seat, it's not.
That's not to say it isn't a pleasing read. I loved the book. But I think it's a better fit for romance or literary fiction. Underwood, an entertaining storyteller, held my interest throughout and kept me turning the pages from beginning to end. Since crime fiction is my passion, had I known more about this book before reading it, I might have given it a miss. But I'm so glad I didn't because I found it a delightful read.
If you're seeking a novel that is fast-paced, full of conflict, tension, suspense, unexpected twists, and high stakes where every single scene propels the action forward, tests the characters, and take the reader on a roller coaster ride, Dark Horse isn't that. But if you enjoy an engaging tale, well told with believable characters, you will enjoy reading this book.