Knife Edge by Kerry Buchanan—A wickedly sharp debut psychological thriller from an author to watch.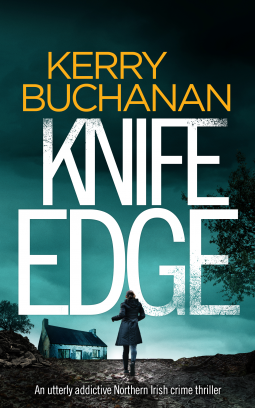 Knife Edge
Publisher: Joffe Books
Publication Date: Apr. 15, 2021
ISBN-13: 9781789317510
Print Length: 231 pages
Paperback and electronic versions
Available for preorder
"They had been making a night of it in Belfast, a whole group of them in Katy's bar, deep inside the Limelight nightclub. Exams were on the horizon, but it had been Hannah's birthday, and they'd all gone out."
When Nicola "Nic" Gordon, a twenty-year-old college student, and her friend Colm go to a Belfast nightclub to celebrate a roommate's birthday, things go terrifyingly wrong. She wakes up in a shabby, rural cottage, naked and shivering, bound and gagged and unable to work out how on earth they both ended up there. A masked, sadistic monster holds them captive and tortures them for six days until Nic breaks free and escapes. She is lucky to be alive, but the nightmare is only beginning.
Isn't it just fantastic when you pick up one of those psychological thrillers that grabs you by the throat and won't let go, demanding that you sit on the edge of your seat for every suspense-filled, nail-biting moment of it? Knife Edge is one of those novels for me.
Thematically, the reader finds mental illness, a dissolving sense of reality, obsession, pursuit, paranoia, and murder. Knife Edge ticks all the boxes you expect from an absorbing psychological thriller—a maniacal killer, intense pacing, suspense, unbearable tension, unexpected twists, high stakes, anxiety, and terror.
Oh, and don't forget about the knives. We hate the knives.
"With methodical slowness, her captor ran his thumb along the blade of the knife. It was just for show, just to prolong the suspense: all his knives were sharp, so sharp you didn't feel the initial cut – not until the hot gush of blood."
Buchanan's narrative is straightforward but descriptive. I particularly liked her effectual use of similes and metaphors. While thrillers often are more plot-driven than character-driven, Knife Edge is not only a tightly plotted and tense thriller. It has lots of interesting character development and a multitude of twists along the way. Besides Nic, the protagonist, there is a human-feeling cast of supporting characters, including Nic's family and the police detectives—Detective Inspector Ram and Detective Sergeant Asha Harvey—who are desperate to apprehend the killer before he claims more victims.
If you love an intense, creepy, and suspenseful psychological thriller that you cannot put down once you've started it, this book will absolutely thrill you. I'm eagerly anticipating the release of Small Bones, the sequel to Knife Edge.
Kerry Buchanan lives amid the rolling County Down hills that feature in her debut crime series. When she isn't writing, Kerry performs her work at literary events and participates in literary panels, and works with new writers. She is disabled, and passionate about sailing and attempting to outwit the slugs in her vegetable patch. Generally the slugs win.
Website: https://kerrybuchanan.com