No Plan B, the new Jack Reacher crime thriller by authors Lee and Andrew Child, is an entertaining read not lacking in ambition and imagination. It's another step in the right direction toward restoring the Jack Reacher franchise to its former glory.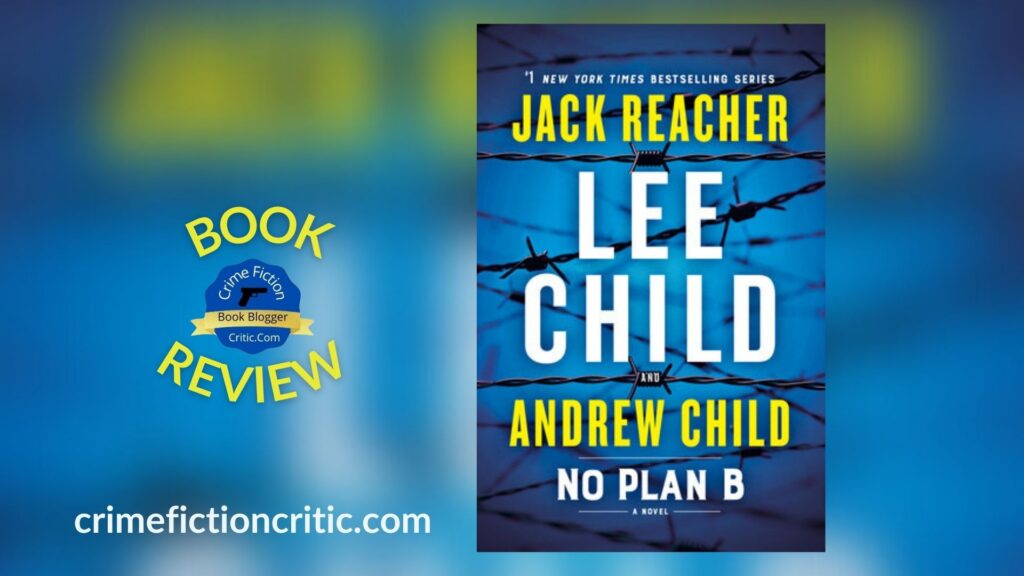 Hands down, no review I've written received as many comments on my website as the review I wrote for Better Off Dead by Lee Child and Andrew Child, the twenty-sixth Jack Reacher thriller. And those comments were uniformly negative, disagreeing with my positive review of the book. I get that. There remain vast numbers of cynical former Jack Reacher fans who became horribly disillusioned when the quality of Lee Child's writing waned dramatically, starting with the publication of Night School, the twenty-first Reacher novel. I sympathize with these readers because I became as negative about the series as any other disappointed once rabid fan. After attempting to read The Sentinel, the first Jack Reacher novel after Lee announced his retirement and that he had turned the series over to his brother Andrew, and finding it impossible to continue past the fifth chapter, I vowed I'd never read another Reacher novel or anything with the name Child on the cover. If Lee Child had lost his passion for writing, why couldn't he have left well enough alone and stopped sooner instead of turning out a handful of awful books just to collect a few more fat publisher's advances off the superstar reputation he had established.
Fast forward to 2021 and Better Off Dead. When the publisher offered me an advanced copy for review, my curiosity got the best of me and I accepted. No, it wasn't The Killing Floor, Worth Dying For, or any of my other all-time Reacher favorites, but the book gave me hope that Lee and Andrew were making a serious step toward restoring Reacher to pedestal he once occupied as one of the greatest crime thriller characters of all time. And, with all due respect to readers who disagreed, it deserved the positive review I gave it. So, when a publisher's representative reached out and offered me an advanced copy of No Plan B, the twenty-seventh book in the series, I cautiously accepted.
No Plan B
by Lee Child and Andrew Child
Published by Random House Publishing Group – Ballantine, Delacorte Press
from 25 October 2022
ISBN 9781984818546 (hardcover)
Genre(s) Thriller & Suspense
368 pages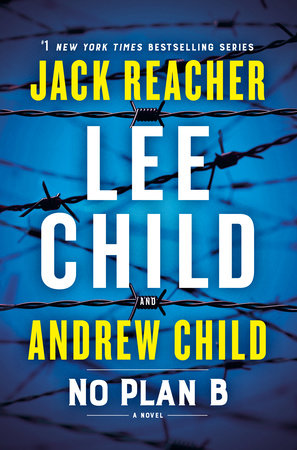 From the publisher…

In Gerrardsville, Colorado, a woman dies under the wheels of a moving bus. The death is ruled a suicide. But Jack Reacher saw what really happened: A man in a gray hoodie and jeans, moving stealthily, pushed the victim to her demise—before swiftly grabbing the dead woman's purse and strolling away.

When another homicide is ruled an accident, Reacher knows this is no coincidence. With a killer on the loose, Reacher has no time to waste to track down those responsible.

But Reacher is unaware that these crimes are part of something much larger and more far-reaching: an arsonist out for revenge, a foster kid on the run, a cabal of powerful people involved in a secret conspiracy with many moving parts. There is no room for error, but they make a grave one. They don't consider Reacher a threat. "There's too much at stake to start running from shadows." But Reacher isn't a shadow. He is flesh and blood. And relentless when it comes to making things right.

For when the threat is Reacher, there is No Plan B.

As Jack Reacher continues drifting across the country, he stops at the small Colorado town of Gerrardsville to visit some Civil War related museums he's heard of that interest him. There he witnesses a man shove a woman to her death beneath the wheels of a city bus. Reacher pursues the man on foot into an alley, intent on confronting him and holding him for the police. But fate and an accomplice intervene, which allows the killer to escape. Then when he returns to the scene to contact the police to tell them what he saw, the local detective assigned to investigate the woman's death informs Reacher that the authorities are ruling the death a suicide based on the statement of another witness. That doesn't sit well with Reacher, who knows what he saw and despises injustice. So, he begins his own investigation. That leads him to another recent death in the town of a man believed to have died a natural death from a heart attack. But as Reacher keeps digging, he learns of a longstanding connection that existed between the heart attack victim and the murdered woman and he grows even more suspicious, believing someone also murdered the man. Eventually Reacher establishes a private prison in Mississippi, has some connection to both deaths and soon he is on his way to Mississippi with the ex-wife of the dead man to determine what the connection is.
It's easy to imagine the challenge of coming up with new ways to get Reacher, a retired military cop who drifts aimlessly across the country, into believable situations where he must use his past investigative skills and knowledge to right wrongs that the local cops either can't or won't address. Especially in a series this deep. But I think this may be one of the most imaginative plots in a long while. Another thing about the book that impressed me is it's also one of the most ambitious Reacher novels in a long while in that the story features two subplots that move parallel to the main plot throughout the books until all three threads naturally intersect near the end. I can't recall any previous Reacher book like it in that respect. And the subplots do much to add complications to the story to grab and hold the reader's attention.
Minimal character development has always been a hallmark of the Reacher novels. That has changed little with No Plan B. The books in the series are not character-driven as much as action-driven, which has always been part of the appeal. So, Childs hasn't ever spent much time on character development, except for Jack Reacher and a precious few recurring characters that have appeared over the life of the series. But here the authors have spent enough time with the characters involved with the subplots to make them three-dimensional. And that's another thing I like about this book.
This review is based on an uncorrected advance review copy, not the final copy for publication. So, perhaps the editors will make a few changes before the book's release. But one thing I noticed worth criticizing is the copy I read contains more than a few blatantly British colloquialisms and manners of speaking that feel a little jarring because they don't fit with a story set in America with only American characters. Even given Reacher's history growing up on Marine Corps bases all over the world as a military brat, it's unlikely he would have adopted specifically British ways of speaking into his speech. There's nothing wrong with two British authors writing a book set in America and filled only with American characters, but they should avoid the use of terms and colloquialisms almost only ever spoken and written in British English. As only one example, "fishmonger" is a mainly British term for a storekeeper who sells fish which in my entire life I've never heard uttered in the United States, though Americans may have used the term in the colonial days.
While I enjoyed Better Off Dead, I liked No Plan B a little more and see it as another step in the right direction toward restoring the Jack Reacher franchise to its former glory and perhaps winning back some of Reacher's past fans. It's well worth a read.