Righteous Prey by John Sandford, the the thirty-second book in the Prey series, is more vintage Lucas Davenport goodness.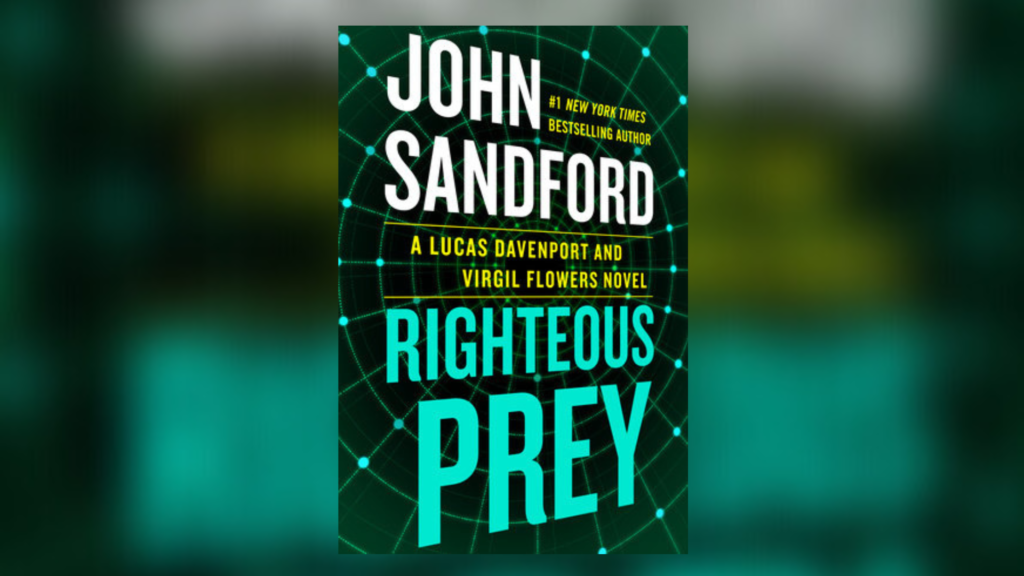 Righteous Prey by John Sandford, the pen name for the Pulitzer Prize-winning journalist John Camp, is the thirty-second book in the Prey novels series featuring Lucas Davenport. Besides the Prey novels, Sandford is the author of the Kidd novels, the Virgil Flowers novels, and six other books.
I've been a Sandford and Davenport fan since reading my first Prey novel (Rules of Prey, 1989) and I've read every book in the series since. This one is unique in that Sandford billed it as a Lucas Davenport and Virgil Flowers novel, which I found disappointing. Not that I don't love the Virgil Flowers character. I do and I've read every book in that series too. But disappointing because I assume we won't be getting a new Virgil Flowers novel this year. That's probably because Sandford is working on his second Letty Davenport (Lucan Davenport's adopted daughter) novel. But that's okay, too. I loved the first one and am eager to read the next one.
Feel free to disagree. We all may be wrong sometimes. But in my considered opinion, John Sandford is probably the best crime fiction writer of our times. The great thing about Sandford is no matter how many bestseller books he has written or how famous he's become; he has never lost his passion for writing, as some authors have been prone to do. He delivers consistent quality writing and tight, imaginative plotting every time. This book is no exception.
Righteous Prey (Lucas Davenport #32)
Published by Putnam (Penguin Random House)
from October 04, 2022
ISBN 9780593422472 (hardcover)
Genre(s) Suspense & Thriller, Crime Mysteries
416 pages

From the publisher…

Lucas Davenport and Virgil Flowers are up against a powerful vigilante group with an eye on vengeance in this stunning new novel from the #1 New York Times bestselling author.

"We're going to murder people who need to be murdered." 

So begins a press release from a mysterious group known only as "The Five," shortly after a vicious predator is murdered in San Francisco. The Five is made up of vigilante killers who are very bored…and very rich. They target the worst of society—rapists, murderers, and thieves—and then use their unlimited resources to offset the damage done by those who they've killed, donating untraceable Bitcoin to charities and victims via the dark net. The Five soon become popular figures in the media …though their motives may not be entirely pure.

After The Five strike again in the Twin Cities, Virgil Flowers and Lucas Davenport are sent in to investigate. And they soon have their hands full–the killings are smart and carefully choreographed, and with no apparent direct connection to the victims, the killers are virtually untraceable. But if anyone can destroy this group, it will be the dynamic team of Davenport and Flowers.

"The world has only so much room for people like her, and occasionally, one of them has to go." An analysis offered to U.S. Marshall Lucas Davenport by an unsympathetic neighbor of Hillary Sikes, after her housekeeper discovered her dead body inside her garage. After someone murdered Sikes in the Twin Cities, Davenport and his frequent sidekick, Minnesota BCA agent Virgil Flowers, get involved in the investigation, along with the FBI. The FBI gets involved because it turned out Sikes was the third victim killed by a group of vigilantes billing themselves as The Five, who according to the bizarre press releases they send after every murder, are on a mission to "help rid America of its assholes." And the murders occurred in three different states. Most people who knew Sikes agreed she deserved the epithet, as did the other two victims. Davenport observes, "Nobody cares that assholes are being killed." But he recognizes The Five "are psychos" that must be stopped. He isn't wrong, since the killings continue.
While the murderers seem to well plan and meticulously carry out each murder with an eye for escaping identification, the person who killed Sikes made an uncharacteristic mistake, which through good police work, Davenport and Flowers uncover. That leads to the man's identity. Eventually, thanks mostly to the efforts of Davenport and Flowers, the FBI accumulates enough evidence to arrest Sike's killer and hopes they can pressure him into giving up his accomplices. But when he makes bail, someone murders him and he is only the first of The Five who becomes a murder victim in this complex plot. The good guys wonder if someone is cleaning up loose ends. The case takes Davenport and Flowers from coast to coast, along with points in between.
You can always rely on Sandford to serve up an imaginative plot, but with this novel I think he outdid himself. Two other things make Righteous Prey a notable addition to the series. First, it contains a lot of current events like the waning COVID pandemic, the growing prominence of Bitcoin, and current growing division and animosity between conservatives and liberals in the United States. The other is the side story about Virgil Flowers and his budding side gig as a crime fiction author. Both add interest to the story. This is vintage Davenport with a full slate of psychopathic evil doers and Lucas treating every murder investigation as a competition to be won.
Davenport and Flowers fans won't want to miss this one, and anyone who enjoys an entertaining crime thriller will enjoy Righteous Prey. The ending may not be as satisfying as we often want, as far as every evildoer facing the cold realities of justice, but Sandford never promises us a happy ending every time. The only real criticism I can offer, is like all Prey novels, you reach the last page far sooner than you wanted. That's especially true for readers like me who inhale more than read John Sandford's enjoyable and compelling books.
I received an advance copy of the book from the publisher via NetGalley used for this review, which represents my honest opinions.