Better Off Dead by Lee Child and Andrew Child—Vintage Jack Reacher.
Better Off Dead (Jack Reacher 26)
by Lee Child and Andrew Child
Published by Penguin Random House
from October 26, 2021
Genre(s): Thriller & Suspense
ISBN 978-1-984-81850-8
400 pages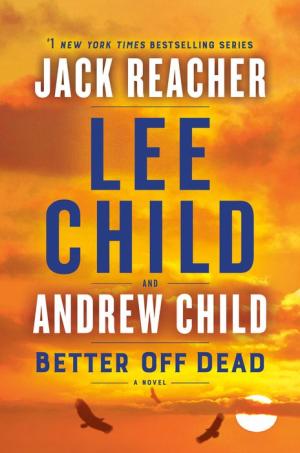 Reacher goes where he wants, when he wants. That morning he was heading west, walking under the merciless desert sun—until he comes upon a curious scene. A Jeep has crashed into the only tree for miles around. A woman is slumped over the wheel.
Dead? No, nothing is what it seems. 

The woman is Michaela Fenton, an army veteran turned FBI agent trying to find her twin brother, who might be mixed up with some dangerous people. Most of them would rather die than betray their terrifying leader, who has burrowed his influence deep into the nearby border town, a backwater that has seen better days. The mysterious Dendoncker rules from the shadows, out of sight and under the radar, keeping his dealings in the dark.
 
He would know the fate of Fenton's brother. 

Reacher is good at finding people who don't want to be found, so he offers to help, despite feeling that Fenton is keeping secrets of her own. But a life hangs in the balance. Maybe more than one. But to bring Dendoncker down will be the riskiest job of Reacher's life. Failure is not an option, because in this kind of game, the loser is always better off dead.

I've been a Jack Reacher fan since picking up and reading Killing Floor in 2000. Afterward, I bought and binge-read the next three novels. Then, starting with Echo Burning in 2001, I bought and read every new Reacher book as soon as it came out.
When Child (James Grant) launched the series, there was no character quite like Jack Reacher. He's an ex-military cop turned drifter who wanders the back roads of America, always finding some injustice he must put right like some modern-day mythic avenger. I think it's fair to say that the series developed a cult-like following.
The first twenty-five books were bestsellers, with sixteen hitting the top of the list. James Grant's nom de plume, Lee Child became one of the most recognized thriller author names on the planet. He went on to sell more than 100 million books, which have been translated into 40 languages and adapted into two movies starring Tom Cruise.
Through the twentieth novel, Make Me, the author never missed a beat. With each new installment, the writing remained tight, and the action non-stop. Once I started a Reacher novel, I didn't want to put it down until I'd read the last page. Then something happened. The quality of the writing started to slip.
Beginning with Night School, the twenty-first novel—probably an ill-advised second prequel for such a mature series—Child took us back to Reacher's days as an Army MP and wrote the book in the third person rather than the usual first person. As a result, Reacher just didn't seem like Reacher, and the explosive action we were accustomed to, fizzled. Similarly, the next three novels proved equally disappointing.
In 2020, James Grant announced his days as an author were over. I've always marveled at authors who remain passionate about writing the same series for going on a quarter of a century with no drop-off in quality. I can think of only a few who have achieved it. Even an imaginative author who wrote as brilliantly as Grant must have found it increasingly difficult to conceive new, fresh Reacher adventures. It seemed better that he exited the stage while the books were still hitting the bestseller list on the strength of the Lee Child name than to turn out bad ones. But his retirement wasn't the end of the Jack Reacher franchise.
In combination with James Grant's retirement announcement, he revealed he was turning the series over to his younger brother, Andrew Grant, a thriller author of nine thrillers of his own. To maintain the consistency of the brand, Andrew adopted the pen name Andrew Child to carry the series into the future.
Although Lee Child appears on the cover as co-author, according to James, his novelist brother largely wrote The Sentinel, the twenty-fifth Reacher novel. I bought the book but couldn't bring myself to finish it. It wasn't that the writing was bad, but Reacher just wasn't Reacher. When it comes to this immensely popular series, Jack Reacher is the series. Getting that right is job one.
In fairness, the family relationship aside, it is never easy for a new author to take over a series as popular as this one. Nothing against Andrew's skills as a writer, but the change in authors in The Sentinel was far from subtle. It was glaringly detectable, and the Jack Reacher character was too different from past novels. He felt phony.
Still, I wasn't ready to call it quits with Reacher without trying the second Andrew co-authored book. Sometimes, a new author of an existing popular series grows into the role and finds their footing. So, when I had the opportunity to snag an advance copy of Better Off Dead from the publisher, I jumped at the chance.
When Reacher hitchhikes west to see the Pacific Ocean, he encounters under unusual circumstances, Michaela Fenton in a small dead-end Arizona town on the border with Mexico. Fenton, an army veteran and former FBI agent confides she is trying to rescue her twin brother, Michael (also a veteran), who is involved with some very dangerous people. Once Reacher learns the details, he realizes that even a capable woman like Fenton won't succeed alone against the steep odds she faces. So he decides to postpone his trip to help her out, which might turn out one big mistake.
I won't keep you in suspense. Jack Reacher is back, the original six-foot-five, technology-challenged brawler version who captured the imagination of fans at the start. Reacher does use a cell phone a few times in this book, but still prefers getting change for payphones.
I don't know who did the lion's share of writing this time around, but since he is taking over the series, we must hope it was Andrew and that he has now found his stride. This twenty-sixth installment is the best Reacher novel since Make Me and every bit as good as many of the early books in the series. The writing is tight, and the action is as non-stop and explosive as ever. The plot is fresh and imaginative, and there is plenty of suspense.
Reacher is always going to be my favorite character in this series. He's the whole point of reading the books. But, in this one, I really liked Michaela Fenton. She's no damsel in distress but a strong female character capable of holding her own when the numbers are reasonable. But facing an army of bad guys, she needs help as anyone would. We meet other fascinating characters along the way.
My recommendation, if you're a fan of this series, whether you liked The Sentinel or had trouble getting into it as I did, is to get this book. Reacher is back. Those who have never read a Jack Reacher novel but enjoy a gripping, suspenseful thriller will also enjoy Better Off Dead.
Better Off Dead by Lee Child and Andrew Child is published by Penguin Random House and is available from October 26, 2021. I received an advance copy of the book used for this review from the publisher via NetGalley, representing my honest, unbiased opinions.