To Bring My Shadow by Matt Phillips—A gritty and engrossing old-school hardboiled tale set in the darkest corners of San Diego.
To Bring My Shadow
Published by All Due Respect, an imprint of Down & Out Books
from July 15, 2021
Genre(s): Mystery & Detective, Hardboiled Mysteries
ISBN 978-1-73709-781-5
274 pages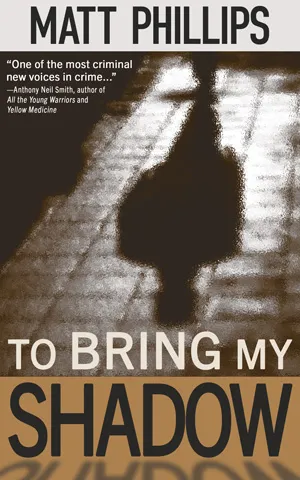 This haunting, hardboiled tale follows detective Frank "Slim Fat" Pinson and his partner as they try to unravel the vexing mystery surrounding a who-done-it drug murder in San Diego.
Frank "Slim Fat" Pinson is your regular hardboiled murder cop—hell, Frank's a cliché. His wife is dead after jumping from a bridge and he's a mal-practicing Catholic. He's tough as nails. Hard as sin. Except not.
When Frank and his partner, "Skinny" Slade Ryerson, catch a cartel murder case, they're sucked into a black hell of political corruption with ties to Santa Muerte. And Frank—a man who knows himself so well—spins into an epic crisis of faith.
The first detective novel from acclaimed pulp writer Matt Phillips introduces readers to a fascinating character of indefensible fault, immense morality, and incalculable demise.

Matt Phillips' adroitly plotted and nimbly executed hardboiled crime tale kicks off with the discovery of a partially dismembered body inside an oil drum in shallow water beneath the Coronado Bridge. Seasoned SDPD homicide detective Frank "Slim Fat" Pinson and his partner Slade "Skinny" Ryerson catch the case. The scene has particular significance to Pinson. His late wife, Miranda, committed suicide by jumping from the bridge, and Pinson is still reeling from it.
After identifying the victim, Enrico Frederico Pablo Castaneda, the detectives discover he has a Santa Muerte—Saint Death—tattoo over his heart, a known drug cartel tattoo. The grotesque dismembering and the tattoo suggest it was a cartel hit. As their investigation proceeds, Pinson and Ryerson obtain information that leads them to discover the bodies of a San Diego family—Mark Jacoby, his wife, and their fourteen-year-old daughter—buried in shallow graves in east San Diego county near the border with Mexico. The family had been missing for about six months, and the feds had big-footed the case. More painstaking investigation leads the detectives to believe the Jacoby and Castaneda cases are connected. However, the more dirt the pair dig up, the more convoluted the investigation becomes when they learn the murders involve drugs, money laundering, a shady real estate development plan, and political corruption. The investigators are tenacious, but it seems someone is throwing up barriers to shut down their investigation at every turn.
Frank Pinson, the lead character, is cliché. But that's okay because Frank knows it.
"Don't worry—the detective knows he's a cliché."
Pinson has suffered a recent tragedy. Predictable. He is alone since his wife's suicide and his estrangement from his son and daughter. Expected. But, Frank isn't only alone. He is lonely and depressed. Check. He's 49-years-old and has spent most of his adult life as a cop. Pinson is overweight, out of shape, cynical, and drinks too much. All Anticipated. It's all hackneyed characterization that crime writers have overused with detective characters to the point it seems worn out, stale, ineffective, and meaningless. But, again, it's okay that Frank is a cliché, and not only because he knows it. That's precisely the characterization called for in hardboiled—a tough, unsentimental style of American crime writing that embraces tones of earthy realism in the genre of detective crime fiction. It's almost a trope of the genre. Also, throughout the book, Phillips cleverly adds layer upon layer to Pinson's character, and in the end, you forget all about him being cliché. He becomes a complex, realistic, fully developed protagonist. The author did an equally good job fully drawing a host of believable and interesting supporting characters. The characterization is one of the best things about the novel.
I liked that Phillips chose San Diego as the setting for the book. The storied, almost legendary LAPD overshadows every other police department in California (along with most every other police department west of the Mississippi). The status of LAPD means a vast majority of American crime writers choose Los Angeles as the setting for their novels involving police detectives. This is as true of past authors as with contemporary crime writers like Joseph Wambaugh (although I recall Wambaugh used San Diego as the setting for at least one novel) and Michael Connelly (Harry Bosch creator). It's refreshing to see an author use San Diego, especially for a hardboiled novel. Even before I was aware Phillips is from San Diego, I already knew it from the authenticity of his descriptions of the area. I spent a fair amount of time there during my years in the military and recognized many of the landmarks described, particularly the Coronado Bridge.
True to the book's genre, Phillips' concrete, matter-of-fact prose includes profuse profanity and copious crude remarks along with abundant graphic sex and violence. All that is likely too familiar to shock devotees of the genre (like me). But those who aren't fans of hardboiled fiction might find it all a little jolting and perhaps off-putting. None of it is what I'd consider gratuitous but as much a part of the genre as the vivid but often sordid urban backgrounds and fast-paced, slangy dialogue. But, of course, that shouldn't surprise anyone since hardboiled crime fiction is a literary style, most commonly associated with detective stories, birthed by pulp magazines.
The hardboiled detective was created in the pages of "Black Mask" magazine in the early 1920s by Carroll John Daly. It's difficult to find authentic hardboiled crime fiction today, and a pleasure to find a contemporary crime fiction author who writes hardboiled and writes it properly. I found reading While To Bring My Shadow almost like reading a modern-day (without the fedoras) James M. Cain or Mickey Spillane novel. It's easily the best modern hardboiled book I've read since the Harry Kenmare series written by A. B. Patterson, an Australian crime writer and friend of mine who knows first-hand about corruption, power, crime, and sex from his own police career. The murder investigations conducted by Pinson and his partner Ryerson read like a top-tier police procedural.
If you're a fan of hardboiled or even a devoted reader of well-written crime fiction not easily offended by coarse language, explicit sex, and graphic violence, you should pick up a copy of To Bring My Shadow. From personal experience, I can attest that Phillips does an impressive job of capturing the souls of veteran police officers, most of whom are cynical, but with good reason. They have borne witness to far too many dead bodies, blood and gore, and traumatizing examples of the mindless inhumanity that human beings tend to visit on other human beings. To hang on to their sanity, cops must learn to shield their humanity within an impenetrable shell to the degree that crime victims' bloody, broken, dead bodies don't register emotionally. But, of course, as Pinson and Ryerson's experiences in the book illustrate, when they find a murdered 14-year-old, that only works with adult victims. No cop I've ever known, no matter how cynical, can withstand the wrenching emotional pain that comes from encountering a child victim. Phillips' awareness of all that added extraordinary authenticity to his strong writing.
To Bring My Shadow by Matt Phillips, published by All Due Respect, an imprint of Down & Out Books from July 15, 2021, is now available.
I received a copy of the book from the publisher used for this review, representing my honest and unbiased opinions.
*Also available direct from the publisher.