The Match by Harlan Coben—A solid thriller with a host of intriguing characters.
I'm new to Harlan Coben's books, with The Match being the first I've read. But it won't be my last. His long and celebrated career as a novelist suggests he consistently produces quality work and this, his latest novel suggests the same. The Match, the second book is Coben's Wilde series, offers a solid and satisfyingly suspenseful plot and a host of intriguing characters.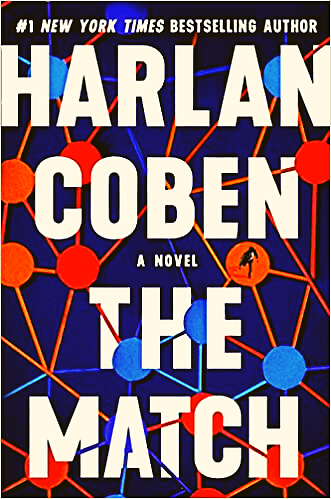 From the modern master of suspense comes a gripping new thriller in which Wilde follows a tip that may finally reveal the truth behind his abandonment only to end up in the sights of a ruthless killer.

After months away, Wilde has returned to the Ramapo Mountains in the wake of a failed bid at domesticity that confirms what he's known all along: He belongs on his own, free from the comforts and constraints of modern life.

Suddenly, a DNA match on an online ancestry database brings Wilde closer to his past than he's ever dreamed, and finally gives Wilde the opening he needs to track down his father. But meeting the man leads to more questions than answers. So Wilde reaches out to his last, most desperate lead, a second cousin who disappears as quickly as he resurfaces, having experienced an epic fall from grace that can only be described as a waking nightmare.

Was his cousin's downfall a long time coming? Or was he the victim of a conspiracy as cunning as it is complex? And how does it all connect to the man once known as The Stranger, a dangerous fugitive with a growing following whose mission and methods have only turned more dangerous with time?

Thirty-five years ago, Wilde, our main character, was discovered living alone in the woods at an age doctors estimated to be between six and eight years old. He had no memory of parents or caregivers. After his rescue, he was raised by foster parents. The book opens with Wilde somewhere between forty and forty-two.
Deciding to learn something about his origins, Wilde submitted a DNA sample to a genealogy website and locates his sixty-one-year-old biological father (Daniel Carter). But when he visits Carter, Wilde discovers his father never knew he existed. Carter says Wilde must have been conceived during a one-night stand during Carter's military service in decades past. Learning nothing from his father, Wilde tries to follow up with another contact from the genealogy site, and second cousin, who he eventually identifies as Peter Bennett.
Unfortunately, it proves more difficult to connect with Bennett than Wilde expects. Bennett, a one-time reality television star, caught in a scandal and canceled, has disappeared. Bennett's sister believes he took his life, but Wilde is unconvinced. He keeps looking and enlists the help of his foster sister and his deceased best friend's mother, a high-powered attorney, to help. When someone murders a retired cop who had trolled Bennett after his fall from grace, Wilde's cousin becomes a suspect. But Wilde can't let it go and continues the search, only to end up in the sights of a ruthless killer.
I like that Coben provided the background on Wilde at the beginning for the benefit of readers like me that haven't read the first book in the series. And I'm sure those who have, also appreciated it since it likely continues Wilde's character arc from the first book. There are a few other threads in this book beyond the main story—Wilde's relationships with his foster sister (Rola Naser), David's (his dead best friend) widow (Laila), his godson (Matthew), and David's mother, renowned criminal defense attorney Hester Crimstein—that offer readers more access to who Wilde is and the man he is. Another intriguing and important thread concerns a group of six people led by a man named Chris Taylor. The group identifies and wreaks vengeance on destructive trolls they learn about who harass and torment innocent people online. The group plays a significant role in the overall plot.
Coben offers twist upon twist in this face-paced, well-written thriller with an imaginative plot that keeps readers guessing as the suspense builds to the ultimate climax. I found the book hugely entertaining and satisfyingly suspenseful. Now I plan to pick up the first book in the series to catch up before the next one comes out. Fans of other mystery and thriller writers like Baldacci and Crais will feel right at home with Coben's writing style. I can't believe I haven't read him before and appreciate another reviewer friend who recommended Coben to me. If you're new to Coben as I was, The Match is not a bad place to get acquainted.
Grand Central Publishing publishes The Match by Harlan Coben from March 15, 2022. I received an advance reader's copy of the book used for this review from the publisher via Net Galley, representing my honest opinions.