Look Closer by David Ellis—The illusion of a normal, wealthy Chicago couple constructed and demolished on a grand scale.
Look Closer is the first book I've read by author David Ellis, and I was impressed with the writing. The novel is cleverly plotted and fast-paced, just what I look for in a suspenseful thriller. It considers complex issues— family, trust, loyalty, and manipulation—and draws on themes around greed, long-standing grudges, and revenge.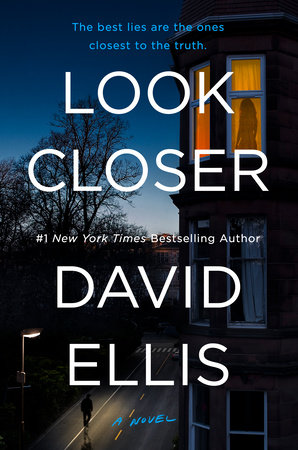 From the bestselling and award-winning author comes a wickedly clever and fast-paced novel of greed, revenge, obsession—and quite possibly the perfect murder.

Simon and Vicky couldn't seem more normal: a wealthy Chicago couple, he a respected law professor, she an advocate for domestic violence victims. A stable, if unexciting marriage. But one thing's for sure … absolutely nothing is what it seems. The pair are far from normal, and one of them just may be a killer.
 
When the body of a beautiful socialite is found hanging in a mansion in a nearby suburb, Simon and Vicky's secrets begin to unravel. A secret whirlwind affair. A twenty-million-dollar trust fund about to come due. A decades-long grudge and obsession with revenge. These are just a few of the lies that make up the complex web…and they will have devastating consequences. And while both Vicky and Simon are liars, just who exactly is conning who?
 
Part Gone Girl, part Strangers on a Train, Look Closer is a wild rollercoaster of a read that will have you questioning everything you think you know.

Look Closer unfolds in multiple time frames with much of the focus on Halloween night in 2022, and the days and weeks before and after. Also, the book focuses on two characters, Simon and Vicky–in the past and present. We learn theirs is a marriage of two people who met when they were both at low points in their lives and came together for mutual support.
"It started with small talk, what she does for a living, how long we've been married, and pretty soon I was opening up about Vicky's childhood, growing up in poverty in West Virginia, running away from home at seventeen, getting hooked on drugs and doing degrading things to support herself. How she was a mess when I met her, but so was I in different ways, both of us adrift and helping each other back to the shoreline."
This theme of relationships–their flaws and fragility–is also reflected in a third timeline, years before Simon and Vicky met. Ultimately this story is about secrets, lies, and betrayals. Ellis gives us snippets of past events that lead up to and provides the catalyst for things that alter the character's lives forever.

Simon and Vicky couldn't seem a more normal and realistic couple. But are they? They seem wealthy with a stable marriage. He's a respected law professor hoping to become tenured. Vicky works for a Chicago domestic violence victim advocacy organization. Simon loves her, but he knows Vicky doesn't love him back. Vicky cares about Simon, but isn't in love with him and knows she isn't the right woman for him. They both know they are housemates more than a couple. Then some startling things occur, a sea change.
By happenstance, Simon runs into the woman (Lauren), his first love, who broke his heart decades earlier. He hadn't known she was back in town. Simon avoids her at first but can't forget her and the memories of their shared past. Then he obsesses about her. Eventually, he engineers a meeting with her. They talk. One thing leads to another, and although they are both married, a steamy affair ensues. Simon contemplates leaving Vicky when he learns Lauren has an unhappy marriage and says she wants to be with him. There's a sense of irony here in that Vicky has her own plans for the future that don't include staying with Simon. She's counting the days until a date she's been waiting on arrives. Then Vicky can walk away with what she has wanted from the start and truly live the life she wants.
The present here plays out against a backdrop of mutual grief. Although Simon's mother died (suicide) over two decades earlier, his sense of loss is still very strong. He blames his father for his mother's death and still holds a grudge, even though his father is long dead. And Vicky feels grief too over her older sister's suicide, who left behind a husband and two daughters. Vicky struggles with blaming herself for not saving her sister.
Although Ellis offers us a great cast of characters and–ultimately a myriad of twists around the secrets everyone is keeping–the strength for me here is nothing is ever as it seems in this book. And the reader does not truly appreciate that until the end. That's what makes this book so spectacularly good. The writing is exceptional and the plotting outstanding and imaginative. Ellis grabs your interest by the throat in the first pages and doesn't let you go until the end.
I found this book a gripping, entertaining read, and I definitely want to read more of this author's work. For those who love trying to figure out whodunit before the cops in the novel do, remember one thing. In Look Closer, nothing is ever as it seems. And that's a big reason why it's one of the best thrillers I've read this year.
Penguin Random House will publish Look Closer by David Ellis from July 05, 2022. I received an advance reader's copy of the book from the publisher via Net Galley used for this review, representing my honest opinions.