Until Thy Wrath Be Past by Åsa Larsson, a gripping story of secrets, intrigue, and murder set in a small village in Sweden. Read my full review.
Until Thy Wrath Be Past Synopsis
Rebecka Martinsson: Artic Murders #4
On the windswept shore of a frozen lake lurks a faceless killer determined to keep the past buried forever beneath half a century's silent ice and snow.
The body of a young woman surfaces in the River Torne, in the far north of Sweden. Meanwhile, Rebecka Martinsson is working as a prosecutor in nearby Kiruna. Her sleep has been disturbed by haunting visions of a shadowy, accusing figure. Could the body be connected to the ghostly young woman in her dreams?
Joining forces once again with Police Inspector Anna-Maria Mella, Rebecka is drawn into a murder and missing-person investigation that becomes entangled with old rumors of a German supply plane that mysteriously disappeared in 1943. Shame and secrecy shroud the locals' memories of the war, with Sweden's early collaboration with the Nazis still a raw wound.
(MacLehose Press, August 2011)
Genre(s): Crime & Mystery, Thriller & Suspsense
When the body of 17-year-old Wilma Persson surfaces in the River Torne in the first thaw of spring, in the far north of Sweden, authorities first believe they are dealing with an accidental drowning. But when pathologist Lars Pohjanen discovers the water in the victim's lungs is not from the river, it becomes clear someone moved the body. As the evidence mounts, Inspector Anna-Marie Mella investigates the death as a murder, and launches a search for the dead woman's missing male companion. Eventually District Prosecutor Rebecka Martinsson, our lead character, gets drawn into the case. And the ghostly vision of an accusing figure appears to her in a dream. Could the body belong to the girl in her dream? Soon Martinsson learns the young woman's death connects with long kept secrets someone doesn't want revealed. Another murder, staged to look like a suicide, occurs and, as Martinsson presses the investigation forward, she soon finds her own life in grave peril.
"I remember how we died. I remember and I know."
The first two sentences of the book reveal our narrator is dead, speaking to us from beyond the grave. I felt a stab of disappointment at the realization. I must confess I'm not enamored with and usually avoid books featuring the mystical or supernatural. While I know that there are things in this world we cannot explain, I don't necessarily want to divert my attention to them when there is already far more going on in our physical world than I have time to focus on properly and worry about.
Nevertheless, having read so many great things about Larsson's writing and so eager to read her work for the first time, I persevered. As it often does, perseverance rewarded me. Once Larsson shifted to the third person point of view and the story became more the traditional crime thriller I expected, the book grabbed my attention. That describes the bulk of the novel, although Larsson continues to switch back to the first person point of view of the spectral Wilma Persson from time to time, the paranormal aspects don't overshadow. Larsson meticulously weaves an extremely intricate plot which unfolds in two time frames, the present and decades past, during World War II. The periods are intertwined and we view the action from the perspectives of multiple characters.
The strength of Larsson's characters makes it very difficult to put this book down. I particularly enjoyed getting to know both Rebecka Martinsson and Inspector Anna-Marie Mella. Both are strong, multi-layered characters, but both battle personal demons from past events that complicate their search for Wilma's killer.
Martinsson is psychologically fragile from previously killing three men in self-defense, something that contributed to a past mental breakdown so severe she spent time in a mental hospital. Anna-Maria Mella is still badly shaken over circumstances where her impulsive actions nearly killed herself and her detective colleague who still holds it against her. While no antagonism exists between Martinsson and Mella, they both vie to take charge of the investigation, which causes friction between them. Larsson does an exceptional job fleshing out Wilma Persson too, which is quite remarkable since she is a corpse from the start of the book. There is also a cast of other support characters that Larsson makes us feel are relatable and human.
From a beginning that caused me to doubt how much I'd like this book, to my surprise, I loved it and found it both compelling and beautifully written. We often assume there can be no secrets in small villages where everyone knows everyone else, but Larsson reminds us that doesn't mean there aren't secrets so well hidden or buried they're left to fester for years.
Until Thy Wrath Be Past is a gripping, atmospheric, and unsettling thriller that I unreservedly recommend. And it left me eager to read more of Larsson's terrific writing.
Book Rating: ★★★★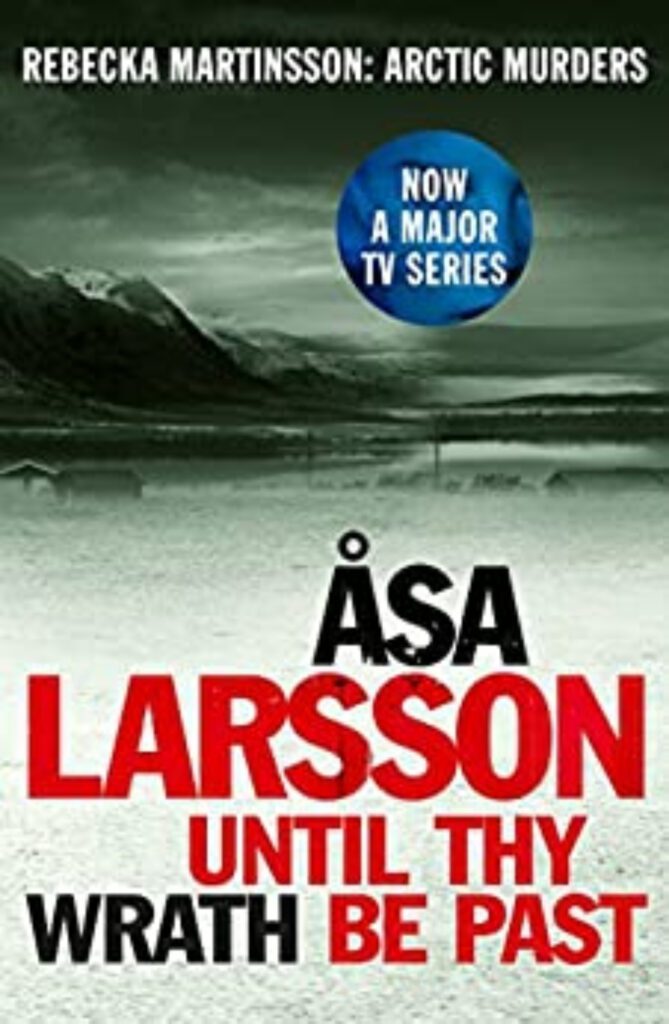 Until Thy Wrath Be Past (Rebecka Martinsson #4)
by Åsa Larsson
Translated by Laurie Thompson
Source: Purchased
ISBN 9780857387493 (eBook)
320 pages