The Darkness Knows by Arnaldur Indridason, a masterfully written story of resolution that operates on multiple levels.
The Darkness Knows
Translated by Bernard Scudder
Published by Minotaur Books an imprint of St. Martin's Publishing Group
On Sale Aug. 17, 2021
ISBN 9781250765468 (hardcover)
ISBN 9781250765475 (eBook)
352 pages
Print, digital, audiobook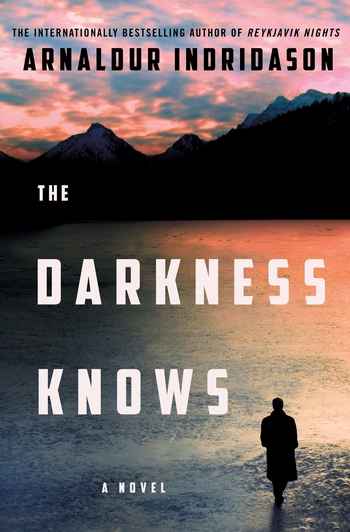 A frozen body is discovered in the icy depths of Langjökull glacier, apparently that of a businessman who disappeared thirty years before. At the time, an extensive search and police investigation yielded no results—one of the missing man's business associates was briefly held in custody, but there wasn't enough evidence to charge him.
Now the associate is arrested again and Konrad, the retired policeman who originally investigated the disappearance, is called back to reopen the case that has weighed on his mind for decades.
When a woman approaches him with new information that she obtained from her deceased brother, progress can finally be made in solving this long-cold case.
In The Darkness Knows, the master of Icelandic crime writing reunites readers with Konrad, the unforgettable retired detective from The Shadow District. This is a powerful and haunting story about the poisonous secrets and cruel truths that time eventually uncovers.

When a melting glacier surrenders the body of a murder victim missing for over thirty years, a retired police officer who originally investigated the disappearance must decide whether to get involved again in the case he failed to solve that has haunted him for decades. There can be little doubt what his choice will be when a woman approaches him with additional information.
Arnaldur Indridason crafts a finely paced, superbly written, multi-tiered story which moves with ease between past and present. Older events that prompt current actions are uncovered and viscerally dramatized. This is a haunting, riveting crime-detective story. Indridason masters the art of delivering a compellingly dark thriller featuring a troubled detective that is defined by its emotional chilliness and overarching sense of despair against the backdrop of the cold and darkness of Iceland.
Rather than keeping the reader constantly on the edge of the seat, the author lulls you into a false sense of security with the minutiae of the intriguing, harrowing investigation and just when you grow comfortable, he blindsides you with the twist you never saw coming. It's a masterfully written story of resolution that operates on multiple levels of time, mind, and spirit that's perfect for the discerning reader of Nordic crime fiction.
I received an advance digital copy of the book from the publisher via NetGalley for the purposes of this review.