The Body Falls is the eminently entertaining fifth novel in Andrea Carter's charming An Inishowen Mystery series. Read my full review.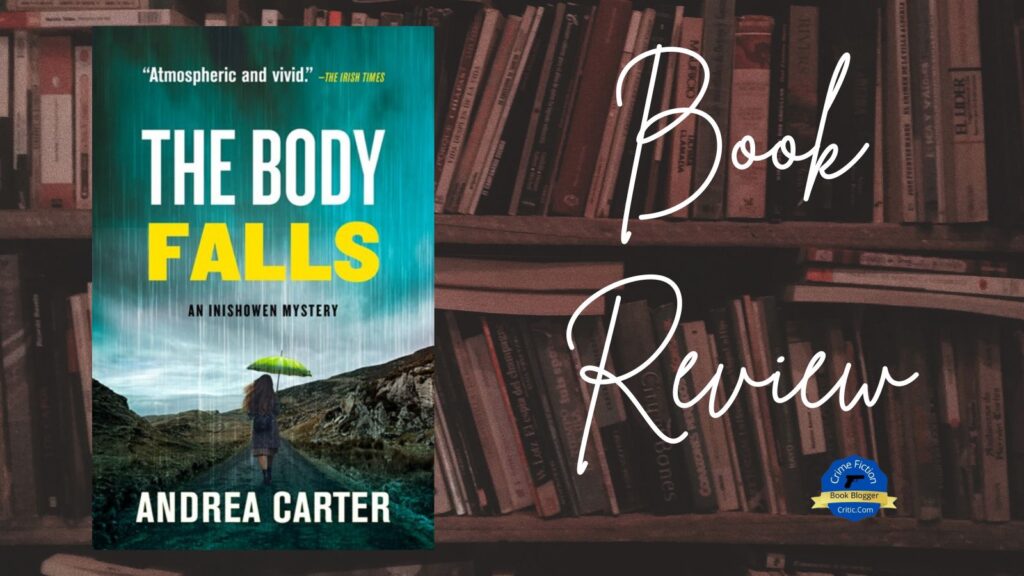 Bridges Down—Roads Impassable—Killer Trapped
April in Florida and Benedicta (Ben) O'Keeffe is enjoying balmy temperatures during the last few days of a six month stint with a U.S. law firm. A week later, she returns to Glendara, Inishowen, where a charity cycle event is taking place. The town is abuzz with excitement, but it starts to rain, causing the cyclists to postpone the start of their event and stay overnight in the town. The rain doesn't stop—it becomes relentless, torrential.
In the middle of the night, Police Sergeant Tom Molloy is called out to Mamore Gap, where a body, dislodged from a high bank by the heavy rain, has fallen onto a passing vehicle. It is identified as Bob Jameson, a well-known charities boss and the organizer of the cycling event. Stunned, the local doctor finds evidence of a recent snakebite. Terrible weather persists and soon bridges are down and roads are impassable. Glendara is completely cut off and since there are no native snakes in Ireland, could there be a killer trapped in the community? With no help from the outside world, it's left to Molloy—with Ben's assistance—to find out who is responsible for Bob Jameson's bizarre death.
(Oceanview Publishing, November 2022)
Genre: Crime & Mystery (Cozy Mystery)
The story unfolds with Irish solicitor Benedicta "Ben" O'Keeffe finishing up a six-month stint working for an American law firm in Sarasota, Florida. Then she travels back home to Glendara, a village on the Inishowen peninsula in the north of County Donegal in Ireland, arriving the day before a charity bicycle race kicks off. But calamity ensues when unrelenting torrential rains cause widespread flooding of homes and businesses in the area and eventually wash out the roads and bridges, completely cutting the town off.
Not only does the disaster delay the bicycle race, more misfortune occurs when the local vet and Ben's friend Maeve drives along a road and rushing water causes a dead body to fall from a hillside onto the hood of her car. When the body falls, the police respond and identify the victim as Bob Jameson, the organizer of the benefit race. With the authorities focused on the addressing the serious flooding effects, and reinforcements unable to access the town, Ben and her romantic interest, police sergeant Tom Molloy struggle to solve the case, discovering along the way that Jameson had secrets and may not have been as altruistic as he appeared.
While The Body Falls is the fifth book in the series, it's the first of Carter's books I've read. I found the synopsis intriguing when I saw the book listed on Edelweiss and requested an advanced reader copy, expecting the book was a traditional mystery. But I quickly realized it's a cozy mystery when I began recognizing all the earmarks of the crime & mystery sub-genre (lots of tea, cat fancier, small town or village setting, crime solving amateur sleuth heroine with a police officer friend or significant other, etc.). Crime thrillers and hard-boiled detective novels are more my style and I rarely read cozy mysteries. But I wasn't at all disappointed I chose this book thanks to Carter's engaging writing style and skillful storytelling. It grabbed me from the first page. I found it a delightfully entertaining read with a well-crafted mystery plot that engages the mind.
I really like Benedicta "Ben" O'Keeffe, a realistic and relatable character. As I read the book, Jessica Fletcher of Murder She Wrote fame kept coming to mind, although I imagined Ben a younger woman. As a legal professional, she has the life experiences and skills required that equip her to solve crimes as an amateur sleuth. And she is an intuitive, inquisitive, and bright woman, everything you need in a heroine. Having a relationship with Tom Molloy, head of the village two-man police force, makes it convenient for her to find out things that she would otherwise not have access to help solve the crime. Carter's lively supporting characters are equally important to the plot, many of whom are funny, eccentric, and entertaining secondary characters. The book is fast-paced, with several twists throughout the book which hold the reader's interest. I couldn't put it down and read it easily in one sitting.
This is a novel that you could easily enjoy as a standalone, but why deprive yourself with four other books in the series? I know I plan to read more of Andrea Carter's work. Fans of Carlene O'Conner's Siobhan O'Sullivan and Agatha Christie's Miss Marple should definitely check this one out.
I received a copy of this book from the publisher via Edelweiss used for this review, which represents my own honest opinions.
Book Rating: ★★★★
The Body Falls (An Inishowen Mystery #5)
Published by Oceanview Publishing
on November 01, 2022
ISBN 978-1-60809-430-1
336 pages