Paradise Cove by Davin Goodwin―a nice twisty whodunit.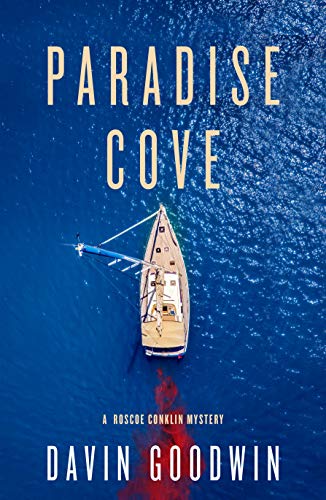 Paradise Cove (A Roscoe Conklin Mystery #2)
Published by Oceanview Publishing
on April 5, 2022
ISBN 978-1-60809-485-1
Genre(s): Mystery & Detective
353 pages
Paradise Cove was the first book I'd read by Davin Goodwin, the second in his Roscoe Conklin Mystery series. The publisher called it to my attention, and the blurb enticed me to dive in. Many times, when I'm asked, I accept most any book I'm offered as long as it falls roughly within the crime fiction spectrum. As a result, I read many books that aren't exactly what I might choose to read for pleasure alone. Not to say I don't enjoy many of them. But once in a great while, I accept a book like this one which turns out to be right in my wheelhouse. I enjoyed this book so much that I immediately headed to the bookstore and bought Diver's Paradise, the first book in the series. So, as I write this review, I've now read two of Goodwin's books and can't wait for the next one in this entertaining series.

From the Publisher
"Every day is paradise on Bonaire—until something unexpected washes ashore.
On the laid-back island of Bonaire, every day is paradise until a seaweed-entangled human leg washes ashore. Combing the beach, retired cop Roscoe Conklin examines the scene and quickly determines that the leg belongs to the nephew of a close friend.
The island police launch an investigation, but with little evidence and no suspects, their progress comes to a frustrating halt. Then, thanks to a unique barter with the lead detective, Conklin finds himself in possession of the case file. He can now aggressively probe for his own answers.
Sifting through the scant clues, eager to bring the killer to justice, Conklin struggles to maintain forward momentum. He has all the pieces. He can feel it. But he'd better get them snapped together soon.
Otherwise, the body count will continue to rise."

It didn't really matter that I read the second book in the series first since Goodwin recaps most everything we want to know from the first book. So, both this book and the other work well as a standalone.
I really like the Roscoe Conklin character, a former police detective from a suburb of Chicago who is living out his retirement years on Bonaire, an island in the Leeward Antilles in the Dutch Caribbean. I've known for a long while that Bonaire boasts some of the best diving in the world, but it's one island in the Caribbean I've never visited it. And Goodwin makes it come alive so effectively that it left me wanting to plan a visit to Bonaire soon.
While retired, Conklin does a little unofficial private investigative work. Since he has no license for it, despite his police experience, he's more of an amateur sleuth. And he doesn't go looking for cases, but friends and acquaintances persuade him to do investigations from time to time. That's how he becomes involved in a murder investigation the story centers on after the severed leg of someone he knew washes up on the beach. Conklin is unabashedly lazy and drinks beer almost continuously, which provides just enough flaws to make him interesting and believable, but not so flawed that he's unlikable.
Besides Conklin, Goodwin offers an array of other interesting, well-drawn characters. There's Conklin's love interest, Arabella De Groot, a Bonaire police officer, and Erika, a Bonaire woman who works for Conklin and helps run his 10-unit hotel. Both are delightful strong women characters who do their best to keep Conklin in line in their own unique ways.
Interestingly, given his background as a cop and professional investigator, Conklin misses a lot of clues and is far from perfect. He's also not the Harry Bosch type and frequently comes out on the losing end of confrontations with the bad guys. But with Arabella's help, he solves the case. Conklin's failure to connect the dots at time aside, this is a nice twisty whodunit and the author effectively keeps us guessing through the liberal use of red herrings until he reveals the murderer's identity.
I enjoyed this book a lot, especially Goodwin's conversational writing style, and I'm already looking forward to the third book in the series.
Oceanview Publishing Sarasota, Florida published Paradise Cove by Davin Goodwin on April 5, 2022. I received an advanced copy from the publisher via NetGalley used for this review which represents my honest opinions.