Outside by Ragnar Jónasson—is a brilliantly suspenseful standalone from one of the world's best contemporary crime writers, but the ending is frustratingly mediocre.
I rarely read reviews from others for books I plan to read to review myself as I like to form and offer my own original opinions untainted by those of other reviewers. But as one of the most successful crime writers on the planet, with over three million copies of his books sold worldwide, it's hard to avoid running into reviews of the latest Ragnar Jónasson (Dark Iceland and Hulda series) offering even when you try.
Shockingly, the few reviews I couldn't avoid all advised giving Outside a miss as it wasn't up to the high expectations Jónasson's fabulous writing has conditioned readers to have. I've been a Jónasson fan since picking up and reading his first book from the Dark Iceland series, and I didn't want what I'd heard to be true. Of course, no one wants to read a disappointing book from one of their favorite authors. But that didn't sway me from wanting to read the book. So, when the publisher offered me an advanced review copy, I accepted. Yet it's fair to say that I approached this one with almost as much trepidation as eagerness because of the negative reviews.
Outside
Published by Minotaur Books
on June 28, 2022
ISBN 9781250833457
Genre(s): Mystery, International Crime Fiction
352 Pages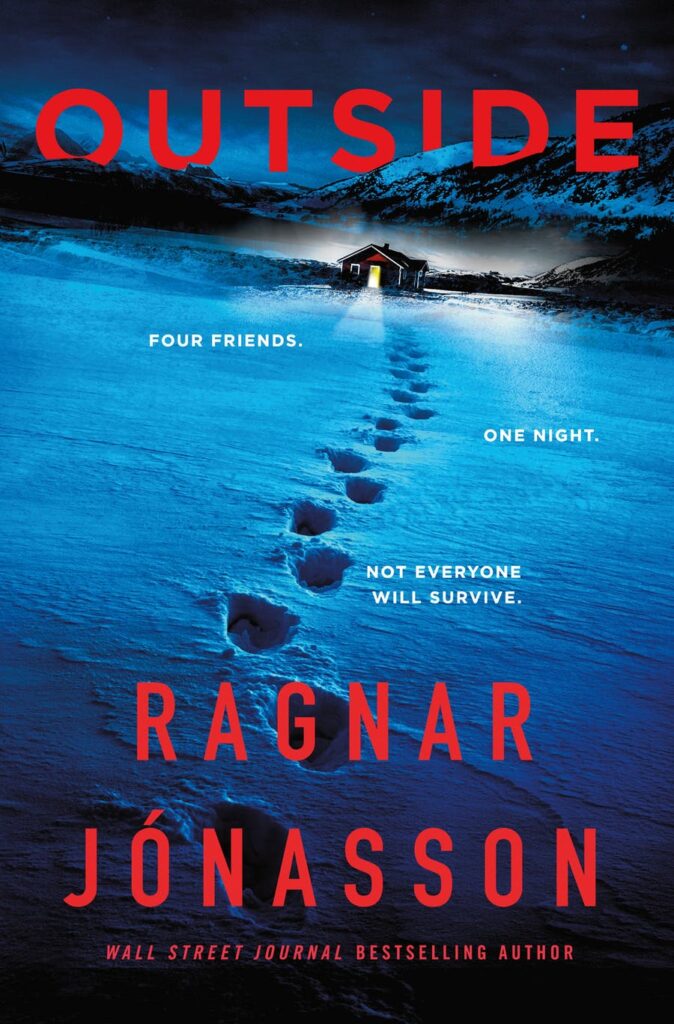 From the Publisher
Four friends. One night. Not everyone will come out alive . . .

When a deadly snowstorm strikes the Icelandic highlands, four friends seek shelter in a small, abandoned hunting lodge.

It is in the middle of nowhere and there's no way of communicating with the outside world.

They are isolated, but they are not alone . . .

As the night darkens, and fears intensify, an old tragedy gradually surfaces – one that forever changed the course of their friendship.

Those dark memories could hold the key to the mystery the friends now find themselves in.

And whether they will survive until morning . . .

As he typically does, Jónasson begins with a prologue that sets the tone of the novel—four friends on a weekend hunting excursion make a shocking discovery inside a remote cabin they take refuge in from a sudden Icelandic blizzard. Then he takes us back to the beginning of the story. The hunting party, three men and a woman, have been longtime friends since their university days. All have dark secrets, which eventually put them on a collision course when fear and the elements push them to their limits.
As I expected from past Jónasson books, he introduces us to four interesting, well-drawn, realistic characters with major character flaws. The interesting thing about the characters is while you get all the details that make them seem like real people, I never felt any particular attachment to any of them. None were the type of characters I felt like rooting for since none are particularly pleasant people. Still, I was curious to see how things turned out for them.
As with his other books, the author incorporates the harsh Icelandic winter coupled with the desolate landscape almost as another character. Even before we know much about the story, Jónasson expertly instills a sense of foreboding in the reader from the start. You know something bad is about to happen. You just aren't sure what. Like the other Jónasson novels I've read, the author quickly builds the suspense and continues pouring it on until it grows almost unbearable by the climax.
Halfway through the book, I couldn't understand what the negative reviews I'd read were about at all. Outside has the usual crisp writing, imagery, and tight plotting Jónasson is known for. It was another shivery delight. I couldn't put it down and sailed through the book in a single sitting. But then I came to the end, and I discovered the fly in the ointment. It was beyond disappointing. Well, maybe more like irritating. I turned the last page expecting the start of a final chapter but found I'd already read the last chapter. And it read like the final chapter an author might use as a hook for the next book in a series. Obviously, that didn't work here since Outside is a standalone. It left me feeling I'd just spent the better part of a day reading an unfinished novel. It wasn't that the ending wasn't what I'd expected or wanted. The story just ends after the mysteries are revealed.
After ignoring the critics and reading Outside for myself, I agree you might want to give this one a miss. Unfortunately, I can't recommend this book because if it was the first Ragnar Jónasson novel someone read, it might very well be their last. And that would be a shame because he is such a brilliant author who has written so many wonderfully entertaining books.
Minotaur Books will publish Outside on June 28, 2022. I received an advance reader's copy of the book from the publisher via NetGalley used for this review, representing my honest opinions.