Greenwich Park by Katherine Faulkner—A deliciously suspenseful psychological thriller perfect for poolside reading or anywhere else.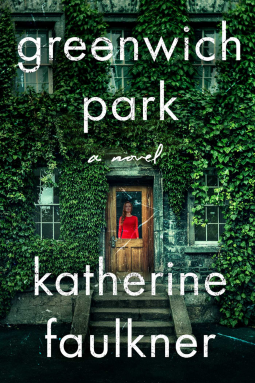 Greenwich Park
Published by Simon & Schuster (Gallery Books)
on sale January 4, 2022
ISBN: 978-1-98215-031-0
Genre(s): Mystery & Thrillers
384 pages

Helen's idyllic life—handsome architect husband, gorgeous Victorian house, and cherished baby on the way (after years of trying)—begins to change the day she attends her first prenatal class and meets Rachel, an unpredictable single mother-to-be. Rachel doesn't seem very maternal: she smokes, drinks, and professes little interest in parenthood. Still, Helen is drawn to her. Maybe Rachel just needs a friend. And to be honest, Helen's a bit lonely herself. At least Rachel is fun to be with. She makes Helen laugh, invites her confidences, and distracts her from her fears.
But her increasingly erratic behavior is unsettling. And Helen's not the only one who's noticed. Her friends and family begin to suspect that her strange new friend may be linked to their shared history in unexpected ways. When Rachel threatens to expose a past crime that could destroy all of their lives, it becomes clear that there are more than a few secrets laying beneath the broad-leaved trees and warm lamplight of Greenwich Park.

London-based author Katherine Faulkner, an award-winning journalist and former joint Head of News at The Times (London), debuts with an absorbing psychological thriller about unreliable friendships, the high cost of keeping secrets, and vengeance.
The novel unfolds with an enigmatic desperate letter penned by someone incarcerated in prison, written to Helen, who we meet in the opening chapter. Helen, pregnant again after four previous miscarriages, attends her first prenatal class. When her husband, Daniel, brother Rory, and wife Serena fail to show as promised, Helen must go alone, feeling abandoned and uncomfortable. Then she meets Rachel, another mother-to-be, who smokes and drinks. Although Rachel appears the least maternal inclined woman in the class, the two forge an improbable friendship. Yet as the friendship grows and the two women spend more and more time together, Rachel's intense personality and often unseemly behavior make Helen feel increasingly uneasy. Even Helen's friends and family find the woman unnerving. Then disturbing secrets come to light.
While the bulk of the story develops from Helen's first-person point of view, the author frequently uses first-person perspectives from other primary characters. The author also deftly dips into the past—via memories and cryptic testimonies of unidentified narrators. Almost from the moment Faulkner introduces Rachel, a shady character, the suspense and a sense of dread start to build as the reader senses there is something horrific in the offing even though we can't predict what it might be.
Frankly, I found I was not fond of Helen all that much, though clearly, she is the main character in the novel. She sure fits the bill as a flawed protagonist seeming weak, indecisive, and suffering from an acute martyr complex. She spends a great deal of time feeling put upon by friends and family and her pregnancy. The more she allows Rachel to manipulate her, the less sympathy I feel for her. I was quickly tired of how much time Helen spent feeling sorry for herself. It's almost as though she can't work out whether a potential successful pregnancy after years of trying is something to celebrate or only an awful burden she carries alone. Curiously, not liking Helen doesn't take anything away from the story since she certainly provokes an emotional response, just not a sympathetic one.
Rachel is my favorite character, mostly because she is so clearly dodgy from the beginning that it makes her hugely interesting. You can't wait to see what she does next. The remaining characters were all well developed, and the reader has no difficulty seeing them as real people. Some are likable. Others aren't for various reasons, which adds to the realism.
On balance, I found Greenwich Park a hugely entertaining and gripping read. Faulkner does a consummate job crafting a believable, tight plot and breathing life into her characters. The story grips quickly, and the suspense builds and builds. Admittedly, I worked out the whodunit a few chapters before reaching the end, but that didn't detract from my enjoyment of the novel. I'm interested in seeing where Faulkner's writing takes her next as her debut novel will certainly raise the expectations of critics and readers alike. Greenwich Park compares quite favorably with other first-class thrillers like The Girl on the Train. I rate it a must-read for any psychological thriller fan who craves a story with many unexpected twists. It's a deliciously suspenseful psychological thriller perfect for poolside reading or anywhere else.
Greenwich Park by Katherine Faulkner, due for publication by Simon & Schuster (Gallery Books) on January 4, 2022, is available now for pre-orders.
 
I received an advance review copy of the book from the publisher via NetGalley used for this review, representing my own unbiased opinion.