Gallows Dome by Nolan Knight, a gritty and gloomy, yet poignant noir-ish romp through the seedy underbelly of Southern Cal, with more than enough booze, drugs, distressed damsels, lot lizards, religious cult figures, and murder to make it definitely worth the ride. Read my full review.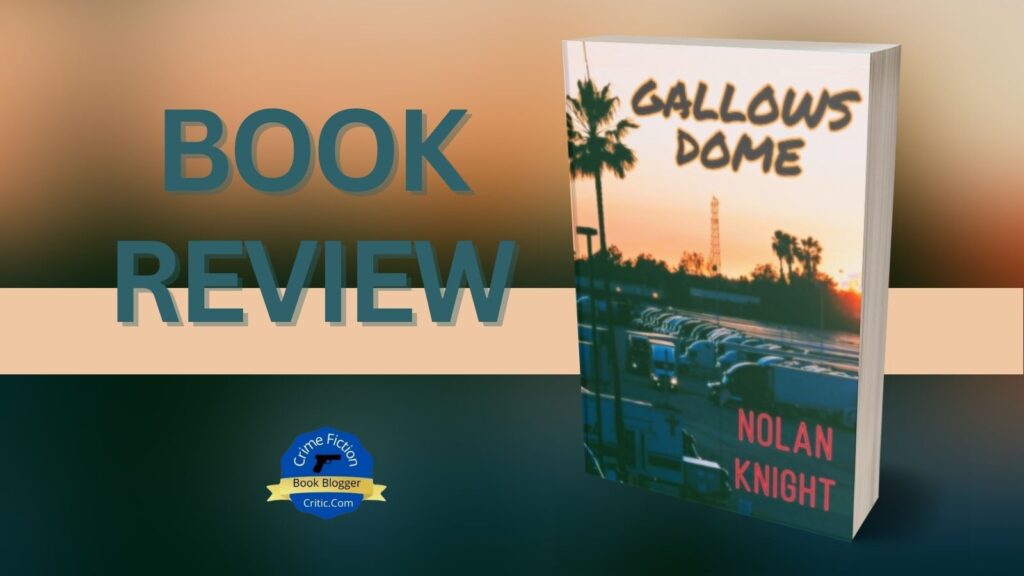 Lena Madadhi is desperate, a middle-aged arts teacher in Los Angeles whose teen daughter has been abducted. When seeking help from a private investigator, Joe Delancey, she finds he is out on a case at a Central Valley truck stop, deep undercover among truckers, prostitutes and nomads—entrenched in a doomsday sect called Gallows Dome. The further Lena digs to find Joe, the deeper she submerges into The Dome's hellscape, spiraling closer toward her daughter's whereabouts than she could ever imagine. An unflinching look at the dark side of family and faith, Nolan Knight's Gallows Dome tackles a current American landscape whose thoughts and prayers help flap its flags at half-mast—teetering on the brink of total collapse.
Down & Out Books (2003)
Nolan Knight | Pub Date Jun 12, 2023 | ISBN 9781643963174 | 289 pages
Gallows Dome by Nolan Knight features the characters Lena Madadhi, Perry Quell, Joe Delancey, Repo Helm, X-man, and other random people with shady pasts. Knight brings them all to life on the page with a unique voice and mashes them into an uproarious, hyper-violent, sleazy narrative about drugs, booze, abducted young women, truck stop prostitutes, and a drug dealer turned leader of a scammy apocalyptic religious cult. 
Lena Madadhi is desperate, middle-aged Los Angeles arts teacher. When Tess, her teenage daughter, goes missing and Lena realizes the cops are doing nothing to find her, she resolves to search for her daughter on her own. She will stop at nothing to get Tess back. Lena first contacts Perry Quell, a down and out, part-time bartender who also had a daughter, Rochelle, go missing. After catching a program on television about Perry's search for Rochelle, Lena seeks him out because she wants to hire Joe Delancey, the same L. A. private investigator Perry hired to search for Rochelle until his hopes and money ran out. While Delancey never found Rochelle, Lena learned from the television show that he had never given up looking for Rochelle, even when Perry couldn't afford to continue paying him. Perry confirms this when they meet. And that gives Lena hope Delancey is the right man for the job. 
Unfortunately, Delancey is a hard man to find. After Lena and Perry visit his daughter Becca, they get a rough idea of Joe's whereabouts and undertake an odyssey in an old RV reminiscent of the iconic vehicle from Breaking Bad, to search for him. While Tess is the holy grail of Lena's quest, she and Perry must first find Joe Delancey, whom they believe is somewhere near Fresno, still searching for Rochelle Quell. 
Unbeknownst to Lena and Perry, Delancey is working a lead on Rochelle undercover. Posing as a pill pusher named Miggy Rojas, he has embedded himself with a drug dealer named Repo Helm and Helm's psychopathic sidekick, X-Man. And as the pair inches painfully closer to finding Delancey, it seems they are unknowingly inching closer to Tess's whereabouts. But just when they find Joe Delancey, things go south in a hurry after X-man tumbles to Delancey's true identity. Not to mention, Repo Helm has gruesome plans is store for Tess Madadhi in connection with the scam apocalyptic religious cult he has founded. It becomes a question of whether Lena, Perry, and Delancey can find Tess before it's too late. 
There are many superb elements here, but Knight's voice is what makes Gallows Dome wildly entertaining and memorable. He offers fast, snappy prose with a level of punchy, slangy dialogue that dances between the brilliant and the ridiculous. Knight's voice in this novel has a bleak and darkly cynical quality of the kind suited perfectly to hard-boiled crime fiction and noir thrillers, and is reminiscent of the style of James Ellroy and more recently, Jordan Harper (Everybody Knows, 2003). I feel Knight brings us here uncomfortably close to the frazzled and fractured epicenter of contemporary America―a country teetering on the brink of total collapse. Gallows Dome is a convergence of the defiled and demented, the lurid and the hard-lucks, seasoned with a generous portion of random violence. The gripping and entertaining tale Knight splashes on the page here is definitely worth the ride. It contextualizes contemporary America in full Cinemascope and nails the organized social whole of the times that is far more than merely the sum of its parts, especially in L.A. and Southern California. 
I received an advance copy of the book from the publisher for review purposes.
Book rating: ★★★★★
Buy Your Copy of Gallows Dome
This title not yet available for preorders. Due out June 12, 2023.