Everybody Knows by Jordan Harper, an unputdownable neo-noir masterpiece and an unflinching look at Los Angeles beneath the glamour and glitz. Read my full review.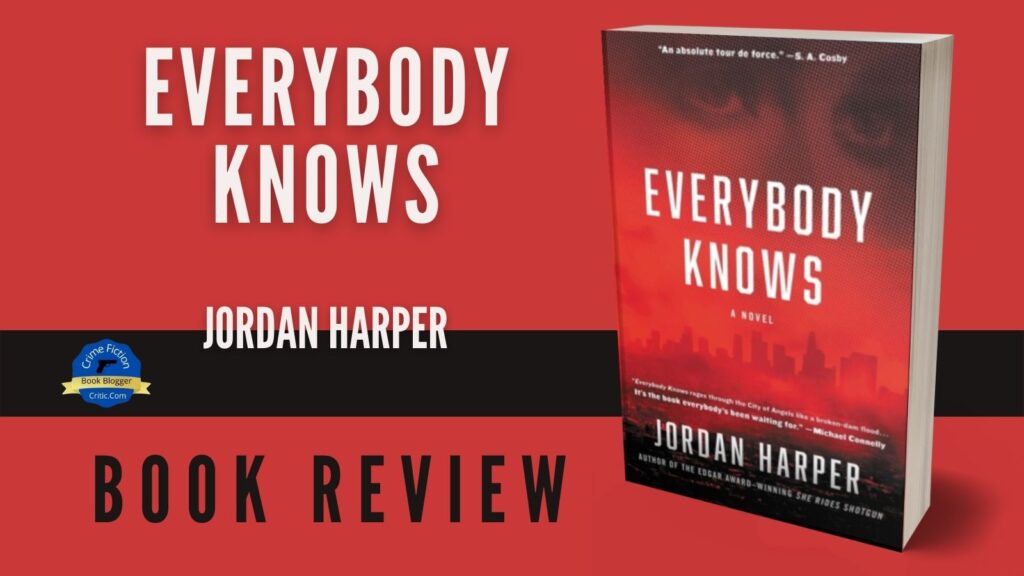 Welcome to Mae Pruett's Los Angeles, where "Nobody talks. But everybody whispers."As a "black-bag" publicist tasked not with letting the good news out but keeping the bad news in, Mae works for one of LA's most powerful and sought-after crisis PR firms, at the center of a sprawling web of lawyers, PR flaks, and private security firms she calls "The Beast." They protect the rich and powerful and depraved by any means necessary. 
 
After her boss is gunned down in front of the Beverly Hills Hotel in a random attack, Mae takes it upon herself to investigate and runs headfirst into The Beast's lawless machinations and the twisted systems it exists to perpetuate. It takes her on a roving neon joyride through a Los Angeles full of influencers pumped full of pills and fillers; sprawling mansions footsteps away from sprawling homeless encampments; crooked cops and mysterious wrecking crews in the middle of the night.
 
Edgar Award-winner Jordan Harper's EVERYBODY KNOWS is addicting and alarming, a "juggernaut of a novel" and "an absolute tour de force." It is what the crime novel can achieve in the modern age: portray the human lives at the center of vast American landscapes, and make us thrill at their attempts to face impossible odds.
Mulholland Books (2023)
Categories: Mystery Thriller
Jordan Harper | Pub Date Jan 10, 2023 | ISBN 9780316457910 | 320 pages
Everybody Knows by Jordan Harper is a tough book to review. It's one of novels that comes along once in a while where I worry that I won't find the words to do it justice. Long story short, I loved this book and Harper's writing is brilliant. Needless to say, he impressed me. He crafts his words and sentences in such a way it suggests meticulous thought has gone into each one. 
The novel is written in third person from the alternating perspectives of the two lead characters—Mae Pruett and Chris Tamburro. And we spend a lot of time in their heads, getting to know them as much from their inner thoughts as their words in the dialogue. Mae is a "fixer" who works for Mitnick & Associates, a crisis management firm that practices the art of "Black-bag PR." Mae's job is to kill or contain news in the press and tabloids that could destroy the reputations and careers of her firm's unsavory but connected clients. And she works with Dan Hennigan, the man who taught her the ropes and the mantra: "Don't worry about the truth. It's not that the truth isn't important. It just doesn't matter." Chris is a physically imposing former Los Angeles County deputy sheriff, booted by the agency when exposed as a dirty cop. Now he works for attorney Stephen Acker, an arm of what Chris thinks of as "the Beast," as hired muscle, "a fist on someone else's arm." 
Both Mae and Chris are flawed in their own unique ways—Mae's is mostly unethical conduct in performing her job, while Chris has a history of acts that are illegal, unethical, and immoral. He's been as much a criminal as the people he once arrested. Still, when the reader looks deep enough, sufficient good exists in both characters to provoke feelings of empathy and reasons to like them. After all, both are simply products of the corrupt environment they inhabit that the opaque LA power brokers created. Mae and Chris once dated, but haven't seen each other for years after their breakup until the inciting incident thrusts them together again. They end up opposing the Beast in a contest they hope they can win, but probably can't. 
At its heart, Everybody Knows is neo-noir. Harper features cynical, brooding, deeply flawed protagonists struggling to survive, and uses dark visuals to emphasize characters or certain details in scenes. The interplay of light and dark until the lines become blurred is one of the most prominent elements of the novel. The book explores the wider themes of ethics, power, and moral dilemmas. Hallmarks of Harper's work include dense plotting, concise punchy prose that is relentlessly pessimistic. After only a few pages, Harper's distinctive writing style put me in mind of James Ellroy's writing, hardly surprising after I found a 2017 interview with crimefictionlover.com where Harper revealed: "James Ellroy and Cormac McCarthy are my style gods." This novel fits easily into the class of Ellroy's L.A. Confidential and Polanski's classic neo-noir film Chinatown. 
Everybody Knows has a cinematographic mood, and before I had even confirmed it by researching his biography, I already recognized Harper had screenwriter chops. At times, you easily imagine you're reading a film script and this is definitely a novel that deserves an adaptation. It's a book filled with big ideas, big stakes, and big odds that tells a big story. Harper has written a smart mystery thriller and a haunting tale of moral dilemmas that is deliriously entertaining. Maybe best of all is the setting. Beautiful and sunny LA, a place seething with corruption beneath the glamour and glitz, where cold and ruthless rich and powerful carry out their schemes. I highly recommend this one. Obviously, it's perfect for fans of James Ellroy.
Book rating: ★★★★★
Get Your Copy of Everybody Knows on