Tessa Goes Down by Jason Bovberg is a harrowing post-pandemic chronicle of revenge, murder, and implacable fate set in southern Texas near the Mexican border.
Tessa Goes Down is the first book I've read by Jason Bovberg. When offered to me for review, the book summary sounded like a modern-day Bonny and Clyde tale set in southern Texas border country and piqued my interest. But the story turned out to be so much more. Bovberg's style immediately reminded me of Cormac McCarthy, with a touch of James Ellroy thrown in for good measure.
My desire to support small presses and indie authors was why I became a book blogger and reviewer. Consequently, I've discovered many talented crime writers I might never have heard of otherwise. And sometimes, I truly strike gold when I discover an author and novel like this one. It's magnificent writing, nevertheless penned with brisk declarative sentences and vivid, simple imagery conferring escalating tension and violence.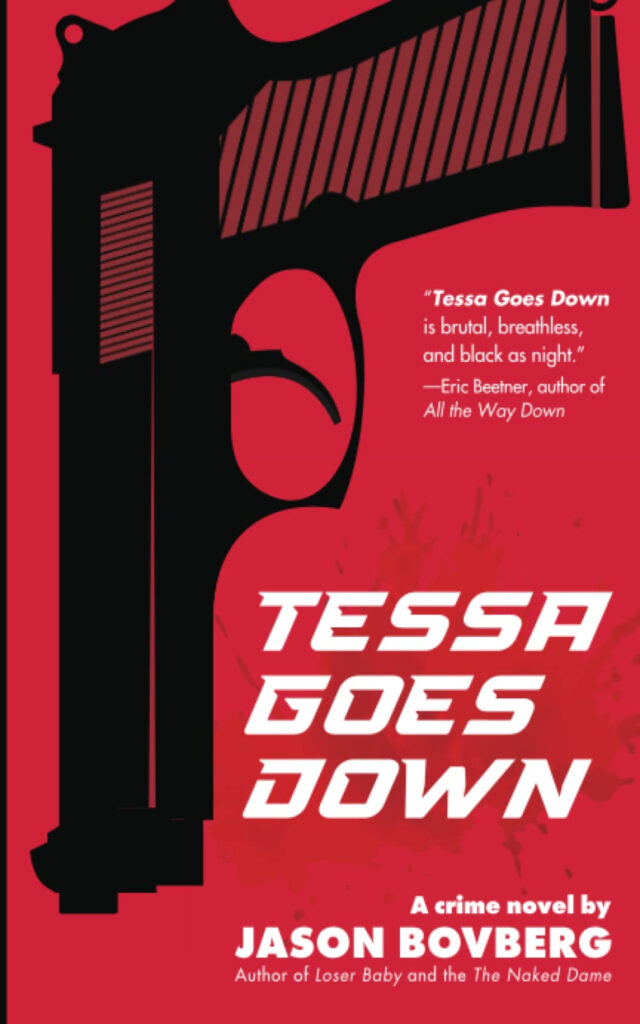 Tessa Goes Down
Published by Dark Highway Press
from August 2, 2022
ISBN 979-8-9862158-0-8
Genre(s) Thiller & Suspense
300 pages

From the publisher
"Tessa Rae Jayne is gunnin' for the border. Ain't nothin' gonna stop her, not after what she did for her brother Terrell, back home in Decatur, Illinois. A half hour from Mexico, though, she slams into good ol' boy Floyd Tillman Weathers, a man with his own criminal secrets—not to mention a duffel bag full of stolen cash. Before long, the unlikely mismatched duo have embarked on a wild, reckless trek across the southwest in search of a shared fever dream. But forces from each of their immediate pasts are in hot pursuit, and Tessa and Floyd will face a series of brutal challenges before they can find redemption and freedom.
Tessa Goes Down begins as a breakneck border noir and becomes a sweaty, sexy, chaotic road trip through Texas, Arizona, and New Mexico—a ferocious ride punctuated by kidnappings, close calls, cliffhangers, and hell-for-leather sleuthing. So sit back as Tessa and Floyd tell their respective tales—and hurtle toward a soul-shattering shock ending."

Tessa Rae Jayne is running south for the Mexican border. Unfortunately, an act of revenge against a drug dealer she holds responsible for causing her brother's addiction went horribly wrong, and Tessa is guilty of an unintended murder. When she stops for gas in a nondescript south Texas town about an hour from the border, fate takes a hand, and Tessa meets Floyd Tillman Weathers.
We're given cause to be a bit suspicious of Weathers, learning he isn't quite on the right side of the law either. He is hiding out in a cheap motel in the backwater town with a half-million dollars, the proceeds of a bank robbery, awaiting instructions from his criminal boss to return the money to Little Rock, Arkansas, once the heat is off. Weathers wasn't a part of the robbery. He's more of a low-level errand runner for the true criminals. But the more we learn about Weathers, the more we discover he isn't a bad man but a guy who wants to do the right thing but can't figure out exactly what the right thing is.
Tessa and Floyd end up in the bed inside his motel room, sharing what they both seem to consider a one-night stand. But to their mutual surprise, they discover they are kindred spirits, both the products of their chaotic pasts. Then when one of Tessa's pursuers catches up with her at the seedy motel, things go south in a hurry, and Tessa and Floyd's futures get hopelessly intertwined.
Tessa Goes Down is a story that rips along like hell on wheels burning rubber on a hot, dusty, desolate stretch of South Texas highway. It's a high-octane road trip underscored by kidnappings and killings, from along the Mexican border back north to the scene of Tessa's crime as Floyd tries to help her redeem her past and rescue himself at the same time.
The story is sometimes racy, profane, and violent. But it grips you by the throat from the beginning and hangs on until it drags you to the soul-crushing but not completely unexpected page-turning climax. A few chapters in, you can't put this one down.
I received an advance copy of the book from the publisher used for this review, representing my honest opinions.