Death at Paradise Palms by Steph Broadribb is an exceptionally entertaining read that is mostly cozy, yet a solid whodunit.
Death at Paradise Palms by Steph Broadribb is the second book in the Retired Detectives Club, featuring four retired residents of The Homestead Retirement Community in Florida. It's an exceptionally entertaining read that is mostly cozy, yet a solid whodunit. The premise is probably a little far-fetched, but the novel is pure escapism, so I tried not to overthink the practicality of retired folks (albeit all former law enforcement) gallivanting about after armed, murderous kidnappers.
Death at Paradise Palms (The Retired Detectives Club Book 2)
Published by Thomas & Mercer
on October 11, 2022
Source: Thomas & Mercer via NetGalley
Genres: Crime Fiction
ISBN: 9781542027526
Pages: 316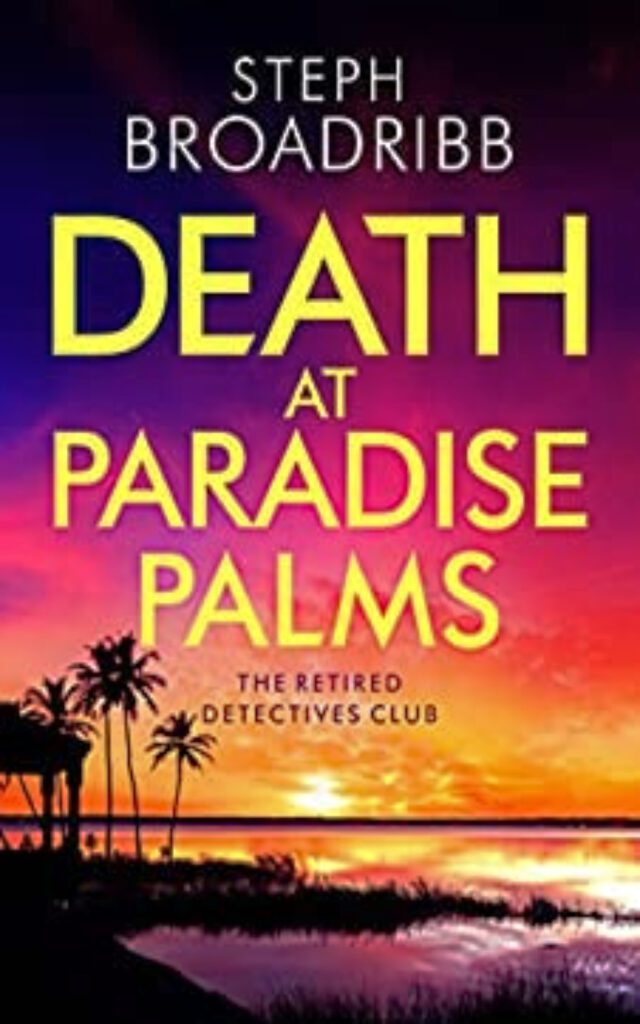 It looks like an open-and-shut case―until one of the Retired Detectives disappears…

When movie producer Cody Ziegler goes missing from The Homestead's Millionaires' Row, his wife, retired actress Olivia, immediately claims there's foul play afoot. A million-dollar ransom demand soon follows, with clear instructions not to involve the cops. In desperation she enlists the help of Moira, Rick, Philip and Lizzie, aka the Retired Detectives Club.

Racing against the clock, the four retirees set to work. Sure, Cody had enemies―there's a disgruntled employee, a jilted film-maker and a hundred other people who know how much he's worth. But when it emerges that Cody's apparently perfect marriage isn't what it seems, even Olivia isn't above suspicion.

When Cody's car turns up in a nearby lake with a shocking surprise inside, the case becomes even more complicated. But with Philip and Lizzie's marriage on the rocks, and threatening notes sending Moira into a spin, the Retired Detectives Club risks falling apart before getting any closer to the truth.

Can Moira and the gang find Cody before it's too late? Or will this case see them lose in more ways than one?

Broadribb introduces us to a primary cast of four – a former DEA agent (Rick), a British ex-DCI (Moira), and a married British couple (Philip and Lizzie), an ex-DCI and ex-CSI, respectively. I haven't read the first bestselling book in the series, Death in the Sunshine, but references in this one suggest here we have the same group of retired detectives investigating crimes that the local cops either can't or are unwilling to investigate. While I don't think it matters if you've not read the first book in the series, that one might give the reader more context since authors often spend significant time in first books building the backstories and personalities of the regular characters. Still, Broadribb gives us ample information about the characters, so we never feel lost entering the series with the second book.
While here we seem to have a protagonist by committee since all four main characters seem to have equal weight, the book unfolds in third person from the point of view of Moira Flynn, but we get the points of view of the others and Broadribb spends plenty of time developing them all. We learn not only the roles they play in the investigation, but get personal side stories for all four that help give us clearer perspectives of them that help us see them as real people we come to care about. Still, I found Moira the most interesting character in the group because I found her side story more compelling and sympathy provoking. Rick Denver is also a likeable, realistic character and his budding romantic interest in Moira adds much to the story. I didn't really like Philip and Lizzie Sweetman much at the start. Philip seems to have an inflated idea of his own importance. His wife Lizzie, holding onto an old grudge bitterly and tenaciously, uses it as an excuse to treat her husband harshly. I felt little sympathy for either until near the end of the book when circumstances forced them both to finally became more likeable.
The retired detectives are in fine form and there are a few laugh-out-loud moments interspersed among the more serious issues Broadribb touches deftly on, such as ageing, life after retirement, and relationships.
We're offered a simple missing person case at the start when a former Hollywood star, Olivia Hamilton Zeigler, hires the retired detectives to find her missing husband Cory. But when Olivia receives a ransom demand, the case turns into a kidnapping case. Still, the team stays on the case since Olivia doesn't trust the police and refuses to involve the authorities. Broadribb's writing and characterization are incredibly engaging and the reader feels as if they are as involved in the case as the cast.
As mentioned, a team of amateur sleuths, even retired law enforcement types, probably wouldn't take on an active kidnapping case, but it's certainly good fun and an enjoyable page-turning read. If you're a fan of Miss Marple or Richard Osman's Thursday Murder Club series, you're sure to enjoy this book.
I received a copy of this book from the publisher via NetGalley for review purposes.