The Creak On The Stairs by Eva Björg Ægisdóttir—A visceral and ambitious debut that is essential reading for every Icelandic Nordic noir fan.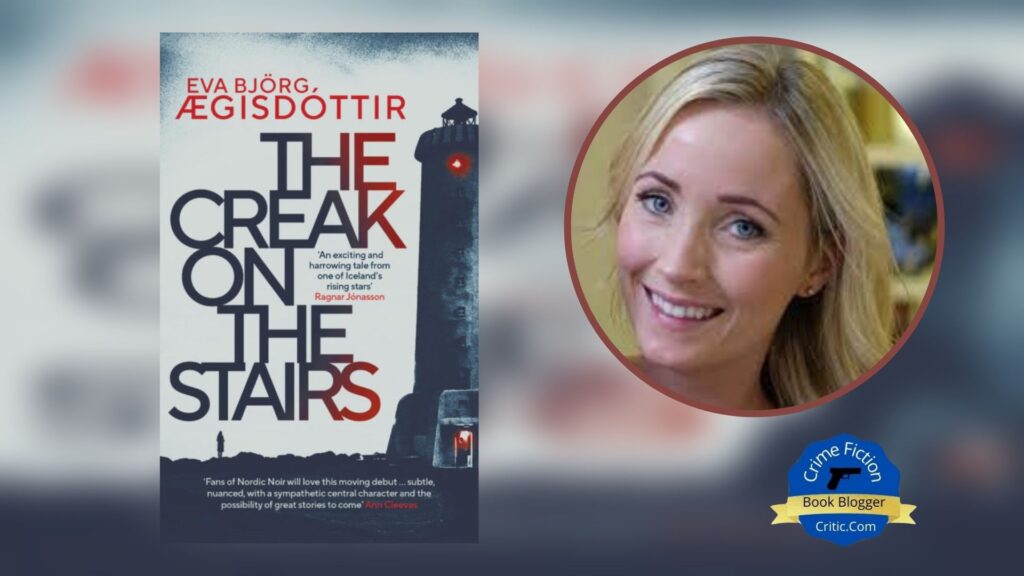 Critically acclaimed and popular novels by the likes of Arnaldur Indriðason, Yrsa Sigurðardóttir, Ragnar Jónasson, and Lilja Sigurðardóttir have boosted the visibility of Icelandic Nordic noir on bookstores' shelves—not only in Iceland but with widely translated versions across English-speaking markets. As a longtime fan of Nordic noir by authors like Stieg Larsson and the chronicler of Inspector Harry Hole, Jo Nesbø, it's seems so weird to admit, but until 2019 I didn't read Icelandic crime novels.
In my defense, Iceland is not only one of the least populated countries globally; it is one of the safest countries in the world and has one of the lowest murder rates. Iceland is so safe that the country often does not require police to patrol the streets. Little violence means Icelandic police do not regularly carry firearms. So, who knew Iceland was chocka with talented crime writers who can spin a thriller or murder mystery with the best of them? My first experience with a brilliant Icelandic Nordic noir author was Ragnar Jónasson. Now that the genre has hooked me, I keep finding more favorites. After reading her gripping and sophisticated debut, that list now includes rising Icelandic crime-writing star Eva Björg Ægisdóttir.
The Creak On The Stairs by Eva Björg Ægisdóttir is set in Akranes, a small town about half an hour's drive from Reykjavík, where she was born and raised. The novel's sense of place, set in the cold, dark country of Iceland, is defined by its emotional chilliness and an overarching sense of despair, expressed by a brutal murder-mystery plot. The author sustains this bleak, chilly tone throughout.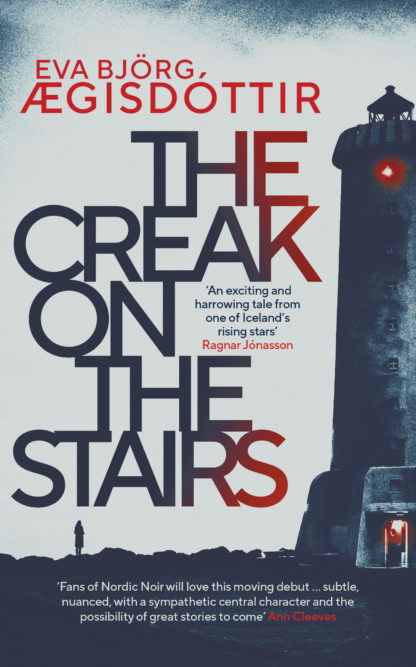 The Creak On The Stairs (Forbidden Iceland Series, 1)
Translated by Victoria Cribb
Published in English by Orenda Books
from November 1, 2020
Genre(s): Thriller & Suspense, Nordic noir
ISBN 978-1-913193-05-8
315 pages
When a body of a woman is discovered at a lighthouse in the Icelandic town of Akranes, it soon becomes clear that she's no stranger to the area.
Chief Investigating Officer Elma, who has returned to Akranes following a failed relationship, and her colleagues Sævar and Hörður, commence an uneasy investigation, which uncovers a shocking secret in the dead woman's past that continues to reverberate in the present day.
But as Elma and her team make a series of discoveries, they bring to light a host of long-hidden crimes that shake the entire community. Sifting through the rubble of the townspeople's shattered memories, they have to dodge increasingly serious threats and find justice … before it's too late.

The discovery of a woman's body propels a small Icelandic town police criminal investigator into a murder investigation and thrusts her into a churning vortex of dark, buried secrets.
In 2017, Elma, a former Reykjavík police investigator, relocates to her hometown while trying to come to grips with the devastating end of a nine-year relationship. While settling into a criminal investigations division position at the local police department, a woman's body turns up in the sea near a lighthouse. Once the authorities determine someone killed the woman, Elma and her colleagues must pursue the murder investigation. Circumstances force her to put aside her own problems to focus on catching a killer.
The book opens with an ambiguous but gripping prologue that seems the recollections of a young unidentified girl from 1989. Then we meet Elma as she walks home from the Akranes police station. The author immediately sets the bleak, chilly tone by describing the town, the darkness, the chill, and Elma's childhood remembrances of the town of only about seven thousand.
We learn that before moving back to Akranes, Elma had lived with Davið, her former boyfriend, in a flat on the fashionable west end of Reykjavík. The relationship has ended, but we don't learn the circumstances right away. Still, it's clear Elma feels lost and in despair over it. She still misses, Davið and stops to send him a text, even though she knows it won't do any good. He won't reply. It's clear the ended relationship is what motivated Elma to move back to Akranes, even though years before, she couldn't wait to escape the town.
It was still a small town of only seven thousand or so inhabitants, and you encountered the same faces day in, day out. Once she had found the idea stifling, like being trapped in a tiny bubble when there was so much more out there to discover. But now the prospect had the opposite effect: she had nothing against the idea of retreating into a bubble and forgetting the outside world.
We move back and forth from 1989 to the present via a series of the same cryptic-like recollections of the small girl we encountered in the prologue. The author uses the flashbacks to great effect to imbue in us the girl's sense of sadness and hopelessness. We don't know who the girl is, so we can only guess what comes next as we start to feel a sense of foreboding. Eventually, we do learn who the girl is, and her recollections continue from 1990 through 1992, helping us understand what leads to the murder.
I liked how the author used multiple points of view, making us privy to the main character's inner thoughts. This technique helps the reader understand the characters and their motivations better and provides useful insight into the murder case. I liked Elma. She isn't perfect, but that is what makes her feel real. She is a competent investigator and displays strong inner character through her willingness and ability to put aside her inner demons to accomplish her job. The reader quickly feels empathy for her and wants her to succeed and sympathy for her because it is so evident she is hurting over the ended relationship. Her partner, Sævar, is also an interesting character, though I would have liked to have gotten to know him a little better as he seems quite a savvy cop. Still, I realize his backstory isn't really relevant when of course, Elma's is pivotal to the plot.
About halfway through, I thought I'd worked out the whodunit bit. The solution seemed maddeningly simple. But as it turns out, that was only some masterful misdirection by the author, and I was completely wrong. Ultimately, there are a few mysteries on offer here, and Eva Björg Ægisdóttir tosses in several brilliantly constructed twists I never saw coming.
While the description is a bit overused by reviewers these days, I truly found this an atmospheric read. The author does a great job of planting us in a small Icelandic community, and her descriptive prose gives such an authentic feel to the narrative. The Creak On The Stairs is a visceral and ambitious debut that is essential reading for every Icelandic Nordic noir fan. I loved the book and am looking forward to reading the next book in the series, Girls Who Lie, which I've already added to my to-be-read stack.
The Creak On The Stairs by Eva Björg Ægisdóttir was published in English by Orenda Books and is available now. I purchased the electronic version of the book used for this review.