Cold as Hell by Lilja Sigurðardóttir—A smart, creative series start from one of Iceland's bestselling crime writers at the top of her game.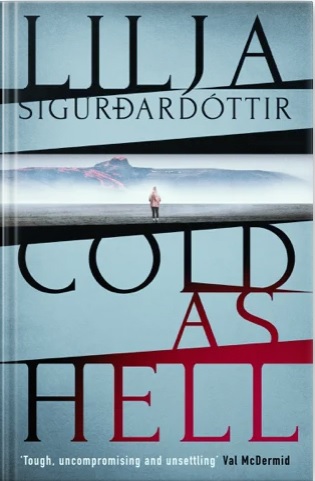 Cold as Hell (An Áróra Investigation Book 1)
Translated by Quentin Bates
Published by Orenda Books
on August 28, 2021
Genre(s): Thrillers & Suspense, Nordic noir
ISBN 978-1-913-19388-1

"Icelandic sisters Áróra and Ísafold live in different countries and aren't on speaking terms, but when their mother loses contact with Ísafold, Áróra reluctantly returns to Iceland to find her sister. But she soon realizes that her sister isn't avoiding her … she has disappeared, without a trace.
As she confronts Ísafold's abusive, drug-dealing boyfriend Björn, and begins to probe her sister's reclusive neighbors – who have their own reasons for staying out of sight – leads Áróra into an ever darker web of intrigue and manipulation.
Baffled by the conflicting details of her sister's life, and blinded by the shiveringly bright midnight sun of the Icelandic summer, Áróra enlists the help of police officer Daníel, as she tries to track her sister's movements, and begins to tail Björn– but she isn't the only one watching…
Slick, tense, atmospheric and superbly plotted, Cold as Hell marks the start of a riveting, addictive new series from one of Iceland's bestselling crime writers."

After a rift, Icelandic sisters Áróra and Ísafold Jónsdóttir are estranged. But when Ísafold goes dark, at her worried mother's insistence, Áróra reluctantly travels from her home in Scotland to Iceland to find out what has become of her older sister.
After a brief prologue sets the stage, we meet the protagonist, Áróra Jónsdóttir, a twenty-eight-year-old freelance financial investigator. Áróra's mother, Violet, rings and tells her that Ísafold hasn't posted anything on Facebook for two weeks, and Violet has been unable to reach her by phone. Certain that something is seriously amiss and frantic, Áróra's mother urges her to go to Iceland to see if everything is all right.  
Although their relationship has been rocky since childhood, it isn't the first time that Áróra has ridden to her older sister's rescue. Ísafold's partner, Björn, is abusive and battered her frequently. Several times in the past, after Björn had beaten her, Ísafold had called her sister for help. Each time, Áróra hurried to Iceland to rescue her. But, each time, Ísafold returned to Björn. Finally, fed up with the drama, Áróra refused to go to Ísafold's aid the last time she called after Björn assaulted her, which resulted in the estrangement.
Áróra arrives in Reykjavik but soon discovers that her sister has not severed contact with her family but has disappeared without a trace. Áróra searches for concealed money for a fee, not people, and quickly feels out of her depth. After calling her mother from Iceland, Violet connects Áróra with a Reykjavik police detective, Daníel Hansson, who happens to be a former uncle by marriage. After hearing about the abusive relationship, Daníel is immediately concerned that something terrible may have befallen Ísafold. Although he is on leave, Daníel quickly starts investigating Ísafold's disappearance informally. From there, the story unfolds from multiple points of view, all offering very different voices, personalities, and perspectives.
I really loved the way Sigurðardóttir develops the novel's characters. She puts us into the heads of all the major players, giving them layer upon layer of life. We've all heard the discussions about creating unlikeable characters and whether that makes them hard to engage with or relate to. But, Sigurðardóttir certainly doesn't shy away from giving her fascinating creations some major flaws. Even with Áróra, she offers us a strong but flawed female protagonist who is sometimes unlikeable.
The disappearance of Ísafold Jónsdóttir is at the crux of this novel. That is what unites our disparate narrators. The backstories of the lead characters are what is all-important and converge in the satisfying and unambiguous denouement. But Sigurðardóttir cleverly uses two major subplots that are almost as fascinating as the main plot. In a fashion I found similar to the novel Gone Girl, she uses the multi-viewpoints and chronologically complex narrative to create suspense by purposely misleading the reader. Since this popular device does not fool me as easily as it once did, I immediately assumed I was getting played. Still, I enjoyed the twists and revelations that followed. Cold as Hell is crime thriller storytelling at its finest.
Author and translator Quentin Bates, who translated Cold as Hell from Icelandic to English, turned in a virtuoso performance even by his high standards. The book is easy to read and smoothly put together. I read it in one sitting because I didn't want to put it down after the opening chapters.
My verdict? Buy it! Whether you're a fan of Nordic noir as I've been ever since reading my first Joe Nesbø Harry Hole novel, or just someone who loves a dark, suspenseful crime thriller with a bleak setting, Cold as Hell belongs on your must-read list. In a similar fashion to Ragnar Jónasson, another of my favorite Icelandic crime writers, Lilja Sigurðardóttir, makes you feel as though you're in Iceland while reading the story. I can't wait for the next book in the Áróra Investigation series.
Cold as Hell by Lilja Sigurðardóttir, translated by Quentin Bates, is published in English markets by Orenda Books and available in electronic version from August 28, 2021 and in print from October 28, 2021. I purchased the copy of the book used for this review representing my honest, unbiased opinions.