Malibu Burning by Lee Goldberg is a scorching, atmospheric, and suspense-filled novel that grabs the reader from the first page and doesn't let up until the end. Read the full review.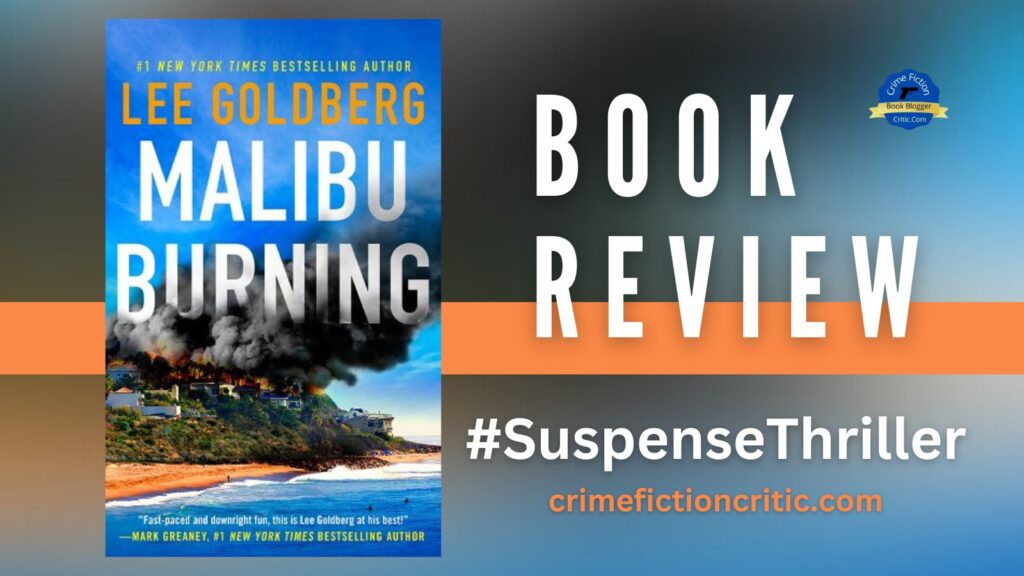 For a professional criminal and a relentless arson investigator, fear and revenge spread like wildfire in an incendiary thriller by #1 New York Times bestselling author Lee Goldberg.
Hell comes to Southern California every October. It rides in on searing Santa Ana winds that blast at near hurricane force, igniting voracious wildfires. Master thief Danny Cole longs for the flames. A tsunami of fire is exactly what he needs to pull off a daring crime and avenge a fallen friend.
As the most devastating firestorms in Los Angeles' history scorch the hills of Malibu, relentless arson investigator Walter Sharpe and his wild card of a new partner, Andrew Walker, a former US marshal, suspect that someone set the massive blazes intentionally, a terrifying means to an unknown end.
While the flames rage out of control, Danny pursues his brilliant scheme, unaware that Sharpe and Walker are closing in. But when they all collide in a canyon of fire, everything changes, pitting them against an unexpected enemy within an inescapable inferno.
Thomas & Mercer (2023)
Genre(s) Suspense Thriller, Crime & Detective
Lee Goldberg | Pub Date June 20, 2023 | ISBN 9781662500671 | 304 Pages
For me, everything about Malibu Burning by Lee Goldberg, although a work of fiction, oozed authenticity. It's incredibly difficult to imagine but so easy to appreciate the massive number of hours of research that obviously went into this book featuring enormous, wind-driven, California brush fires described in such epic and vivid detail the reader almost feels the heat and smells the smoke. This book isn't just a very well-executed crime thriller. It's a fantastic novel, period. The nuanced character development is first rate–even that of the bad guys–from backstories to their motivations to the dialogue. It all smacks of realism.
When Stetson-wearing U. S. Marshal Andrew Walker's wife gets pregnant with their first child, she persuades him to give up his dangerous job as a man-hunter to take a safer law enforcement job. After getting hired by the Los Angeles County Sheriff's Department, they assign him to arson investigations where Walker teams up with veteran arson detective Walter Sharpe. Sharpe, he soon learns, knows everything there is to know about fires–how they start, how they burn, and how they behave. When three seemingly unrelated brush fires start, Sharpe doesn't buy the theory they started from accidents stemming from power line failures and decides to investigate. He and his new green partner, Walker, find evidence that suggests arson and that someone with a lot of knowledge about fires, started them in an ingenious and unusual way. Sharpe is the expert on fires and arson investigation, but Walker is the expert on the criminal mind and suspects the arsonist started the fires either to conceal or facilitate the commission of some other crime. As the pair continues to investigate, Walker realizes an old nemesis, a brilliant con man named Danny Cole, is involved. And all they have to do is figure out what it is Cole is using the wildfires to cover up, how to prove it, and where to find Cole so they can arrest him.
Intense suspense, shocks, and chilling authenticity make this one a very special book. It has everything you expect from a flawlessly executed, action-packed crime thriller. The characters are likeable and realistic–including the antagonist, Danny Cole. Sure, he's a criminal, but you grudgingly find you admire him just a little. The entertaining story feels sufficiently gritty, although Goldberg softens it a little with both heart-warming moments and humor. The stakes are impossibly high and continue rising in the narrative about Southern California cops, firefighters, and thieves, and it all takes place in the middle of an epic conflagration that puts them in imminent danger. Malibu Burning is perfect for fans of authors like John Sandford.
I received an advance copy of the book from the publisher for review purposes.
Book rating: ★★★★★
Get a Copy of Malibu Burning