Wreck Bay by Barbara Fradkin, a thriller set in the wilderness of Vancouver Island's Pacific Rim, with a main character who faces tough decisions and danger after striking up a friendship with a troubled, reclusive artist. Read my full review.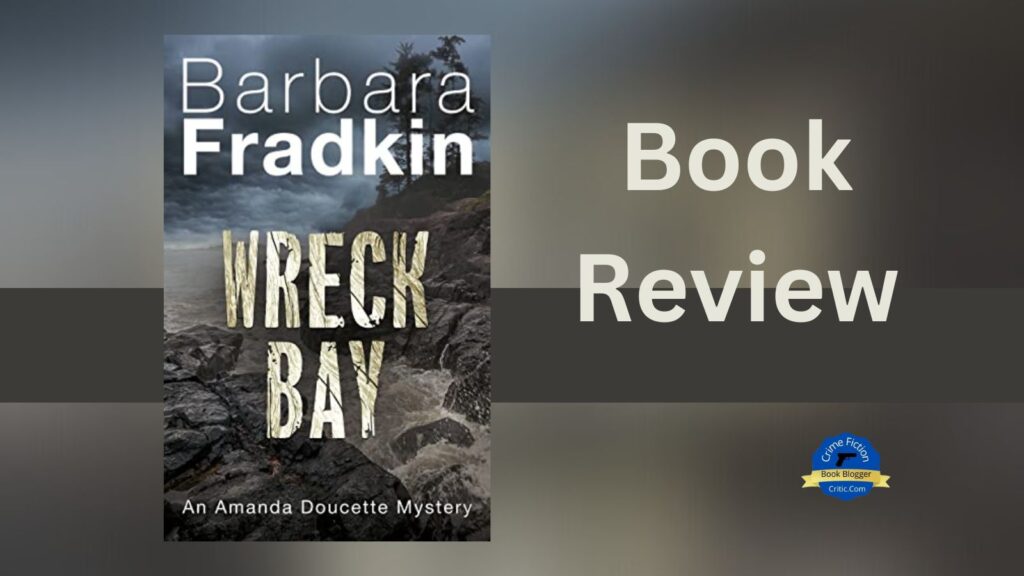 Amanda Doucette pursues the connection between a reclusive artist and the wealthy surfer who turned up dead on a remote island in Vancouver Island's Pacific Rim in a wilderness-infused mystery perfect for fans of Jane Harper or Louise Penny.While exploring the rugged landscape of Vancouver Island's Pacific coast, Amanda Doucette is drawn to a reclusive old artist known only as Luke, who lives off the grid on a remote island. His vivid paintings hint at a traumatic secret from his past that brings to mind her own struggles with PTSD, and they begin to bond.But when the body of a surfer washes up on the beach, Luke flees deep into the interior. What is the connection between the victim and Luke, and what does it have to do with Vietnam and a hippie commune from fifty years ago? Fearing Luke might do something desperate, Amanda searches for answers and races to find him before the police or the victim's family get to him first.
Dundurn Press (2023)
Genre(s) Mystery & Thrillers
Barbara Fradkin | Pub Date Feb 21, 2023 ISBN 9781459743878 | 320 pages
With vivid, descriptive prose, Barbara Fradkin transports readers into the wilderness of Vancouver Island's Pacific Rim as the main character, Amanda Doucette researches the area around Tofino as the site for her latest charity tour. Doucette, a former front line, globe-trotting aid worker, has chosen the wilderness area for a program aimed at helping recovering addicts restore their relationships with their adult children.
After arriving in Tofino, a haunting painting she comes across mesmerizes Doucette and makes her determined to meet the artist. Though the locals warn he is a troubled, unpredictable recluse, Amanda persists. Eventually she meets Luke, the artist, at his remote cabin deep in the wilderness and they strike up an uneasy friendship. A trauma survivor herself who often struggles to keep herself together, Doucette understands and readily identifies with Luke, a suspected Vietnam War deserter who suffers PTSD because of his wartime experiences. Soon Amanda gets embroiled in a tense, dangerous situation when someone murders a wealthy American financier and Luke becomes the prime suspect.
While I appreciated the descriptive prose that made the novel so atmospheric, there is so much of it in the early part of the book that it slows the pace more than I liked. But after the slow start, Fradkin builds up to the kind of tense scenes that readers expect from a good thriller. She incorporates important social issues with a focus on the complexities of human behavior without turning preachy, particularly on how profoundly trauma affects lives and on all the expectations women put on themselves, and that are placed upon them by family, friends, and society at large. But it's the characters and storytelling that set Wreck Bay apart.
The engaging, but flawed Amanda and Luke, the artist she meets and feels great empathy for, are both compelling characters. Besides their developing friendship and bonds of trust, Fradkin adds another layer of mystery with Luke's past history and relationship with his estranged family. This history infuses the story, eventually building to a crescendo.
Although Amanda is the compelling primary focus, the rest of the cast is likewise well-drawn, especially Matthew Goderich, her best friend, who handles the financial and logistical details for Amanda's charity. Fradkin also deftly introduces the supporting cast, sharing intriguing facts about their backgrounds and painting a clear picture of each, with each character's purpose evolving over the course of the story. The overlapping lives, and the role each individual character plays, elevate this winning mystery and thriller tale. Wreck Bay is a reminder of how fragile life is, and how profoundly trauma shapes our lives. It will appeal to those who enjoy reading authors like Louise Penny and Jane Harper.
I received an advance copy of the book from the publisher via NetGalley for review purposes.
Book rating: ★★★★