Upgrade by Blake Crouch—A twisty and suspenseful science fiction thriller from the author of Wayward Pines.
Upgrade by Blake Crouch, an upcoming sci-fi/thriller, is a little off the beaten path for me as far as genres go. But I agreed to read and review it when the publisher offered me a pre-approved advance copy. First, I'd dearly love to earn permanent pre-approved status on NetGalley for this publisher's titles. So, I didn't want to turn down the first pre-approved title they offered me. And, having read and enjoyed Crouch's The Wayward Pines trilogy, I already knew what an accomplished and entertaining storyteller he is. What I didn't expect is this book is so much more than a sci-fi tale. It offers everything we expect from a crime thriller. It's a twisty and engaging read, complete with a suitably flawed but very likeable lead and a myriad of suspenseful story lines to keep us on our toes. But as a reminder, the novel is set well forward in time in a dystopian-like future.
UPGRADE
by Blake Crouch
Published Date: July 12, 2022
Genres: Suspense &Thriller, Science Fiction & Fantasy
ISBN 9780593157534
352 pages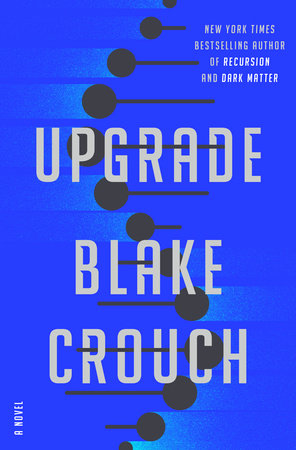 "An ordinary man undergoes a startling transformation—and fears that all of humanity may be next—in the mind-blowing new thriller from the New York Times bestselling author of Dark Matter and Recursion.
At first, Logan Ramsay isn't sure if anything's different. He just feels a little . . . sharper. Better able to concentrate. Better at multitasking. Reading a bit faster, memorizing better, needing less sleep.
But before long, he can't deny it: Something's happening to his brain. To his body. He's starting to see the world, and those around him—even those he loves most—in whole new ways.
The truth is, Logan's genome has been hacked. And there's a reason he's been targeted for this upgrade. A reason that goes back decades to the darkest part of his past, and a horrific family legacy.
Worse still, what's happening to him is just the first step in a much larger plan, one that will inflict the same changes on humanity at large—at a terrifying cost.
Because of his new abilities, Logan's the one person in the world capable of stopping what's been set in motion. But to have a chance at winning this war, he'll have to become something other than himself. Maybe even something other than human.
And even as he's fighting, he can't help wondering: what if humanity's only hope
for a future really does lie in engineering our own evolution?
Intimate in scale yet epic in scope, Upgrade is an intricately plotted, lightning-fast tale that charts one man's thrilling transformation, even as it asks us to ponder the limits of our humanity—and our boundless potential."

Upgrade follows the story of a brother and sister, Logan and Kara Ramsay, both unwittingly enhanced with genetically engineered upgrades, who square off against each other in a dangerous battle of conflicting schemes to save humanity from itself. In Logan especially, Crouch gives us a flawed by likeable character the reader engages with effortlessly.
After a stint in prison, Logan received a pardon and eventually went to work as a special agent for a federal law enforcement agency called the Gene Protection Agency (GPA). The GPA enforces federal laws that prohibit gene editing and goes after rogue scientists still attempting to do gene editing research in clandestine labs and those trafficking in high-end genetic elements.
Logan is the son of Miriam Ramsay, a brilliant geneticist who pioneered and patented a cutting-edge biological DNA modifier system since declared extremely illegal by the government. Miriam Ramsay became almost universally hated and ostracized when one of her gene editing experiments caused a worldwide famine and the largest accidental mass killing in human history. Logan, a college student at the time, had been working for his mother during the experiment, and that's why the authorities sent him to prison.
During a raid on what was believed a dark lab, Logan sustains serious injuries from an IED left behind at the site. As he recovers, he notices biological changes that make him suspect the bomb contained some type of DNA modifier. While Logan tries to investigate the changes happening to him on his own, his agency discovers what has happened and confines him to a black site while studying him to determine whether he poses a threat. Couch then introduces Kara, Logan's sister, when she breaks him out of the GPA prison. They discover that both of them have recently experienced the same genetic editing, transforming them into "super humans."
Upgrade introduces the reader to a new futuristic world in the classic dystopian view. Couch hits all the high notes for the sci-fi genre, not a surprise to anyone who has read his previous works. The setting is at once familiar to those of us living in the 21st century with things like climate change, electric vehicles, and species ending environmental disasters, but fresh at the same with Couch's unique takes on some standard ideas. The story's specifics are fascinating, though at times Upgrade wanders into long asides on explanations of genetics and DNA that grow a little tiresome. Still, the action sequences are well-placed and exciting. The novel is perfect for sci-fans looking for a book with a unique take on saving humanity from itself. Those who don't usually read sci-fi but enjoy a good thriller and can put aside the futuristic setting should also find Upgrade an entertaining read.
Penguin Random House publishes Upgrade by Blake Couch on July 12, 2022. I received an advanced copy of the book from the publisher via NetGalley used for this review, representing my honest opinions.