The Midnight Killing is the second book I've read by Belfast-based crime writer Sharon Dempsey. I very much enjoyed Dempsey's crime thriller & mystery, Who Took Eden Mulligan?—the first book in the series. Her latest is another twisty story of murder, relationships, family secrets, and lies.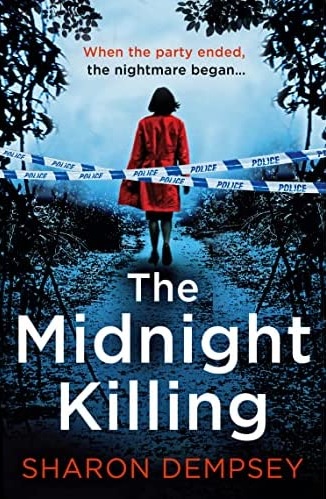 The Midnight Killing
Published by Avon Books on August 18, 2022
Source: NetGalley
Genres: Crime Thriller & Mystery
ISBN: 9780008424480
Pages: 384
"When the body of local architect James McCallum is found hanging in the grounds of his former school one cold, dark night, DI Danny Stowe and forensic psychologist Rose Lainey suspect foul play behind his apparent suicide.
To their astonishment, the trail leads to a 20-year-old cold case of a missing girl, and a teenage party. But what was James' fascination with the case and how is it linked to his death?
Secrets don't stay buried forever – but the real killer will stop at nothing to hide theirs."

This book unfolds from the points of view of Rose Lainey, a forensic psychologist; and Danny Stowe, a detective inspector investigating a murder staged to look like suicide. I liked how Lainey and Stowe's thoughts crossed over so that you get different perspectives of the same event or discussion and found this one of the book's strengths.
Dempsey's latest is about so much more than solving a crime. For the benefit of those who haven't read the first book in the series, Rose and Danny have a history. They attended university together, where they forged a close friendship, though Danny always wanted more from the relationship then and still does. But Rose rejected his one romantic overture during their college days (which we learn about it in this book). That memory makes Danny reluctant to reveal his true feelings to Rose for fear of compromising their friendship and work relationship.
Rose Lainey is a fascinating and complex character, and it's easy to like and feel empathy for her. She still struggles with ambivalent feelings for her deceased mother, Evelyn, who Rose grew up believing was part of the Republican movement and supported the IRA during The Troubles.
Rose had left Belfast for university in Liverpool at age eighteen. Within a month of leaving, she changed her name from Roisin Lavery to Rose Lainey, determined to escape her unhappy Belfast past and reinvent herself. She moved to London to take a job from university and never returned, becoming estranged from her family. But when her mother died, Rose returned for the funeral, and Danny Stowe persuaded her to remain to help him investigate the Eden Mulligan case (first book). That was when Rose discovered her mother wasn't an IRA supporter after all, but an undercover operative working on behalf of the British government.
In this book, Rose has chosen to remain in Belfast permanently to work for the Police Service of Northern Ireland and to attempt reconciliation with her siblings. Rose realizes she paid a heavy price by shutting out her family to escape her past marked by violence. Yet she still struggles to form a connection with them because for so long, she had shut down the part of herself that allowed her to be vulnerable as a form of protection from hurt. That, in part, explains why she doesn't reciprocate Danny's feelings.
DI Danny Stowe is also an appealing, multi-layered character. Besides the conflicts over his romantic feelings for his best friend Rose, he still hasn't come to terms with his recent divorce or his feelings for his ex-wife. He's also an unrelenting investigator who puts his all into leading his team to solve the murder. He's affected by his past but isn't the cliched "flawed" or injured protagonist.
As in her previous novel, Belfast plays a large role, and Dempsey effortlessly places us there. I certainly got a sense of place in the present and the past with its dangerous nature during The Troubles. Here Rose's siblings "stayed" whereas she left, and though she realizes the city has changed and she's changed a lot, Rose is struck by the sense she is now home again.
Dempsey is an excellent storyteller. She writes so well the words seem almost to disappear (a good thing), and it's all about the characters and their stories. More than just a crime novel, this book is also about families, childhoods, long-past legacies, and the impact they continue to have many years later. I liked the nuanced way Dempsey handled the subplots throughout the book. It's not overwritten. The story and traumatic events of the tragic past constantly hover in the background but never overtake the present events. Instead, there's a benign sense of acceptance of them and the impact on everyone involved in many ways. This is another excellent read from Dempsey.
Avon Books, a commercial fiction division of HarperCollins, will publish The Midnight Killing by Sharon Dempsey on August 18, 2022, and the book is now available for pre-order.
I received a copy of this book from the publisher via NetGalley used for this review representing my honest opinions.