The Lantern Boats by Tessa Morris-Suzuki is a fascinating take on life in post-World War II Japan that is intelligent, subtle, and thrillingly emotional.
As a rule, I don't read much historical fiction even when there is a criminal element to it. That's somewhat surprising since when I do read historical fiction I almost always enjoy it. I gave The Lantern Boats a miss when I saw it available on NetGalley, but sometime later I saw it featured in an Amazon book marketing email and decided to read it. I am glad I did. While "atmospheric" is a descriptive term we see way too overused in literary circles these days, this is a book where I think it definitely applies.
The Lantern Boats
Publisher: Joffe Books
on April 6, 2021
Genre: Historical Fiction
ISBN-13: 9781789317473
Pages: 258
Paperback and electronic book versions available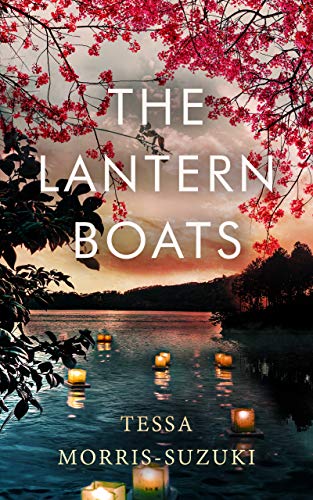 Elly Ruskin is trapped between worlds. Half-Japanese, half-Scottish, she is deported from Australia to Japan after the war, but Tokyo is a city Elly barely knows. In a whirlwind romance, she falls in love with a Scottish journalist and they marry.
Kamiya Jun is a teenage war orphan from the lost Japanese colony of Karafuto. He is smuggled to the mainland on a fishing boat. Captured by the police, he is handed over to the occupation forces, and finds himself unwillingly recruited to work in an underground intelligence unit run by a maverick American officer.

Now Elly thinks her husband is having an affair, and her suspicions will lead her down a treacherous path that will put everyone in danger. Jun might be the only person who can help her.
An absolutely beguiling story of intrigue and the human spirit set against the backdrop of Japan in transition.

Tessa Morris-Suzuki's novel opens in Tokyo in 1951 with the observance of Toro Nagashi, often referred to by the alternative name "The Festival of Recovery," a summer tradition in which people make wishes and float paper lantern boats down a river. In Asakusa, this takes place at Sumida Park, where lanterns are released from Shinsui Terrace, near Azumabashi Bridge, to commemorate those lost to the Great Kanto Earthquake of 1923. The reader encounters the first hint of foreboding when our attention is drawn to a dead body floating down river amongst the tiny lantern boats.
I loved the history of 1951 Tokyo that Morris-Suzuki vividly paints for us in the pages of the book. I also enjoyed learning about so much that was all new to me, the meaning of the lantern boats and the political climate of those past times in Japan. The book is a gripping, entertaining read that is part murder mystery and part a story of intrigue, love, and betrayal. The author has richly drawn the characters in the book, especially the two major characters, Kamiya Jun, a teenage war orphan, and Elly Ruskin, a half-Japanese and half-Scottish woman Australian authorities deported back to Japan after the war.
While The Lantern Boats is a beautifully written and enchanting story, there is, however, also a sense of frustration and injustice that the bittersweet ending brings. I recommend the book to readers who enjoy historical fiction, especially that covers the period at the end of World War II.
I purchased a copy of the book used for this review.