Small Bones by Kerry Buchanan—For die-hard fans of nail-biting crime thrillers, Kerry Buchanan is the real deal.
Crime thriller by one of Northern Ireland's newest talents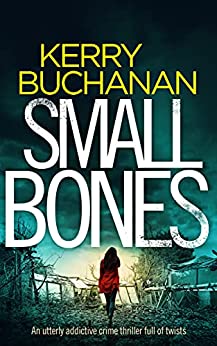 Small Bones
Published by Joffe Books
On sale June 3, 2021
ISBN: 978-1-789-31842-5
Genre(s): Thrillers & Suspense
278 pages
Available in paperback and electronic editions.
If you can't trust your father and you can't trust the police, who can you trust?
Sue Hearn is planting a herb garden on the site of her grandfather's old greenhouse. She's spent the morning digging up all sorts of odds and ends already. But she doesn't expect this grisly find.
Could it be the remains of her mother, Monica, who went missing thirty years ago?
Sue's father, in hospital with dementia, insinuates that a police officer was involved in her mother's disappearance. But can he be trusted?
So now Detectives Asha Harvey and Aaron Birch might be looking for a bent copper.
As they dig deeper into the past, Sue and Asha find secrets so dangerous it will put all their lives in danger.
"Human finger bones can easily be mistaken for bits of clay pipe when you dig them out of the soil. It couldn't be human she told herself."
I apologize in advance for the superlatives but it seems the only way to convey adequately how much I enjoyed this book. I requested it as soon as I learned the digital advance review copy was available on NetGalley. This second book in the Detectives Harvey & Birch series sounded appealing, and I was already aware of the brilliance of Kerry Buchanan's writing having previously read Knife Edge, the first novel in the series. I devoured this one the moment I downloaded it.
After the set up prologue, the book begins from the point of view Sue Hearn, a woman in her forties who has given up working to become the full-time caregiver for her father, a dementia sufferer. While tilling up the back garden Hearn uncovers skeletal remains which brings in the central characters Acting Detective Inspector Asha Harvey and DC Aaron Birch. They take up the investigation once they exhumed the full remains of a child from Hearn's backyard and the evidence points to homicide.
Buchanan masterfully moves the story back and forward from 1992 when the crimes detailed in the book happened, and the present day as the detectives sift the evidence and clues hoping to identify the child victim and the killer. The novel continues to unfold from a few other points of view, notably that of Alistair King, a retired former high-ranking corrupt police office, and dips into the past – via memories, interviews, and testimonies at the time.
I really loved the growth of the Asha Harvey and Aaron Birch characters since the first novel in the series, Knife Edge, in which they were introduced. Here we get to know them even better. Alistair King, who turns out the chief villain in the book, is also a magnificently villainous character who we quickly develop an intense dislike for, yet respect as a worthy adversary for Harvey and Birch.
There are some truly mind-bending twists and turns that make Buchanan's latest offering a deliciously nail-biting read. She also does a fabulous job in keeping us guessing throughout. Without apology, I proclaim Kerry Buchanan my favorite contemporary crime thriller novelist and can't wait for the next book. I highly recommend Small Bones by Kerry Buchanan for die-hard fans of nail-biting crime thrillers. Kerry Buchanan is the real deal.
I received an advance review copy of the book from the publisher via NetGalley used for this review but purchased a copy for my personal library.