Rio Flash '62 by Andrew Deutsch, a vivid and engaging neo-noir mystery set in paparazzied 1960s Rio de Janeiro. Read the full review.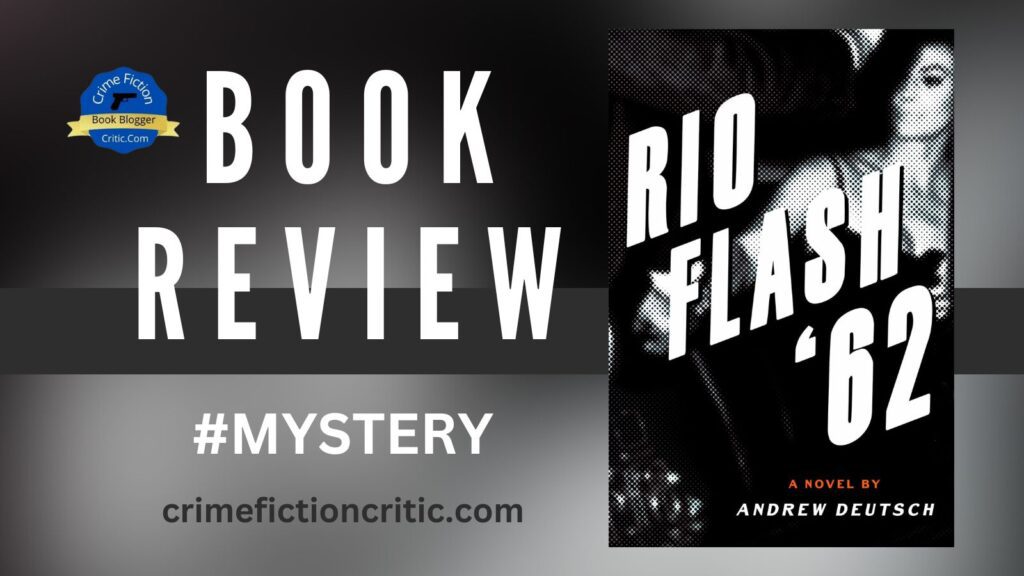 Brazil. Rio De Janeiro. 1962. A time of dramatic political, social, and cultural clashes. Here, at the nexus of high society and low, style and street, pop music and passionate crime, a young tabloid photographer will do anything to get ahead – even protect a killer.
Beto Santera, raised on the struggling side of Rio, has just wrangled his first press photographer's card. He has big dreams, small chances, and a chip on his shoulder. Beto is desperate to get ahead as a photographer but is scrambling to make ends meet.
His luck changes when he photos Sergio Fontes von Imperial, an outcast of a powerful Rio family, leaving the crime scene of a murdered popular Brazilian star. Beto makes a dark deal with Sergio, loses the negatives, and he gets access to the exclusive world of fashion, art, music, and nightlife. All the excitement Rio has to offer.
Then more killings occur. Beto is forced to make a choice, keep his career, or help catch the criminal.
World Castle Publishing, LLC (2023)
Genre(s) Mystery & Detective, Historical Crime Fiction, Neo-Noir
Andrew Deutsch | Pub Date Jan 17, 2023 | ISBN 9781958336854 | 310 Pages
Rio Flash '62 by Andrew Deutsch is a satisfying historical crime fiction read that entertains while it explores ethical dilemmas and the perils of secret keeping to further one's career aspirations. I always enjoy reading books set in exotic locales, and here in the 1960s Rio de Janeiro, a city well known for the beauty of its beaches and of its peaks, ridges, and hills—all partly covered by tropical forests, fits the bill. The period covered by the book chronicles the city's growth toward economic and social prominence and status as a tourist magnet, a center of leisure for Brazilian and foreign tourists.
While a basic neo-noir whodunit mystery at its core, Deutsch offers us an unusual lead character in Beto Santera, a young street photographer raised on the poor side Rio, who has big dreams of establishing himself in the business of taking and selling photos to the tabloids, but little chance of doing so. What makes Beto such an interesting choice as the protagonist is he is no amateur detective, as we might expect from a whodunit mystery. Beto has no interest at all in crime solving, but only in advancing his career using any means necessary. So, he becomes an anti-hero main character when he chooses his career over helping the police catch a killer.
Mostly by accident and luck, Beto snaps photos of a prominent member of Rio high society, Sergio Henrique Fontes Von Imperial, outside a murder scene. Beto doesn't immediately know about the murder when he snaps the pictures, but soon learns he has captured on film evidence putting Sergio outside the apartment of a rising young actress named Vamella who someone had murdered just before he took the photos.
Realizing his photos put Fontes squarely in the frame as a murder suspect, instead of turning over the pictures to the police, Beto rationalizes using the negatives to blackmail Fontes. He agrees to not give the photos to police in return for Fontes arranging access for him to important social venues and to celebrities where he can take photos to sell to the tabloids to advance his career. Even after learning Vamella might be only one of several recent murders Fontes might be complicit in, Beto still does not come clean with the police, not even when Tadeo, the police inspector investigating the murders, learns about Beto and the possibility he photographed the suspect in Vamella's murder outside her apartment shortly after she died.
While Deutsch casts Tadeo in the role of a deuteragonist, I found him a far more compelling character than Beto. Tadeo, too, faced ethically dilemmas, but he made the right choices when they mattered, and persistently worked to solve the murders in the interests of justice. Overall, the characters Deutsch offers us are all lively and realistic, with individual personalities sparking off each other just as happens in real life. His detailed descriptions of the setting, everything from smells to sounds with an infusion of culture woven into the narrative, give the reader a vivid sense of place with a cinematographic feel. Just as the black and white book cover images give us the neo-noir feel of the story, the narrative gives the reader almost the sense of watching a black and white noir film.
Rio Flash '62 offers readers a welcome chance to explore, take an adventure, and immerse themselves in a different culture. While not the nail-biting variety, Deutsch provides an undercurrent of suspense throughout that kept me turning the pages until the very end.
I received a copy of the book from the publisher for review purposes.
Book rating: ★★★★
Get a Copy of Rio Flash '62