The Murder Club by Nikki Crutchley—A scintillatingly suspenseful thriller by one of New Zealand's top crime fiction authors.
Kia ora! Here I introduce you to another book from my personal TBR stack by one of New Zealand's most outstanding crime fiction writers, and one my favorite authors. The Murder Club is the third book I've read by author Nikki Crutchley. It's a Miller Hatcher novel shortlisted by the Ngaio Awards 2021 for best novel.
The Murder Club centers on three lives—all affected differently by the same murder and who become entwined with a small-town killer desperate for infamy. And what a delightful read it was.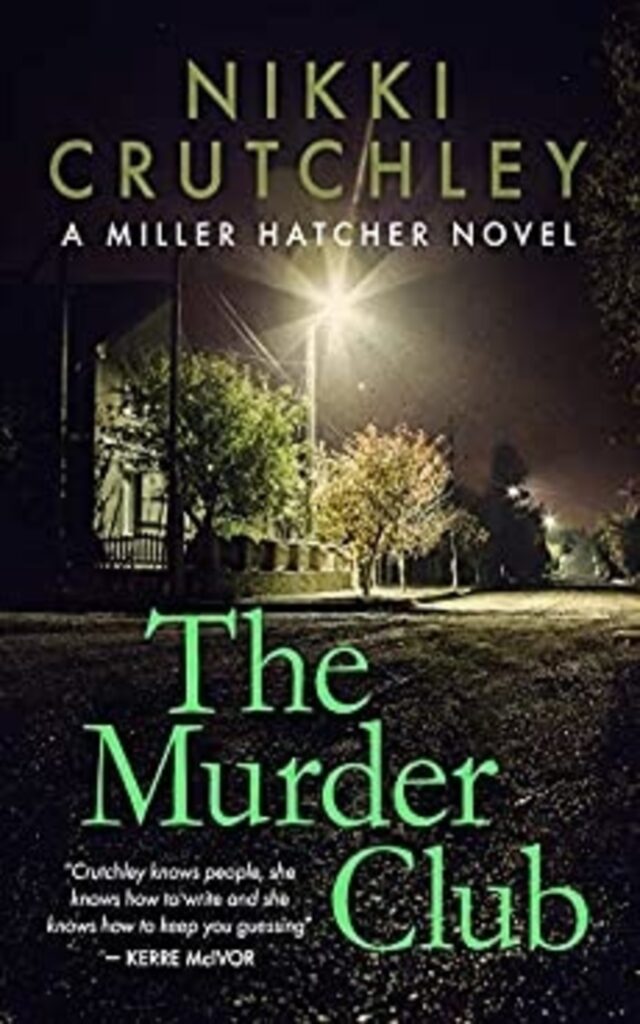 The Murder Club
Published by Oak House Press
from August 31, 2020
Genre(s): Detective & Mysteries, Women Journalists, New Zealand Fiction
ISBN 9780473505929
353 pages

A dead body. An anonymous letter. This is only the beginning.

'Not all evil, on the surface, is ugly and menacing. It doesn't always lurk in city centres after dark. It mows your lawns, frequents your local pub, takes its kids to school and contributes to communities.'

When the first letter arrives saying that 'tonight it begins', journalist Miller Hatcher ignores it. But then the body of a murdered woman is discovered, strangled, a scarf around her neck.

Cassie Hughes has always vowed to find the man who murdered her mother. Cassie knows he's out there and wants him to pay, and Miller agrees to bring the cold case back into the public's eye.

Logan Dodds has been obsessed with true crime ever since his sister was murdered thirty years ago. He has turned his obsession into a career and has created the True Crime Enthusiasts Club and his newest venture, True Crime Tours.

The lives of Miller, Cassie and Logan – all affected differently by murder – become entwined as The Scarf Killer, desperate for infamy, and Miller's attention, makes his mark on the small town of Lentford.

I discovered Cambridge author Nikki Crutchley in 2018 when I read the books shortlisted for the Ngaio Marsh Awards that year. The committee had selected her first Miller Hatcher book, Nothing Bad Happens Here, as a finalist in the 2018 Ngaio Marsh Awards. I've been a fan ever since. So it was a genuine pleasure to again meet journo Miller Hatcher and Detective Sergeant Kahu Parata as they work together on another murder mystery.
Crutchley sets this book in the imaginary town of Lentford, a small rural community near Hamilton. Having spent time in the Hamilton area, I fully appreciated the taut authenticity of the town Crutchley created for this book. Small town crimes have always held a special fascination for readers. Small towns are supposed to be safe—nestled away from the rabble, the violence, and the vice more common in the big cities. But a killer is on the loose in Lentford.
After strangling a young woman (Tamara Jenson) in the murder the book opens with, the suspect delivers a chilling message to Miller. The letter writer takes credit for the murder and says it won't be the last.
In this sequel to Nothing Bad Happens Here, Miller is still a journo, but after severe problems with alcohol, she has suffered a fall from grace. The New Zealand national magazine First Look editor had dismissed her after an alcohol-fueled incident. So, Miller has taken a job as a reporter for the small local paper Lentford Leader and is trying to make a fresh start. In the letter, the killer makes clear they are after notoriety and familiar with her reporting on the murders in Castle Bay (the first book). They want Miller to tell their story after the killing is done in Lentford.
Miller takes the letter to Kahu, who has come to Lentford to oversee the hunt for the killer. She and Kahu have been friends since the Castle Bay tragedy.
The killer keeps their word, and the murders continue, as do the letters to Miller after each one. More young women turn up strangled inside their homes.
The intriguing subplot of the book concerns another murder that happened years past in Lentford. Someone abducted a woman, and her family never knew for sure what had happened to her until authorities discovered the woman's skeletal remains buried near an abandoned diary outside Lentford fourteen years later. The victim's daughter, Cassie Hughes, now an adult, has been obsessed with finding her mother's killer since the police never solved the murder. Cassie became so obsessed that she ended up in a mental healthcare facility after violently assaulting a man she had mistaken for her mother's killer. After her release from the facility, she moves to Lentford with her troubled girlfriend Tiff, also a former patient at the facility. Somewhat predictably, we learn as the story plays out, the past murder intersects with the current ones.
Miller Hatcher is a strong but flawed female lead. She is a recovering alcoholic, struggling to remain sober. But she is fascinating and empathetic. After a harrowing incident in Castle Bay and her mother's death that Miller had trouble coming to grips with, she turned to alcohol for solace, and it nearly ruined her promising journalism career. The job with the Lentford Leader is a second chance, but Miller also views it as a step-down and punishment for her past mistakes. Crutchley excels at the complex characterization required to engage readers, resulting in a book that's truly impossible to put down. The myriad anxieties her characters feel—fear for their safety, the community's fear for the safety of young women like the killer is targeting, and the resident's fear for their community's reputation—are entirely relatable. A sense of dread and foreboding permeates the narrative. We know more murders are coming, and Lentford seems on the verge of imploding. Her characters are nuanced, complicated, and never stereotyped.
The quick smart pacing, escalating tension, and a truly dramatic finish combine to make The Murder Club a delightfully entertaining read. The book grabs the reader from the start and doesn't let go.
It's possible to read this book without having read the first in the series, but you'll only end up wanting to read Nothing Bad Happens Here because Miller and Kahu are characters that are a pleasure to discover, and you'll want to capture their entire backstory.
Oak House Press published The Murder Club on August 31, 2020. I purchased the copy of the book used for this review, representing my honest opinions.