Robert B. Parker's Payback by Mike Lupica—a solid mystery with a serviceable plot and everything Sunny Randall fans could expect.
Robert B. Parker's Payback
by Mike Lupica
Published by Penguin Publishing Group Putnam
on May 4, 2021
ISBN 978-0-593-08785-5
Genre(s): Suspense & Thriller
Page Count: 347
Available in hardcover, paperback, electronic, and audiobook versions.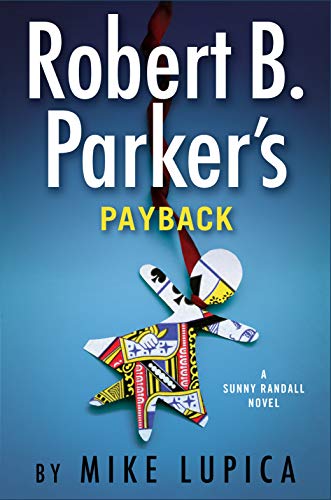 In her latest thrilling adventure, PI Sunny Randall takes on two serpentine cases that converge into one deadly mystery.

PI Sunny Randall has often relied on the help of her best friend Spike in times of need. When Spike's restaurant is taken over under a predatory loan agreement, Sunny has a chance to return the favor. She begins digging into the life of the hedge fund manager who screwed Spike over – surely a guy that smarmy has a skeleton or two in his closet – and soon finds this new enemy may have the backing of even badder criminals.

At the same time, Sunny's cop contact Lee Farrell asks her to intervene with his niece, a college student who reported being the victim of a crime but seems to know more than she's telling police. As the uncooperative young woman becomes outright hostile, Sunny runs up against a wall that she's only more determined to scale.

Then, what appear to be two disparate cases are united by a common factor, and the picture becomes even more muddled. But one thing is clear: Sunny has been poking a hornet's nest from two sides, and all hell is about to break loose.

The "Sunny Randall" series, created by the legendary Robert B. Parker, follows the cases of the major character Sonya "Sunny" Randall, a female Boston private detective who used to be a cop. Having read and enjoyed the original six books in the series written by Parker, it delighted me when the Parker estate and Mike Lupica revived the series in 2019. Sunny Randall and Spenser, the iconic and better known male Boston PI created by Parker, have much in common. But there are plenty of things besides their respective genders that make them unique. Parker didn't simply make Spenser a woman and give him a female name.
Payback is the ninth book in the series, the third written by Mike Lupica, who does a remarkable job of capturing the essence of the characters in the series created by Parker. Lupica also mimics Parker's story-telling style so effectively that his contributions to the series are almost indistinguishable from the originals.
In Payback, the story begins when Sunny's erstwhile sidekick Spike, a gay restaurateur, gets his restaurant stolen out from under him by Alex Drysdale, a shady hedge fund manager. Drysdale, posing as a friend, loaned Spike money to help him weather the coronavirus pandemic but under what turns out to be a predatory loan agreement that makes it impossible for Spike to repay the loan. After Drysdale forecloses, Spike turns to Sunny for help.
"Payback really is a bitch," Spike said. "Only it turns out Drysdale's the bitch."
While trying to help Spike save his restaurant, Sunny agrees to help her cop friend Lee Farrell with a situation involving his niece, a college student who is seemingly the victim of an assault but refuses to cooperate with the police. When Sunny tries to intervene, the young woman goes from uncooperative to outright hostile. As it usually happens in Sunny Randall novels, what appears to be two unrelated cases eventually intersect, muddling the picture even more.
Besides Spike, Payback features all the other usual series characters—Jesse Stone, a Massachusetts small-town police chief and Sunny's love interest; Richie, her ex-husband; Susan Silverman, her psychiatrist, Sunny's father, Phil, a retired Boston police detective; and more. For Robert B. Parker fans, Lupica delivers on what the series promises—easy, breezy whodunits that are easily read in one sitting. Fans of Sunny and the host of series characters will find Payback an enjoyable and exciting read. It may slightly disappoint those looking for a meatier mystery since much of the book reads like a romance novel. But there is plenty of the attitude and snappy tough-guy dialogue that make Robert B. Parker books so easy and enjoyable to read. Overall, Payback is a solid mystery with a serviceable plot and everything Sunny Randall fans could expect.
I received an advance copy of the book from the publisher via NetGalley.