Fatal Hunt by Michelle Godard-Richer, at its core, is an action-packed, suspenseful thriller but with a touch of the supernatural and romance in the mix. Read my full review.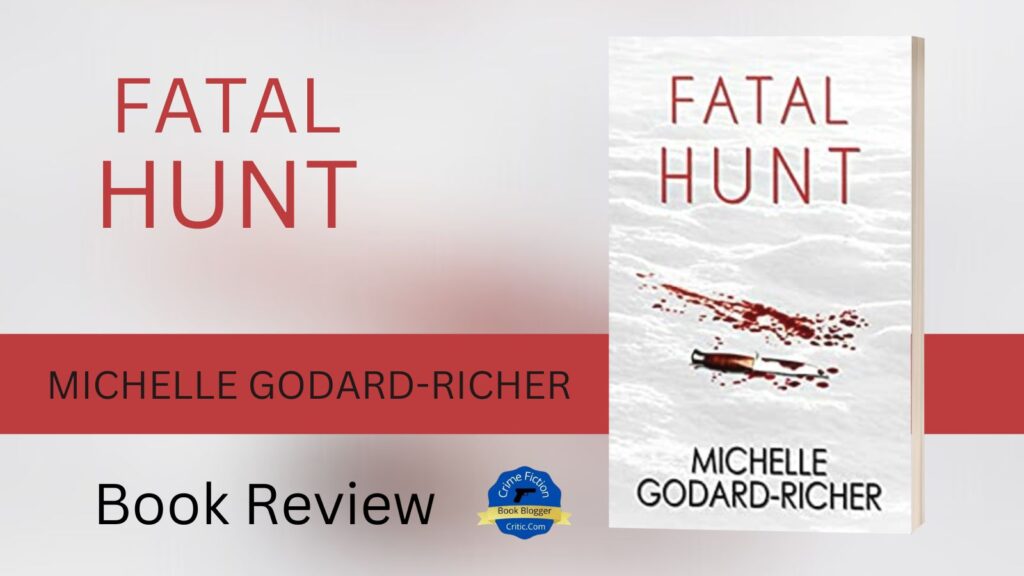 After being widowed and surviving the wrath of a serial killer, Jessica believes her misfortunes are over. She's reunited with her first love, Jon, and together, with her son Bryce, and a baby on the way, they're living their happily ever after on their ranch in Montana. That is until secrets, lies, and a formidable foe from Jon's past emerge to shake the foundation of their relationship, forcing them to flee for their lives.
A decade earlier, Jon worked undercover for the FBI. He infiltrated Hugh Jones' Kansas City Mob, and almost destroyed his empire. Unaware of the breech in his own defenses, Hugh, obsessed with revenge, unleashes every weapon in his arsenal, targeting those Jon loves the most.
Wild Rose Press (2022)
Categories Thrillers & Suspense, Ghost Thrillers, Romantic Thrillers
Michelle Godard-Richer | Pub Date Oct 12, 2022 | ISBN 9781509244867 | 296 Pgs
There was a lot I liked about Fatal Hunt by Michelle Godard-Richer, although the book is a slight departure from my usual dark, brooding crime fiction reading. First, this book delves into the paranormal, a realm I'm less than enamored with. I usually avoid books featuring otherworldly characters. Also, Fatal Hunt features romance prominently, another genre I'm largely disinterested in reading. Subgenre fusion in the realm of crime fiction is gaining popularity among authors these days, since it's used by many to help their work stand out. I understand that, but perhaps my preference for logic and realistic explains my reticence to delve into the whimsical. My interests lie more in the traditional hard-boiled detective, police procedural, and darker crime thriller domains. But despite the recurring appearance of a ghostly apparition that really didn't work for me, we spend the bulk of our time in the land of the living, for at its core Fatal Hunt is an action-packed thriller. That does work for me and is why I thoroughly enjoyed reading this book. 
When the book opens, we meet Jessica Kent, her eight-year-old son Bryce and her husband Jon, a Montana rancher and former FBI special agent. Jessica and Jon are carrying a lot of baggage. This is the second marriage for both. Jessica's first husband, Adam, was a police officer killed in the line of duty. And although she is married again and carrying her second child, she is still in love with the memory of her deceased first husband and hasn't truly moved past his death. Jon has issues of his own. His first wife, Cynthia, disappeared without a trace and is now considered dead. Also, Jon resigned from the FBI because of the emotional trauma he suffered while working a deep undercover assignment. As much as Jon wishes to bury his past, there is a rich and powerful criminal from Jon's undercover days who won't let sleeping dogs lie. He is intent on exacting revenge. This puts Jon and his entire family squarely in the villain's crosshairs and explains Cynthia's disappearance. As the story plays out, Jessica and Jon attempt to cope with the menace, but things only go from bad to worse since Jon's former colleagues at the FBI seem powerless to protect him and his family from the determined, vengeful antagonist. 
I confess to skimming the romance parts of the story, which doesn't have much to do with the unfolding plot, other than to add additional layers of characterization. But I absolutely enjoyed the action-packed thriller on offer here. Godard-Richer does a great job of setting a fast pace from the beginning that doesn't let up until the very end. Her story-telling ability is powerful, and she offers us some very clever twists along the way. Clearly a talented and emotive writer, she gives us a supporting cast of well-rounded and engaging characters. 
Besides the Kent family, we meet relatives of theirs, Jon's mother, Sally and Jessica's aunt, Debbie, one of my favorite characters in the book. Godard-Richer also introduces us to several of Jon's former FBI colleagues who play integral roles in the story. Trent, one of the most notable FBI special agents, becomes a mainstay for the Kents when they most need it. The lead character Jessica drew me in, though she's not altogether likeable or easy to get to know. Sometimes she appears a strong, independent woman and other times seems a mercurial person indulging in self-pity who doesn't attract great empathy. But as the story progresses, she becomes less inconstant. Bryce Kent is also an interesting character. Often, children appearing in novels are only used as props unless the story centers on them. But here, Bryce is fully drawn, contributing character complete with a backstory. I didn't enjoy the ghostly character as much as others might. First because of my disinterest in all-things-supernatural. But also, because it allows things to occur in the story that aren't necessarily realistic or feasible. But despite my petty grievances, the plot is riveting and the core events are plausible. Neither the supernatural aspect nor the romance overwhelms the story unfolding here in any way that feels distracting. The author strikes a nice balance between the crimes at-hand and the usual personal stuff impacting on the characters' lives. 
If you enjoy a healthy serving of the paranormal and romance with your crime thrillers, you will love this book. Regardless, Fatal Hunt will appeal to anyone who loves a well written, action-packed and suspenseful thriller. The ending suggests we haven't seen the last of the Kents and I'd happily read more from Michelle Godard-Richer. 
I received a copy of the book from the publisher for review purposes.
Book rating: ★★★★
Get Your Copy of Fatal Hunt on