The Abduction by British author John Reid is the seventh book of the entertaining and suspenseful DCI Burt mystery series set in London.
One thing John Reid does and does well is he constructs gripping, complex plots with multiple threads that he always ties together perfectly at the end. The Abduction is no exception. I enjoyed reading the previous book in this series, The Norwich Murders, and meeting Reid's likeable and engaging cast of characters. So, I was happy to accept this book for review and to get reacquainted with them.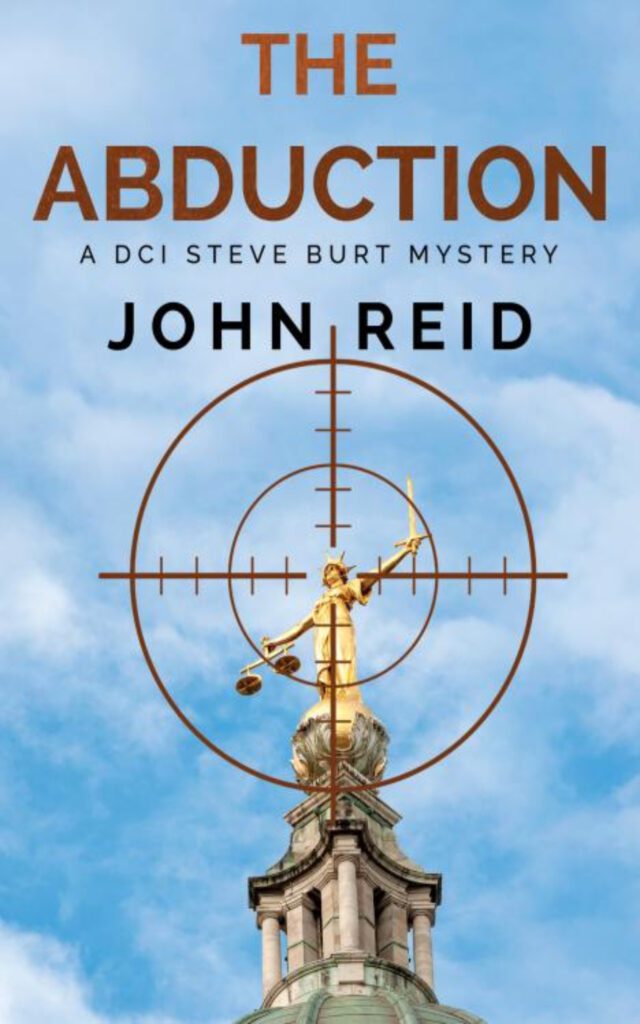 The Abduction (DCI Burt #7)
by John Reid
Published by Pegasus Publishers
on October 27, 2022
Source: Publisher
Genre(s) Mystery & Thrillers
ISBN 9781800164642
332 pages

A soldier retires from the army and is recruited into a mysterious government unit and a young woman is abducted and murdered. These completely separate events become central to DCI Steve Burt´s latest and most devastating case.

DCI Steve Burt, whose Special Resolutions Unit is under threat of closure by his new boss, is reluctantly given the abduction case which soon becomes a murder investigation.

The abducted girl is the daughter of a high court judge, who is told his daughter will be returned if he finds the defendant in his current trial not guilty, but Steve thinks the man on trial isn't important enough to have a judge's daughter kidnapped. Something isn't right, but what?

The young woman's death takes the DCI on a journey involving murder and corruption and the team begin to unearth apparently unrelated events that, when put together, draw them back to a previous investigation.

Meanwhile one of Steve´s officers feels there is a different side to the investigation and decides to follow her own course of action without supervision, with disastrous consequences.

DCI Steve Burt, head of the Special Resolutions team at New Scotland Yard, is facing uphill battles on at least two fronts. First, his new boss, Commander Daphne Bloom, who replaced Burt's old mentor and friend, Alfie Brooks, wants to disband his independent team. Despite the unit's enviable clearance rate that leads the MET, Special Resolutions don't fit with Bloom's organizational chart ideas. And then, Burt's team draws a politically charged missing person case when Suzan Plough-Henderson, daughter of a High Court judge, goes missing.
The pressure ratchets up when Burt's team uncovers evidence showing someone abducted the young woman and Bloom continues her unwarranted heavy handed administrative interference while Special Resolutions works to find and free the judge's daughter. And if there isn't enough on his plate already, Burt and his team determine that their past major case and some of the same players may bear heavily on their new one.
There's a lot going on here as Burt and his team revisit a past murder, try to find Suzan Plough-Henderson before she suffers harm, and understand more about how the abductions ties into their most recent major case, made more difficult because of Commander Daphne Bloom's meddling.
It all works here because it's all part of the plot (and the same case) so it's not distracting focusing on several investigative threads at once which miraculously fit together at the end. That's quite an accomplishment, especially since Reid even adds to the mix a Jason Bourne-like character, a retired British soldier recruited by some secretive clandestine and off the books British intelligence agency to assassinate suspected enemies of the crown. Reid sets a fast pace from the beginning, and it doesn't let up until the very end. And he offers some very clever twists along the way.
The Abduction is a page turner of the first order that will have readers saying bring on DCI Burt #8.
I received a copy of the book from the publisher used for this review, which represents my own honest opinions.