The writing is as professional as Jesse Stone isn't in Robert B. Parker's Fallout by Mike Lupica. The result is competent, but slow developing, and imminently forgettable.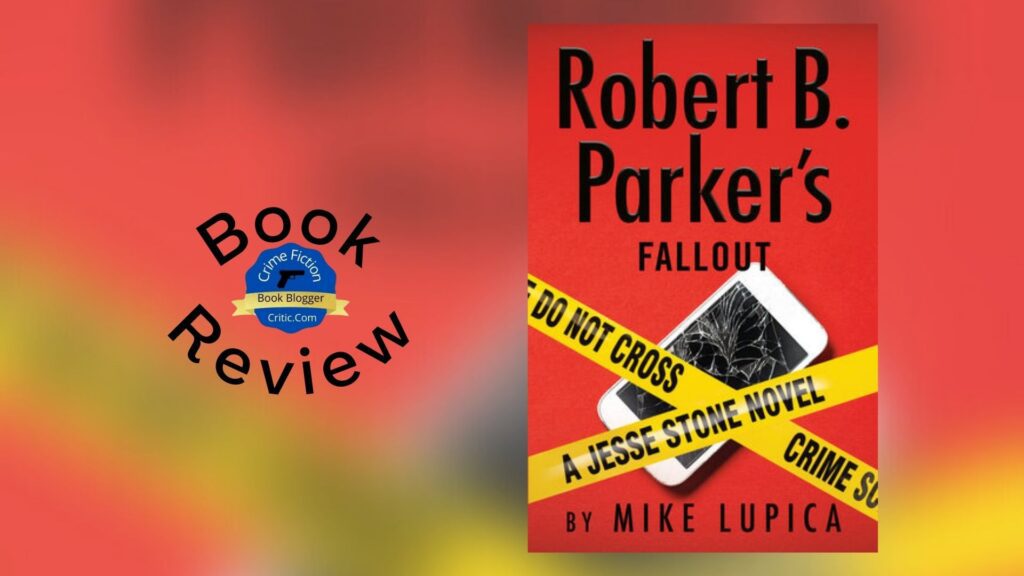 Robert B. Parker's Fallout by Mike Lupica is the second Jesse Stone novel I've read since Robert B. Parker's literary estate turned over the series to Mike Lupica. I really enjoyed the first novel (Robert B. Parker's Stone's Throw, 2021) and thought Lupica did a good job of staying true to Parker's legacy and characters. So, I was looking forward to this book and thrilled when the publisher offered me an advanced copy for review. But then I read it.
Something that distracted me the entire time I was reading this book is this. My elderly mother is a longtime fan of the Jesse Stone series, both the books and the made for television movies based on Robert B. Parker's original novels that starred Tom Selleck. And she has continued to read the series faithfully since Parker's death. But my mother isn't one of those people who appreciates gratuitous profanity in the books she reads. So, if she had picked this one up (which I'll make certain she does not), she wouldn't have made it through the fifth chapter when the first f-bombs fell and then continued to the end. But the book has more problems than only that.
Robert B. Parker's Fallout
by Mike Lupica
Published by Putnam (Penguin Random House)
Pub Date: September 6, 2022
ISBN 978-0-593-54027-5 (hardcover)
Genre(s) Mystery & Detective
368 pages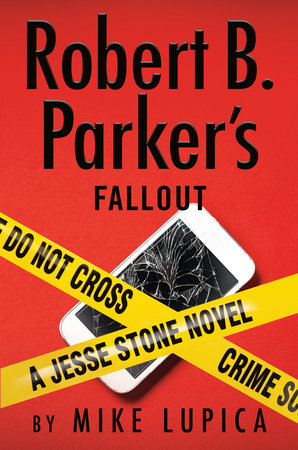 From the publisher…
When two seemingly unconnected mysterious deaths occur on his watch, police chief Jesse Stone must pull out all the stops to unravel the truth and stop a killer from striking again.

The small town of Paradise is devastated when a star high-school baseball player is found dead at the bottom of a bluff just a day after winning the team's biggest game. For Jesse, the loss is doubly difficult—the teen was the nephew of his colleague, Suitcase Simpson, and Jesse had been coaching the young shortstop. As he searches for answers about how the boy died and why, he is stonewalled at every turn, and it seems that someone is determined to keep him from digging further.
 
Jesse suddenly must divide his attention between two cases after the shocking murder of former Paradise police chief, Charlie Farrell. Before his death, Farrell had been looking into a series of scam calls that preyed upon the elderly. But how do these "ghost calls" connect to his murder? When threats—and gunshots—appear on Jesse's own doorstep, the race to find answers is on. Both old and new enemies come into play, and in the end, Jesse and his team must discover the common factor between the two deaths in order to prevent a third.

A jogger finds a body on the rocks below a cliff. The Paradise police soon identify the victim as Jack Carlisle, a standout high school shortstop who had seemed destined for the big leagues. Complicating matters is that Jack Carlisle is the nephew of Luther "Suitcase" Simpson, one of Jesse Stone's detectives. Was it murder or something else? While Jesse and the usual cast of characters try to determine how Carlisle died, more bodies pile up. Former Paradise chief of police Charlie Farrell, one of Stone's close friends, gets murdered inside his home after he investigates some phone scammers. Jesse has no reason the think a link exists between the deaths, so the Paradise cops investigate them separately, with Stone taking the lead on the Farrell murder for personal reasons. Healy, a former captain with the Massachusetts State Police, lends a hand. Before the police make any actual progress in either case, a wheelchair bound man, an employee at More Chocolate, one of Paradise's largest concerns and employers, gets found murdered on the same beach as Jack Carlisle. Jesse and the Paradise police cast about, hoping for clues to smack them in the face since it seems there isn't a competent investigator in the bunch. They even bring in almost everyone Jesse Stone has ever met since he arrived in Paradise to help, from his current girlfriend, a local news reporter, to his ex-girlfriend, private investigator Sunny Randall, to Wilson "Crow" Cromartie, a thug who is now one of Stone's best friends. But still Stone can't gain any traction, much less solve any of the suspicious deaths until Molly, now his assistant chief, finally uses her women's intuition and motherly instincts to figure things out.
While not complex, the plot is convoluted enough since Stone seems virtually clueless and faces multiple investigations he seems powerless to make headway on. Once a very competent murder investigator who arrived in Paradise after being a homicide detective in the LAPD, he now seems incapable of adding 2 + 2 and getting 4. But that should be expected since Jesse spends most of his time chasing women, obsessing over past girlfriends, and white knuckling it a day at a time through his battle with alcoholism. The old Jesse Stone tropes seem old and overused in this book. And the use of outside tips from Boston characters that show up just in the nick of time to help the investigations crawl forward and women's intuition as the chief crime solving tool seems both gratuitous and unconvincing. After wading through the book, it's no surprise the only thing close to an exciting sequence comes in the last pages.
Let's end with a brief look at the use of swearing and profanity in contemporary literature. In recent decades, experts have noticed a decided uptick in the use of more and more swearing and profanity in creative writing. Some authors who use profanity in books believe they are representing the world as it is, and that using profanity makes their writing more authentic and powerful. In this novel, the first f-bombs fell in the fifth chapter and Lucia sprinkled them in copiously to the very end.
Swearing and profanity don't offend me, except when used in inappropriate situations. I can and to my shame, often do swear like a sailor, probably because I used to be one, not because we now live in a cesspool of vulgarity. But I have a good reason f-bombs spewing from Jesse Stone's mouth just don't work. If you've read all of Robert B. Parker's original Jesse Stone novels, as I have, then you would know Parker's use of swearing and profanity in his writing was sparse indeed. That's true of both the Jesse Stone and Spenser series. It was so infrequent that it shocked you when he used either. And it wasn't because times were different back then. It was because Parker didn't have to drop f-bombs and its variations around thirty-nine times in one book to achieve contemporary authenticity or make his writing powerful. Robert B. Parker wrote so well he didn't need to use cheap, convenient crutches like swearing and profanity to give the impression that his books were up-to-date and realistic. Dropping f-bombs is not the history of the Jesse Stone character and having him do that makes him seem like a laughable caricature of the true character to grotesque effect. That, along with making him seem incompetent and having him wearing a Boston Red Sox baseball cap, another thing he would never do, only diminished the franchise character of this series.
My recommendation for this one is to skip reading it. As a nod to the book's baseball theme, it's a swing and miss.