Absorbing, affecting, and stark Australian noir at its best describes Outback by Patricia Wolf, her debut novel.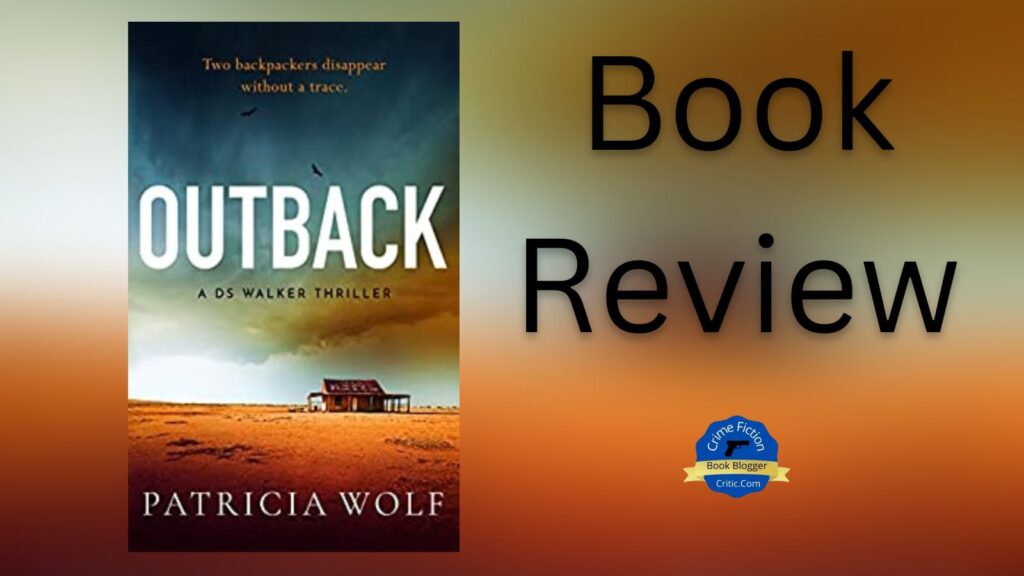 I've felt a powerful attraction to Australian noir since first discovering the outstanding Australian television crime series Mystery Road, a spin-off from Ivan Sen's feature films Mystery Road and Goldstone. So, when I read the summary of Outback by Patricia Wolf, I was keen to read it and discovering it was available for review, I immediately requested the book.
While Wolf's character, DS Lucas Walker, isn't an Australian Aboriginal copper like the Jay Swan character of Mystery Road, Walker is a former bushie. He's back in outback Queensland, where he grew up, on compassionate leave from his undercover assignment with the Australian Federal Police in Canberra to care for and spend time with his terminally ill grandma, who raised him.
I saw much similarity between this book's story line and those of the Mystery Road television series episodes in the sense of how Wolf's brilliantly descriptive prose introduces us to the hot semi-arid climate, red dirt environment, and people inhabiting rural north western Queensland in a comparably powerful way to how the television series does it visually. She captures it perfectly, illustrating for the reader how the vast, stark, and often environmentally inhospitable Australian outback is at once both foreboding and breathtakingly beautiful simultaneously. That comes as no surprise once we learn the author grew up in the area she chose as the setting for her debut crime novel.
Outback
by Patricia Wolf
Published by Embla Books and imprint of Bonnier Books UK
on November 28, 2022
Source: Publisher via NetGalley
Genre(s) Thrillers & Suspense, Australian Noir
ISBN 9781471411700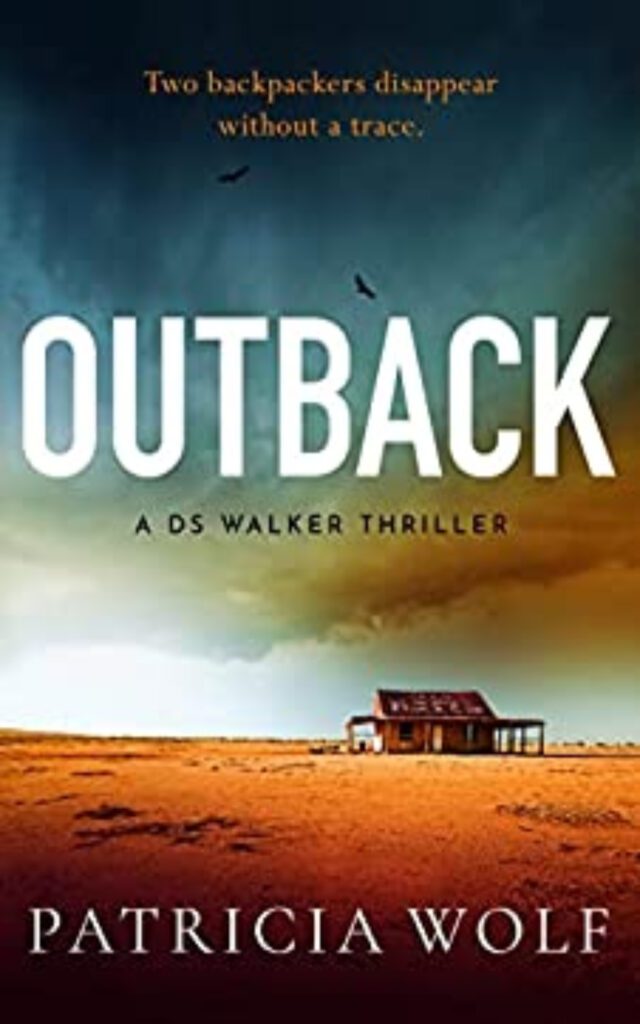 Two missing backpackers. One vast outback.

DS Lucas Walker is on leave in his hometown of Caloodie, taking care of his dying grandmother. When two young German backpackers, Berndt and Rita, vanish from the area, he finds himself unofficially on the case. But why all the interest from the Federal Police when they have probably just ditched the heat and dust of the outback for the coast?

As the number of days since the couple's disappearance climbs, DS Walker is joined by Rita's older sister. A detective herself with Berlin CID, she has flown to Australia – desperate to find her sister before it's too late.

Working in the organised crime unit has opened Walker's eyes to the growing drug trade in Australia's remote interior, and he remains convinced there is more at play.

As temperatures soar, the search for Berndt and Rita becomes ever more urgent. Even if Walker does find the young couple, will it be too late?

Outback does not disappoint. The shocking and tense prologue effortlessly pulls us into the story and sets the scene for what's coming. Wolf cinematically captures the dichotomy of life in rural Australia, the harshness of the unremitting dry heat and drought, and the close camaraderie between neighbors and townsfolk.
DS Lucas Walker is at his grandmother's place in northwest Queensland where he grew up taking a few months of compassionate leave to spend with his grandma, who suffers from terminal cancer. But his boss, Chief Inspector Rutherford, at the organized crime unit of the Australian Federal Police telephones Walker with an assignment. Rutherford tells him to assist the local police with the investigation of the disappearance of two young German backpackers, Berndt Meyer and Rita Guerra. The pair went missing in Walker's vicinity while on their way to jobs at a remote cattle station. At first Walker is dubious his supervisor only wants him to help with a routine missing persons case while on leave, but then decides he's happy to take on the job since it's something productive to do and he doesn't expect it to amount too much.
But once Walker looks into the investigation, he wonders what is really going on and what he's got himself into. He finds the local police officer in charge, Chief Constable Grogan, strangely suspicious and less than fully cooperative. Walker concludes there is much more to the story than Rutherford led him to believe.
Some might consider Wolf's use of the unwelcoming local copper with a chip on his shoulder something of a cliché, since it seems it has become an overused staple of the genre. Yet I don't take issue with it. Local coppers who are uncooperative with outside investigators from the big city, even bent ones, I think are a trope for Australian noir, something fans of the genre expect. And in this case, the questionable character of Chief Constable Grogan is an integral part of the plot.
After first working side by side with Grogan on the case, Walker becomes as suspicious of the man as Grogan seems of him. To Walker, Grogan's unfriendly behavior seems like more than only resentment over an unwelcome outsider intruding on his home turf. But at first, Walker doesn't work out just how sinister the circumstances motivating Grogan's behavior truly are.
Although Walker's undercover story is that his role with the Federal Police focuses on financial crimes, he's a seasoned narcotics investigator. Knowing that every rural town has its secrets, Walker can't help but wonder if the disappearance of the two backpackers is linked to the local narcotic trade. In time, he uncovers information that strengthens his theory.
The sister of one of the missing backpackers, Barbara Guerra, arrives in Australia and contacts Walker. Guerra is not only a deeply concerned family member, but also a Berlin police detective sergeant who wants to take an active role in the investigation. Walker tries to discourage her, but she persists, so he gives in and allows her to assist. I liked the addition of Barbara Guerra as his unofficial colleague and think the book is stronger for having her to act as Walker's foil. Also, despite Guerra's unswerving focus on finding her little sister before it's too late, unquestionable mutually felt sexual tension develops between the two detectives. Although they never act on it, this contributes to adding interest and pushing the plot forward.
Wolf does an impressive job with her characters, with Walker and Guerra, as well as the extended supporting cast. All are well-developed and realistic and none dissolve into stereotypical cliches. There is enough backstory offered for the principal characters without being overdone. I really liked Lucas Walker. Wolf draws him wonderfully, a man affected by his past but not in the cliched "flawed protagonist" way so prevalent in crime fiction today. His relationship with mother is fractured, which is why his grandma raised him after his mother moved to Boston to pursue her career, but Wolf presents the story in an understated way which is achingly touching.
There isn't really a whodunit part in this novel, as we learn straightaway why the backpackers went missing and who is responsible, but that takes nothing away from the well-developed plot since Wolf adds plenty of twists to the plot to continue ratcheting the suspense little by little until it becomes most intense. And despite what is revealed early in the novel, we're interested in how it will all play out. The unexpected revelations as the book moved toward the final climax also intrigued me.
I would enjoy meeting DS Lucas Walker again, and the ending seemed to leave plenty of room for Outback to become the first in a series. I hope that's the case, since Patricia Wolf is an excellent storyteller and I'm keen to read more of her work. This book is perfect for fans of Australian crime fiction and authors like Jane Harper.
I received a copy of the book from the publisher via NetGalley used for this review, which represents my own honest opinions.

Patricia Wolf has been a journalist for more than 15 years. She is a regular contributor to titles, including The Guardian, The Financial Times, The New York Times and The Telegraph, among others. Formerly a design columnist at The Independent and the Lisbon correspondent for Monocle magazine, she covers subjects ranging from design, art and culture to travel, politics and human interest pieces from around the world. In 2021, Patricia was announced as the winner of the $100,000 Nine Dots Prize and a book deal with Cambridge University Press. Outback is Patricia's first work of fiction.